Northwest Highway Feasibility Study
I.Map of study area with project limits
II.What is the purpose of the study?

This study intends to build on the Northwest Highway and Preston Road Area Plan that was completed by NCTCOG in late 2016. NCTCOG requested that TxDOT evaluate options for the Northwest Highway corridor after finding that "both residential and commercial property owners visualize improved mobility in the study area."
Priorities identified in the Area Plan include traffic congestion, parking problems, pedestrian and bike accessibility, and drainage and lighting deficiencies. Additional priorities identified through public outreach will also be considered.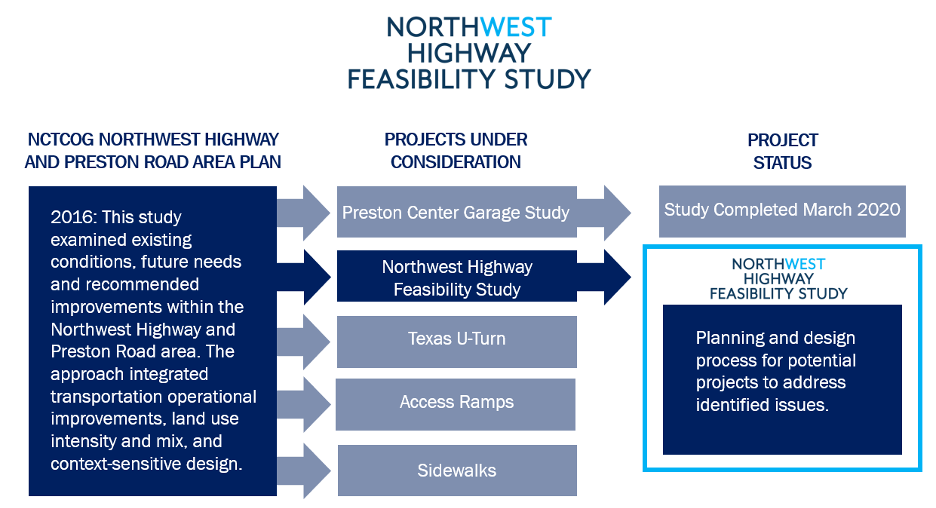 What is a feasibility study and what will be evaluated?
A feasibility study is a planning tool that TxDOT uses when a project is in the very early stages of development. It helps determine if the project should move on to more advanced phases of project development such as more in-depth environmental analysis, public involvement, schematic design and right-of-way mapping. Feasibility studies are not intended to result in detailed design, environmental analysis, or cost estimates.
The meaning of "feasibility" for this study has the following parts:
The degree to which a given alternative mode, management strategy, design or location is economically justified.
The degree to which such an alternative is considered preferable from an environmental or social perspective.
The degree to which eventual construction and operation of such an alternative can be financed and managed.
For the Northwest Highway Feasibility Study, the team will consider projected traffic, safety, planned developments, stakeholder input, and impacts to the economy and environment.
III.Projected Timeline and Milestones
*Please note that the project schedule is subject to change.

IV.When will construction begin?
This study serves as an initial step in the planning and design process for potential transportation-related improvements to the Northwest Highway corridor. It is currently unknown whether construction will take place. If a project is identified for construction, there are many steps that must be completed before construction begins, such as more in-depth environmental analysis, public involvement, roadway design, right-of-way mapping, and identifying funding.
The following general timeline may apply, but will vary based on the determination of the feasibility of a project, the approval of any environmental documents, the difficulty of securing funding, and the complexity of design and construction:
Spring 2022 – Completion of Northwest Highway Feasibility Study
Spring 2023 – Completion of detailed design for identified project
Spring 2023 – Approval of environmental document and secured funding
Summer 2023 – Commencement of construction of identified project
V.Project contact information
For questions or comments, please contact:
Stephen Endres, P.E.
Project Manager
Stephen.Endres@txdot.gov
(214) 320-4469
VI. Get involved
Public Meeting Announcement
Public Meeting - Fall 2020
Details to Follow