US 380 Environmental Impact Statement From Coit Road to FM 1827
A Virtual Public Scoping Meeting will be held on Thursday, Jan. 21, 2021 starting at 6 p.m. and will remain available through Friday, Feb. 5, 2021. Click here to access the Virtual Public Scoping Meeting http://www.keepitmovingdallas.com/US380EISScopingMeeting.
CSJs: 0135-02-065, 0315-03-053
Project Description
TxDOT is undertaking public involvement, schematic design, and an in-depth environmental study for the US 380 project from Coit Road to FM 1827 in Collin County. The project provides for development of a freeway facility to manage congestion and improve east-west mobility, connectivity, traffic operations, and safety through the project area shown below.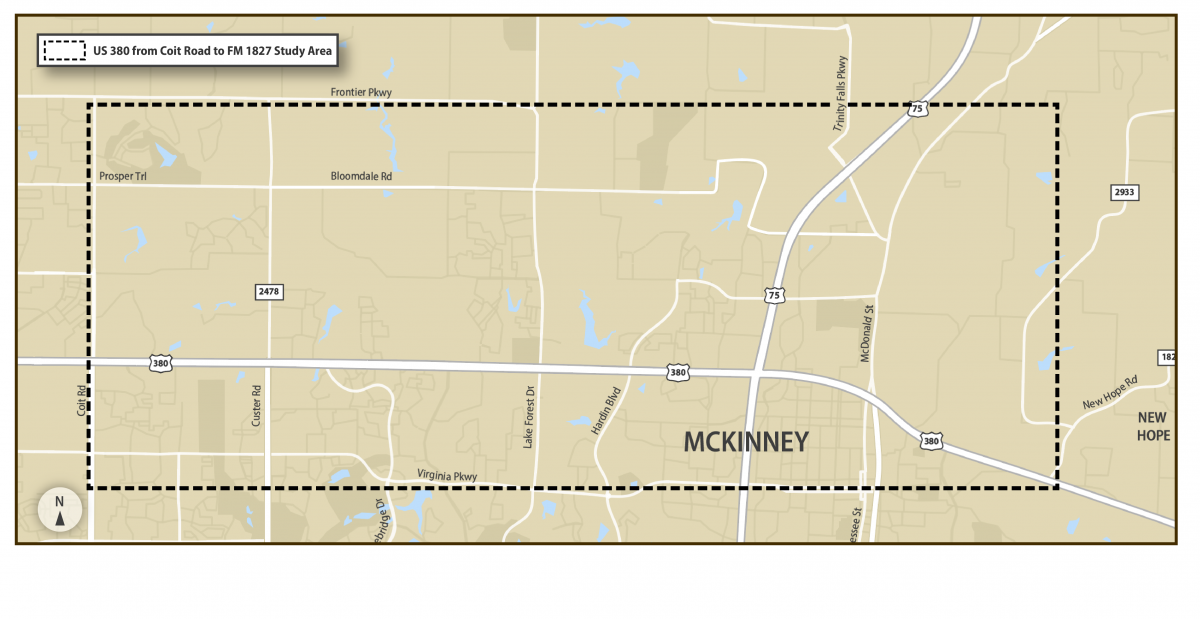 Population and employment growth in the area has caused increases in current and forecasted traffic volumes that exceed the capacity of the existing US 380 leading to increased congestion, reduced mobility, and higher crash rates compared to other similar roadways in the region.
Capacity and safety improvements in the existing US 380 corridor are constrained by residential, commercial, and industrial land uses; community resources; and environmental resources. As the population continues to grow, the options to improve the existing US 380 or build a new roadway become more limited and potential impacts to residential and commercial developments increase. TxDOT is working with local and regional partners to find ways to accommodate the growth and provide additional mobility options to keep up with travel demand.
TxDOT began this project in May 2020 and anticipated completion is late 2022. The project adheres to the National Environmental Policy Act (NEPA). The level of documentation identified is an Environmental Impact Statement (EIS) which will assess alternatives and outline impacts of the proposed project on the surrounding environment.
Alignments Under Consideration
The project will build on TxDOT's US 380 Collin County Feasibility Study that was conducted from 2017-2020. Feasibility Study information can be viewed here. TxDOT will continue to consider its recommended feasibility study alignment, other viable alignments or changes to alignments, and a no-build alternative.
For an EIS, the study must include an assessment of all alternatives considered, and it is possible that the best alternative identified during that evaluation could differ from the recommended alignment from the feasibility study.
Notice of Intent
How to Get Involved
TxDOT plans to host a public scoping meeting in early 2021, a second public meeting in the fall of 2021, and a public hearing in 2022 that will allow the public to learn more about the project and provide input on proposed improvements. Sign up here to receive more information and receive meeting notices.
Project Contact
For questions or comments, please contact:
Stephen Endres, P.E.
Stephen.Endres@txdot.gov
(214) 320-4469