Virtual Public Hearing Disclosure of Financial Information
I-35E Projects In Dallas and Denton Counties
I-35E Phase 2 Project: I-35E from I-635 to the Denton County Line in Dallas County
I-35E Breakout Project #1: I-35E at Corporate Drive and Business SH 121 in Denton County
I-35E Breakout Project #2: I-35E at FM 1171/Main Street in Denton County
CSJs: 0196-03-274, 0196-03-282, 0196-02-126, 0196-02-127 & 0196-02-128
July 29, 2021
This virtual financial public hearing begins on Thursday, July 29, 2021 at 6 PM and will remain available online through the comment period deadline of Friday, August 13, 2021. During this time, please view the project materials and other information provided on this site to learn about the project and provide your comments.
Please Note: The purpose of this virtual financial public hearing is to disclose and provide an opportunity for public comment on the financial information for the projects. The public involvement process you typically see related to advanced project development and environmental clearance is a separate process providing different information than will be presented here.
Additional financial information and documents about this project can be found at this website: https://www.txdot.gov/inside-txdot/division/debt/strategic-projects/alternative-delivery/i-35ephase2.html
PROJECT DESCRIPTION, PRESENTATION AND EXHIBITS
The design-build contract for the I-35E Phase 2 project includes the development, design and construction of a 6.4 mile section of I-35E from I-635 to the Denton County line. I-35E will be reconstructed and widened from six to eight mainlanes, continuous frontage roads will be added and numerous intersections will be improved. The two existing, grandfathered reversible toll managed lanes will also be reconstructed.
In addition, two breakout projects will reconstruct additional projects along I-35 E.
Breakout project #1 will reconstruct the Corporate Drive and Business SH 121 interchanges, I-35E mainlanes, existing toll managed lanes and frontage roads.
Breakout project #2 will reconstruct the FM 1171/Main Street interchange, I-35E mainlanes, existing toll managed lanes and frontage roads.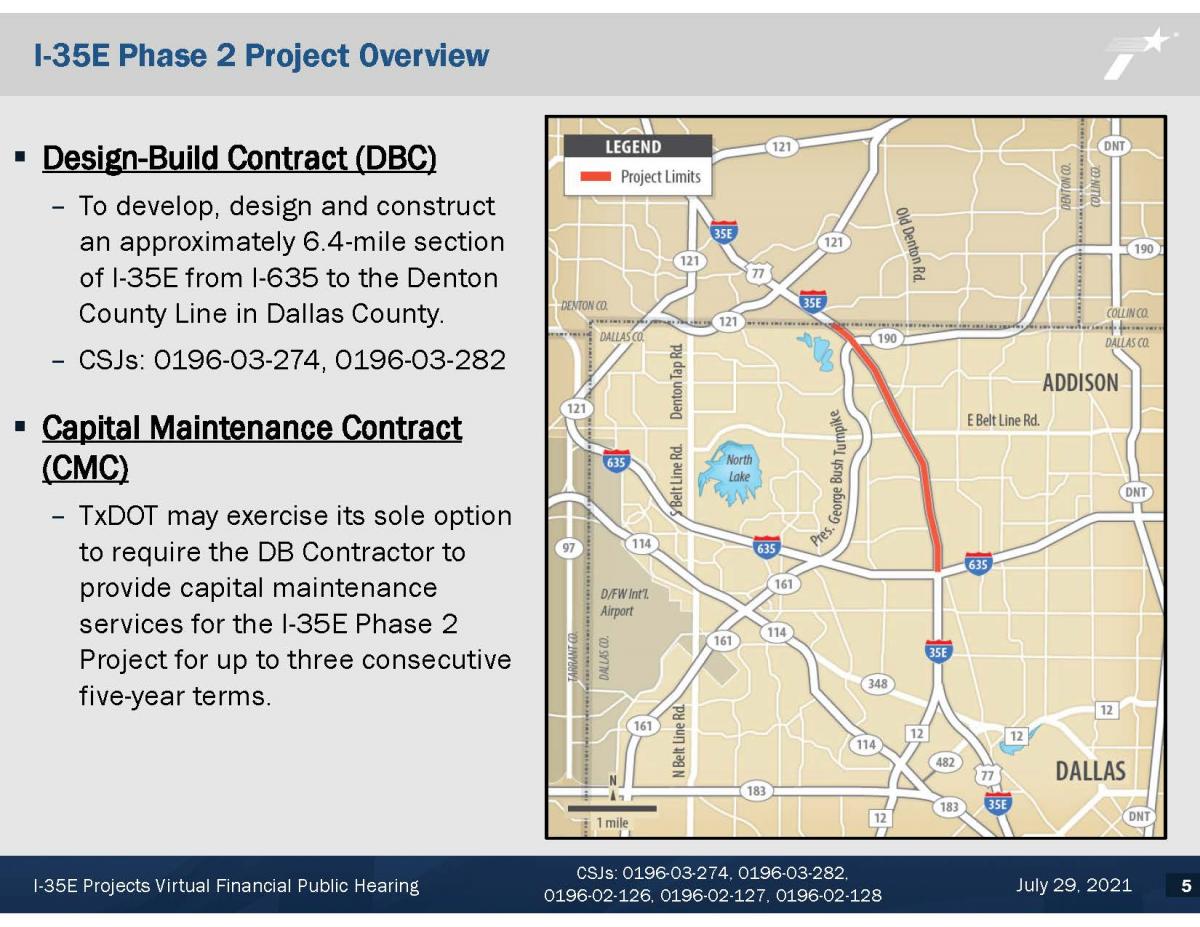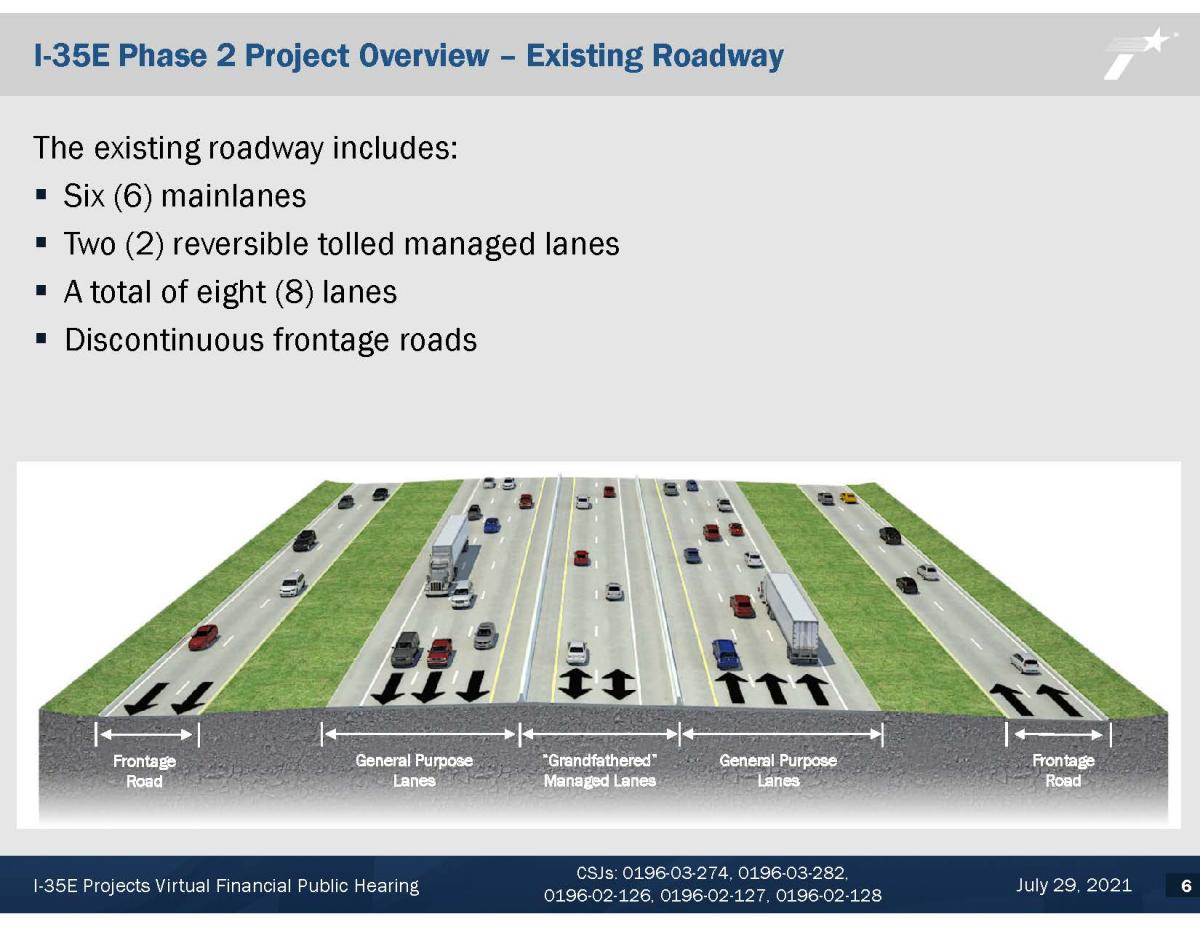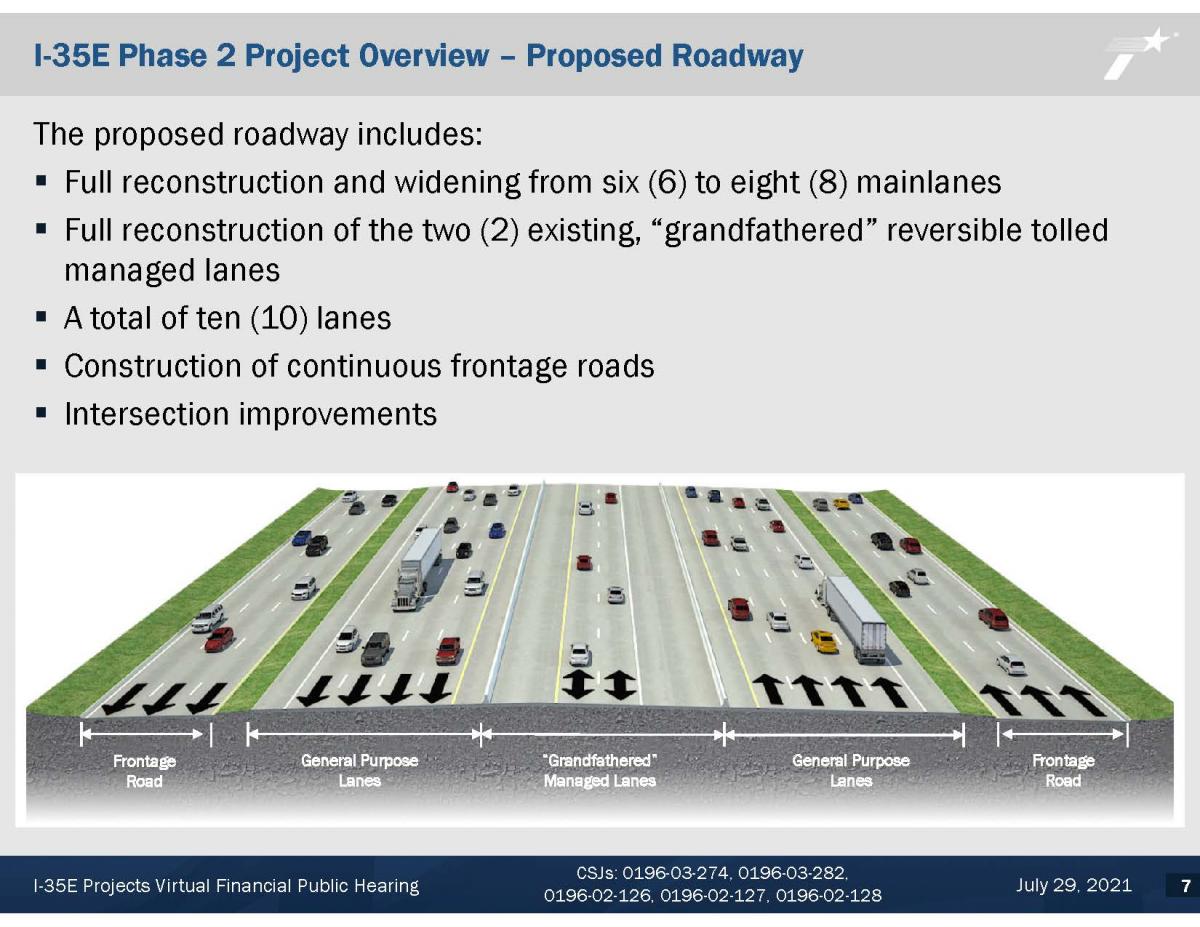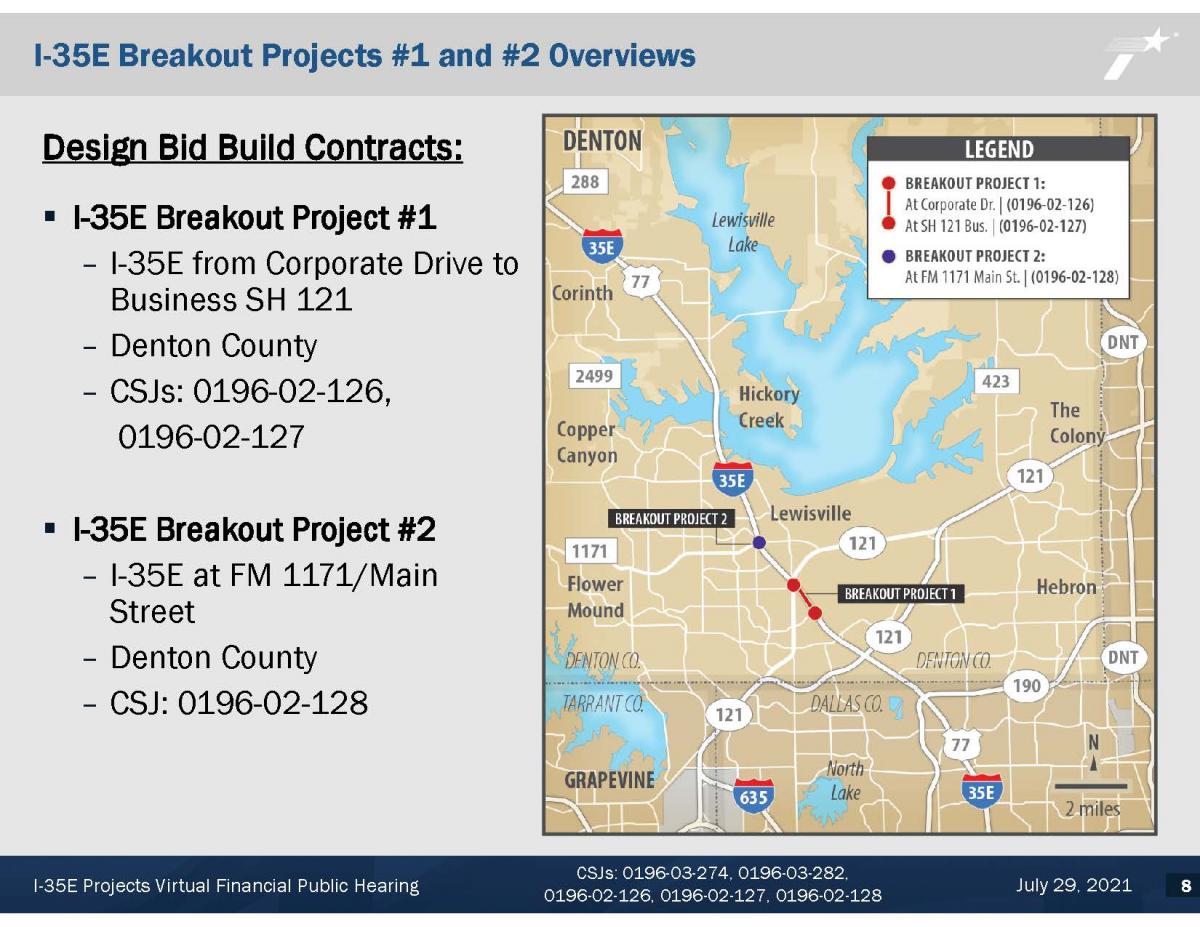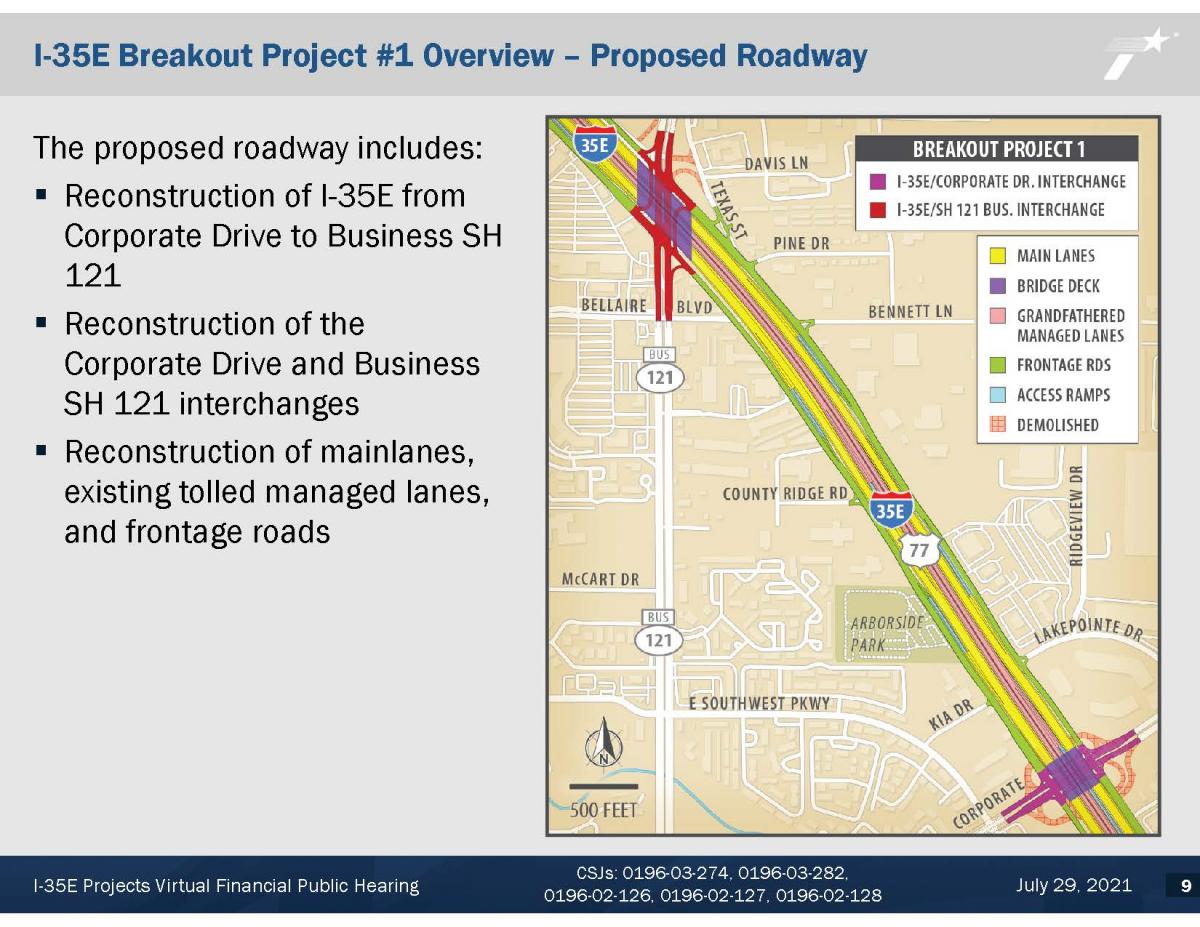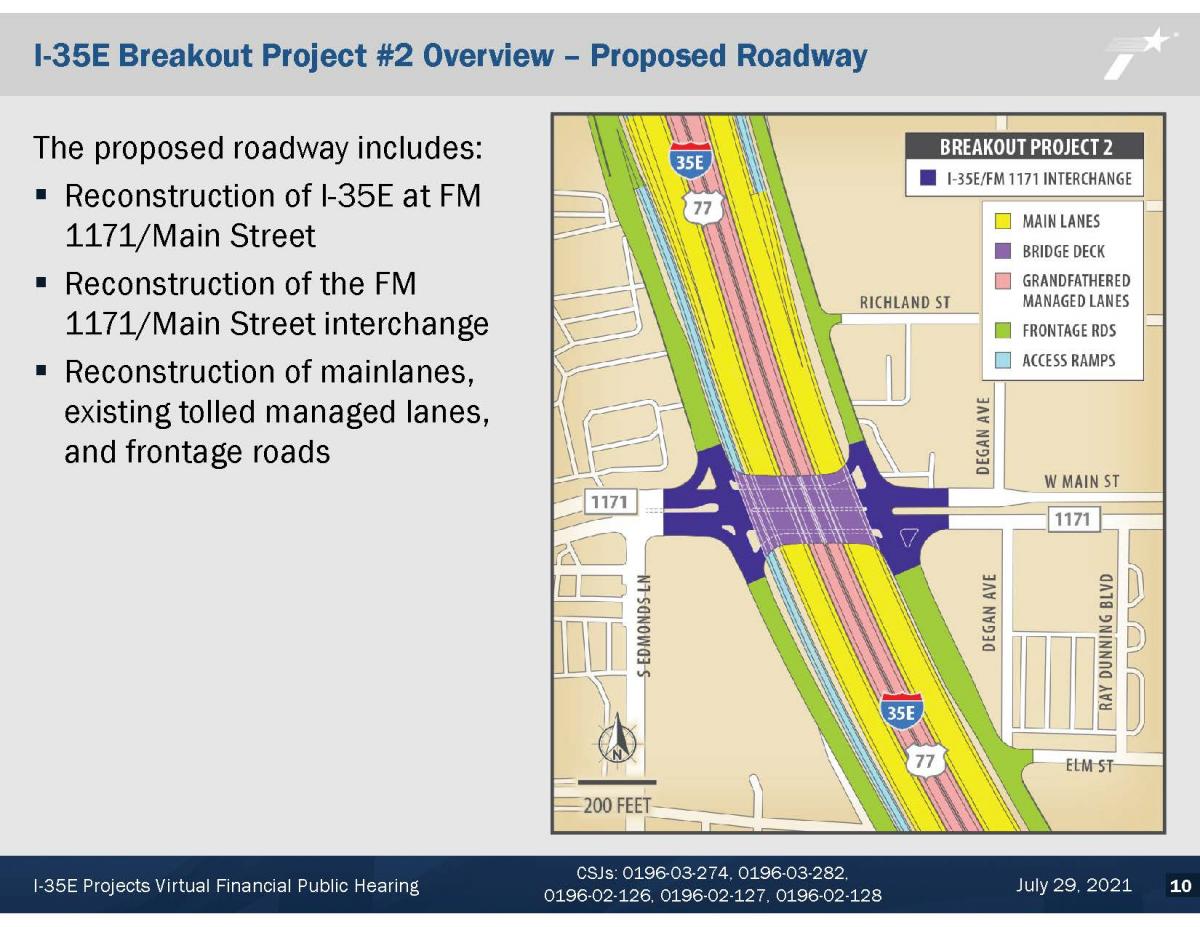 PRESENTATION
HOW TO PROVIDE COMMENTS
The deadline for providing comments is Friday, August 13, 2021.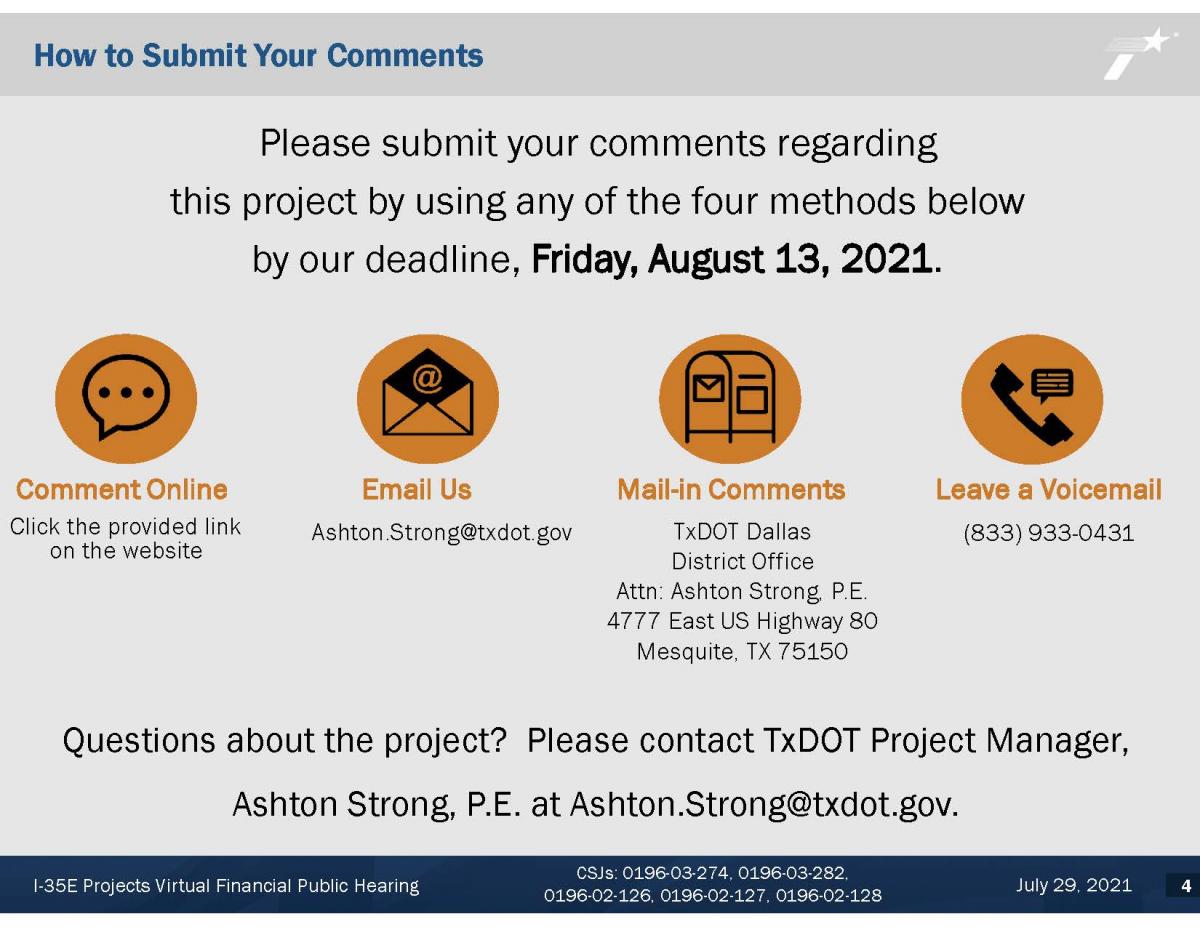 Comment Online: Comments may be completed and submitted online by clicking here: https://www.surveymonkey.com/r/H5Z6GXJ
Comment via email or mail: The PDF Comment Form may be completed on the computer or printed and handwritten and can be submitted by email or mail. Click the links below for the PDF Comment Form.
PDF Comment Form: English
PDF Comment Form: Spanish
Email comments to [email protected]
Mail Comments to:
TxDOT Dallas District Office
Attention: Ashton Strong, P.E.
4777 East US Hwy 80
Mesquite, TX 75150-6643
Verbal Comments: Call (833) 933-0431 and leave your comment on the voicemail. For the official documentation, please clearly state your name and address before your verbal comment. You will be able to record a 3-minute long message. Your comment will be transcribed and included in the meeting documentation.
QUESTIONS?
Contact the TxDOT project manager Ashton Strong, P.E. to ask questions about the project at [email protected].