Related Links
For more information on the agencies and organizations involved with transportation in the TxDOT Dallas District, visit the following links: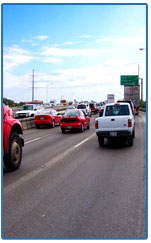 (Links will pop up in new windows.)
Texas Department of Transportation (TxDOT)
North Central Texas Council of Government (NCTCOG)
DART - Dallas Area Rapid Transit
North Texas Tollway Authority (NTTA)
Federal Highway Administration (FHWA)
Current Traffic and Roadway Condition (DFW ITS)
Project Pegasus - Downtown Dallas Freeways
Trinity River Corridor Project
The East Corridor- an IH 30/US 80 design

A study performed in 2000 recommended immediate improvements to SH 183 and a future West Fork facility as traffic demand warrants. The future facility, which would cross SH 161 between Trinity Blvd. and IH 30, would be a 6-lane super-arterial.