Virtual Public Meeting for FM 741 Improvements
Tuesday, November 17, 2020
Farm to Market Road (FM) 741
From US 175 to FM 548
Kaufman County, Texas
CSJ: 1092-01-021
November 17, 2020
PROJECT LOCATION MAP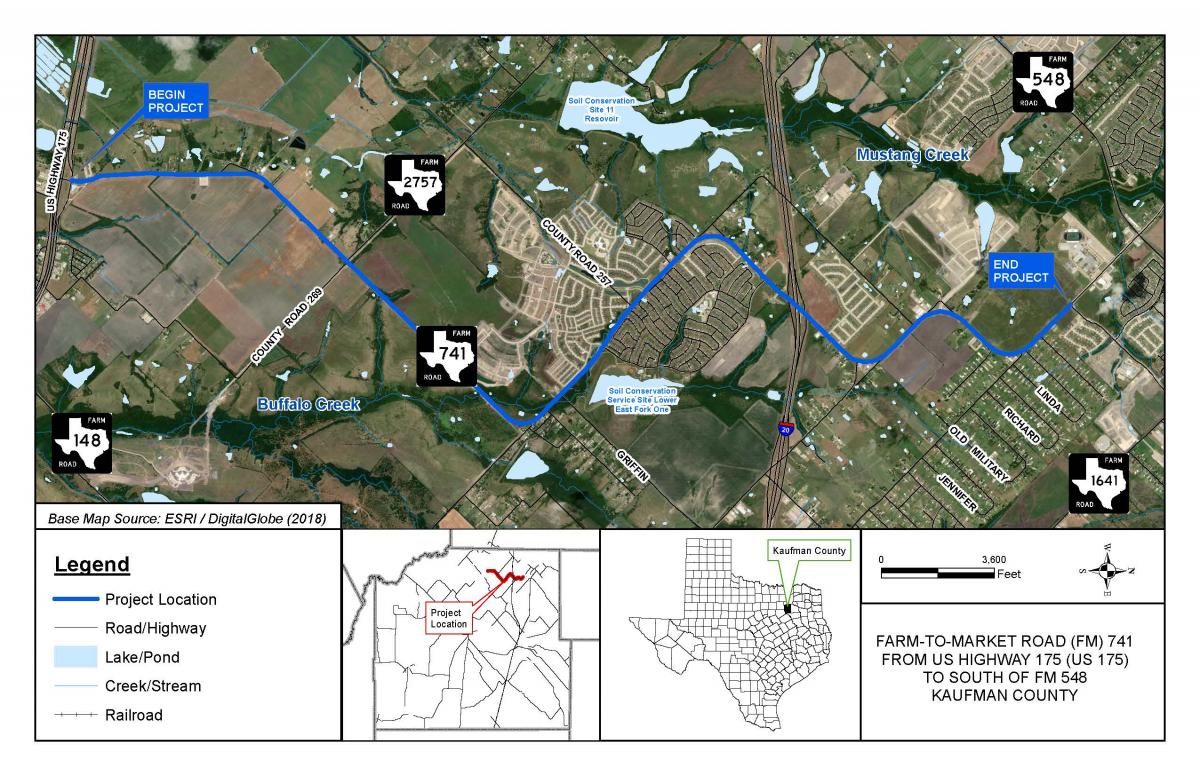 TxDOT is proposing to improve 7.7 miles of FM 741 in Kaufman County from US 175 in Crandall to FM 548 in Forney. Improvements include widening from the existing two lane rural section to a proposed four lane divided urban roadway. The existing right of way width varies from 70 to 100 feet and the proposed right of way for the project is 140 foot wide from US 175 to FM 2757 and 120 foot wide from FM 2757 to the end of project.
The virtual meeting will be held beginning on Nov. 17, 2020 at 6 p.m. and the presentation will remain available for viewing until Wednesday, Dec. 2, 2020 at 11:59 p.m. During this time, please view the video presentation and exhibits provided on this site to learn about the project, and provide your comments.
PRESENTATION
Click on the image or the link below to view the narrated video presentation.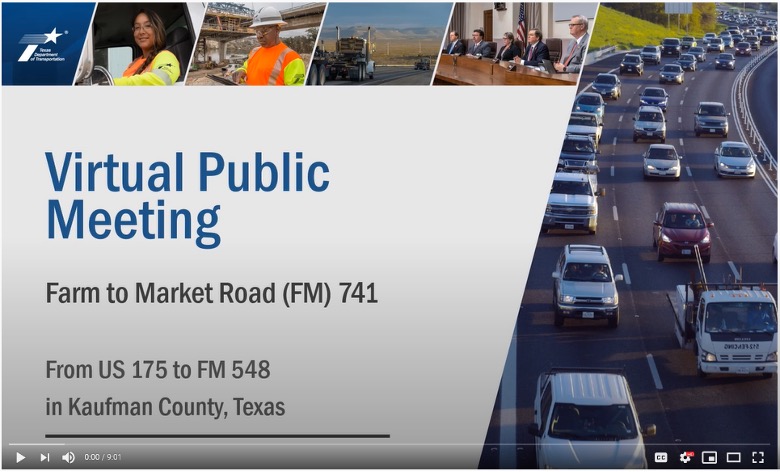 Presentation Link: https://www.youtube.com/watch?v=n2jq1Drewnw&feature=youtu.be
EXHIBITS
You may click on any of the project exhibits below to view them at full size.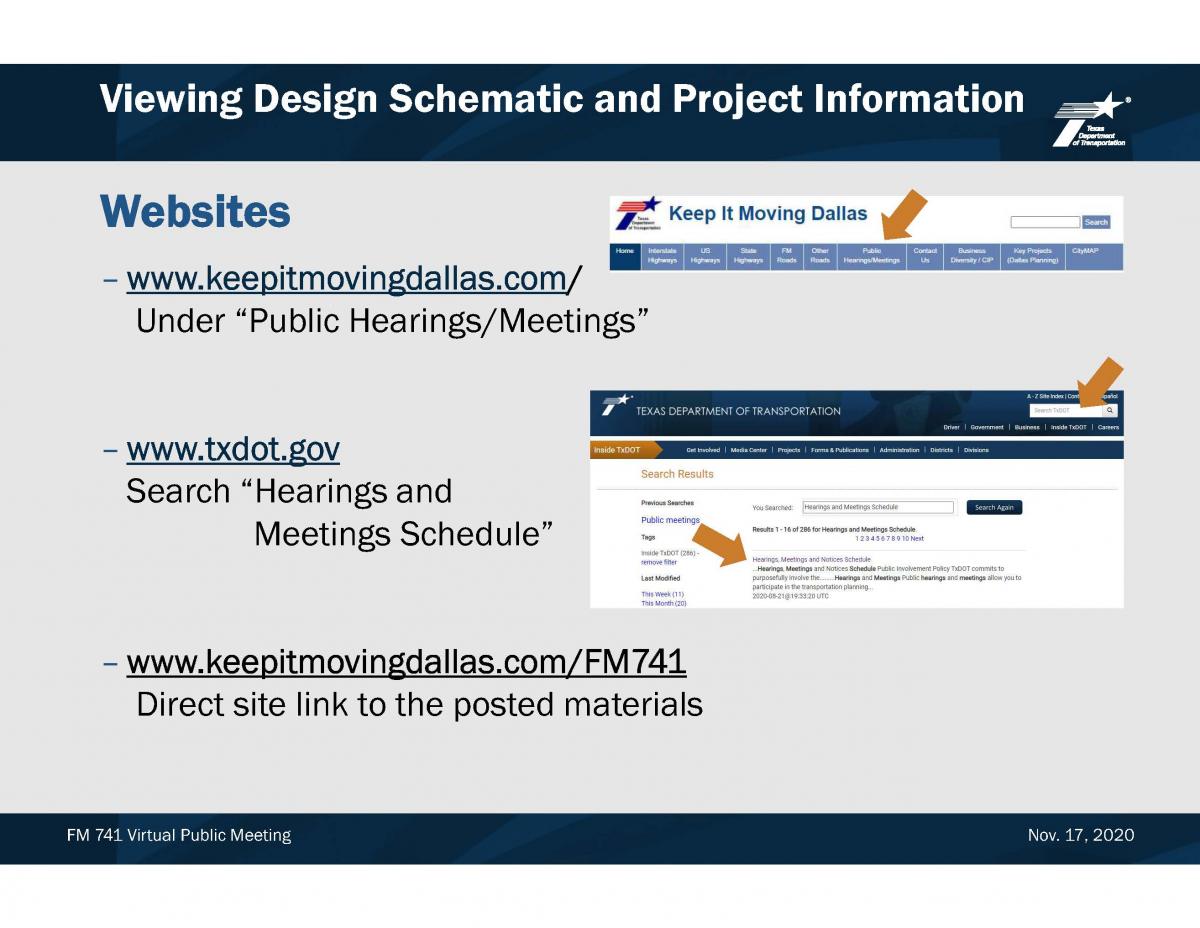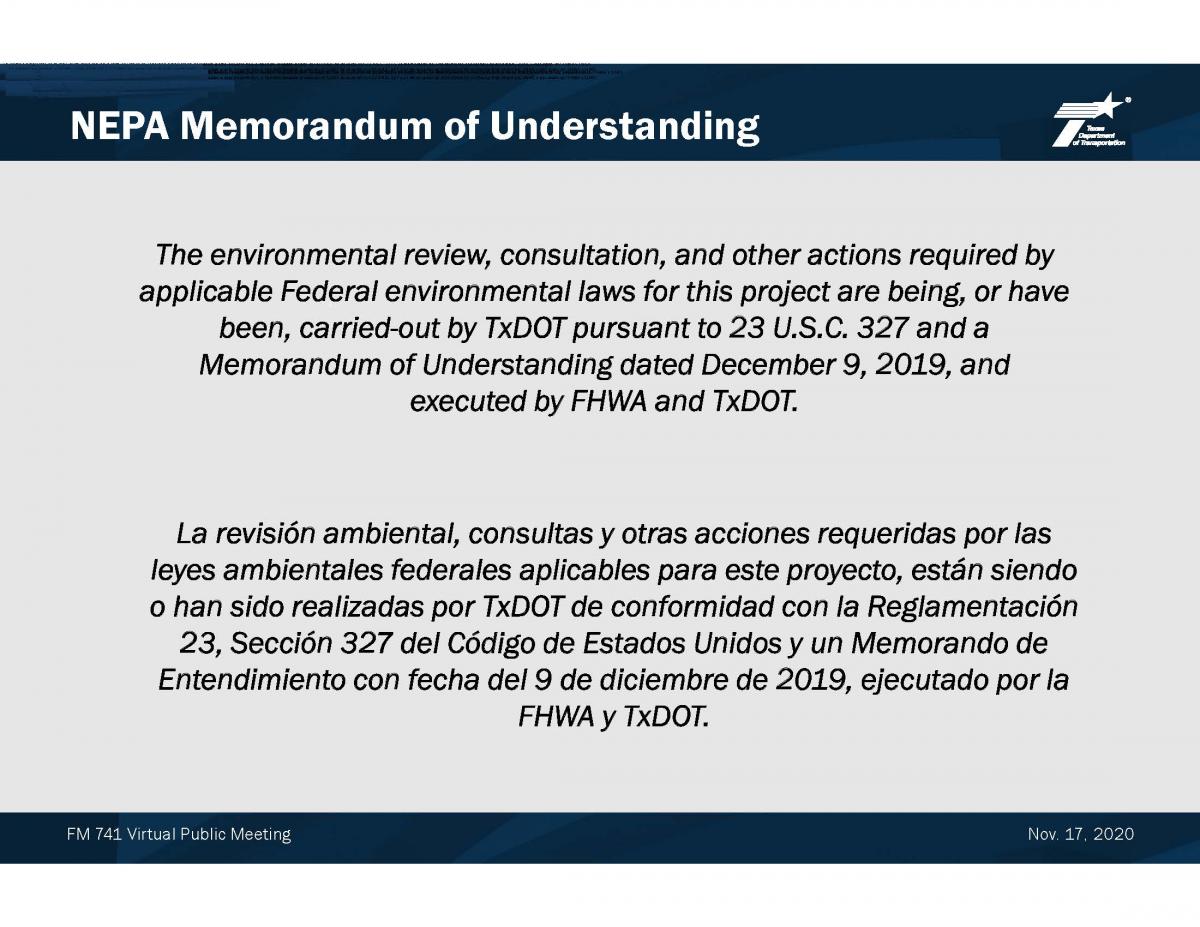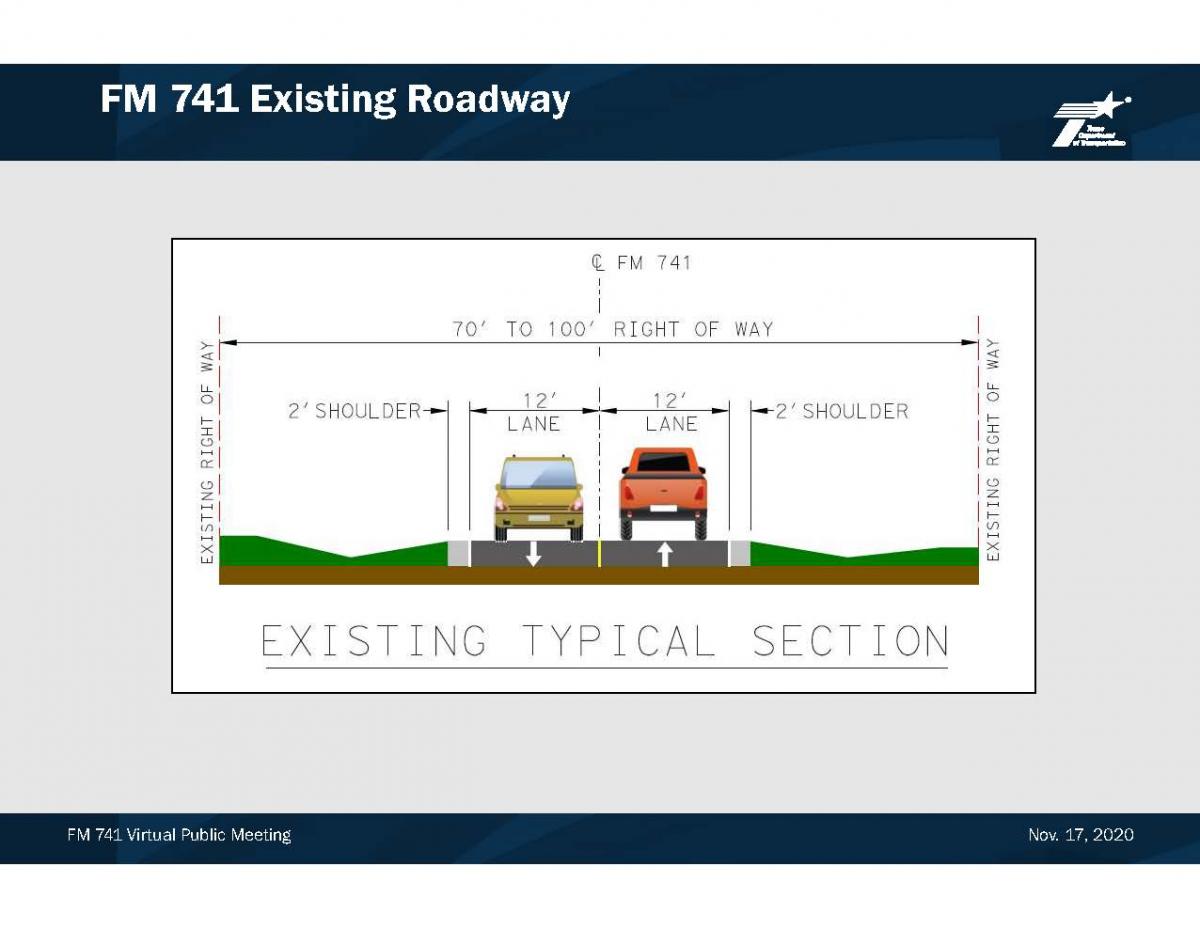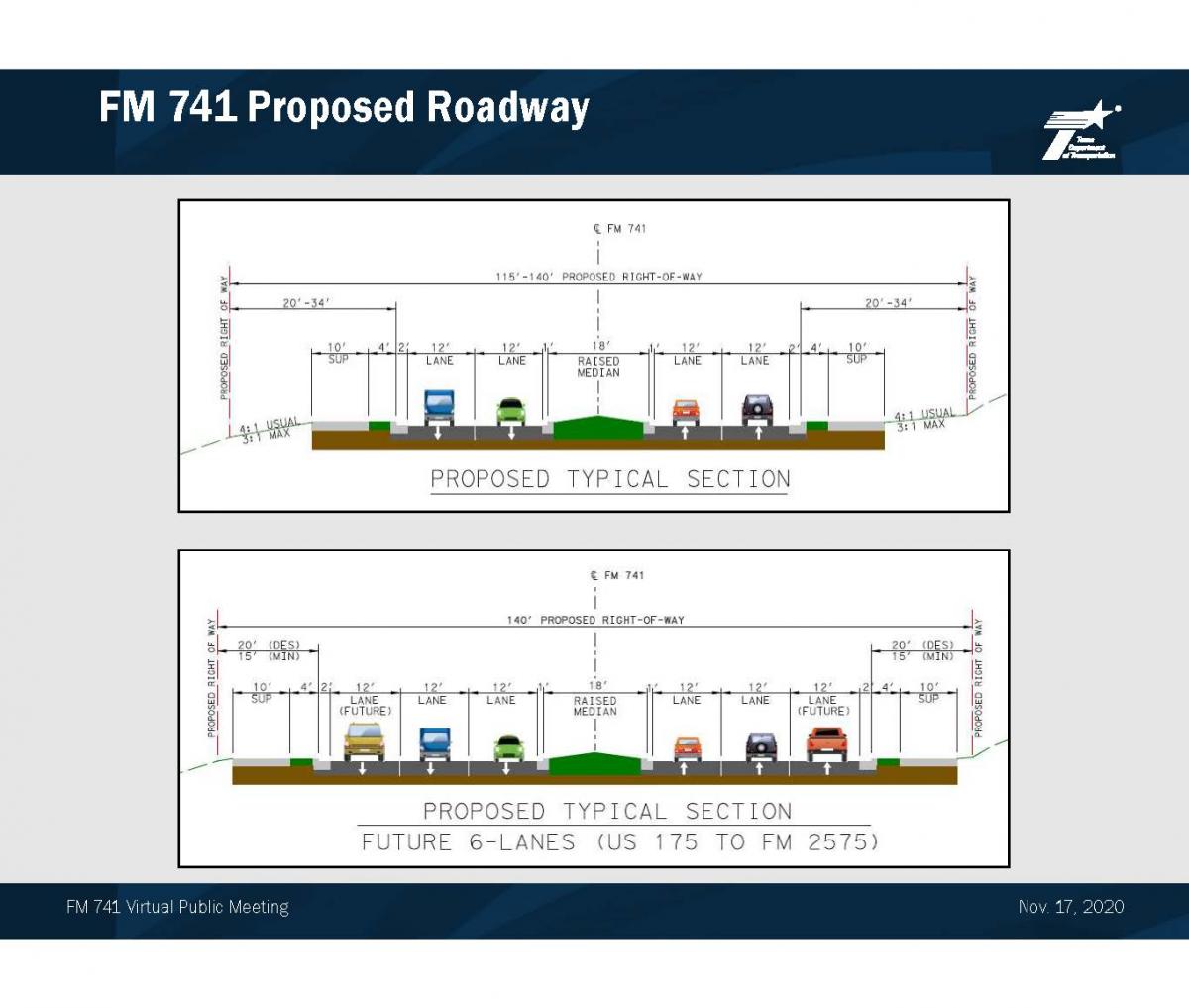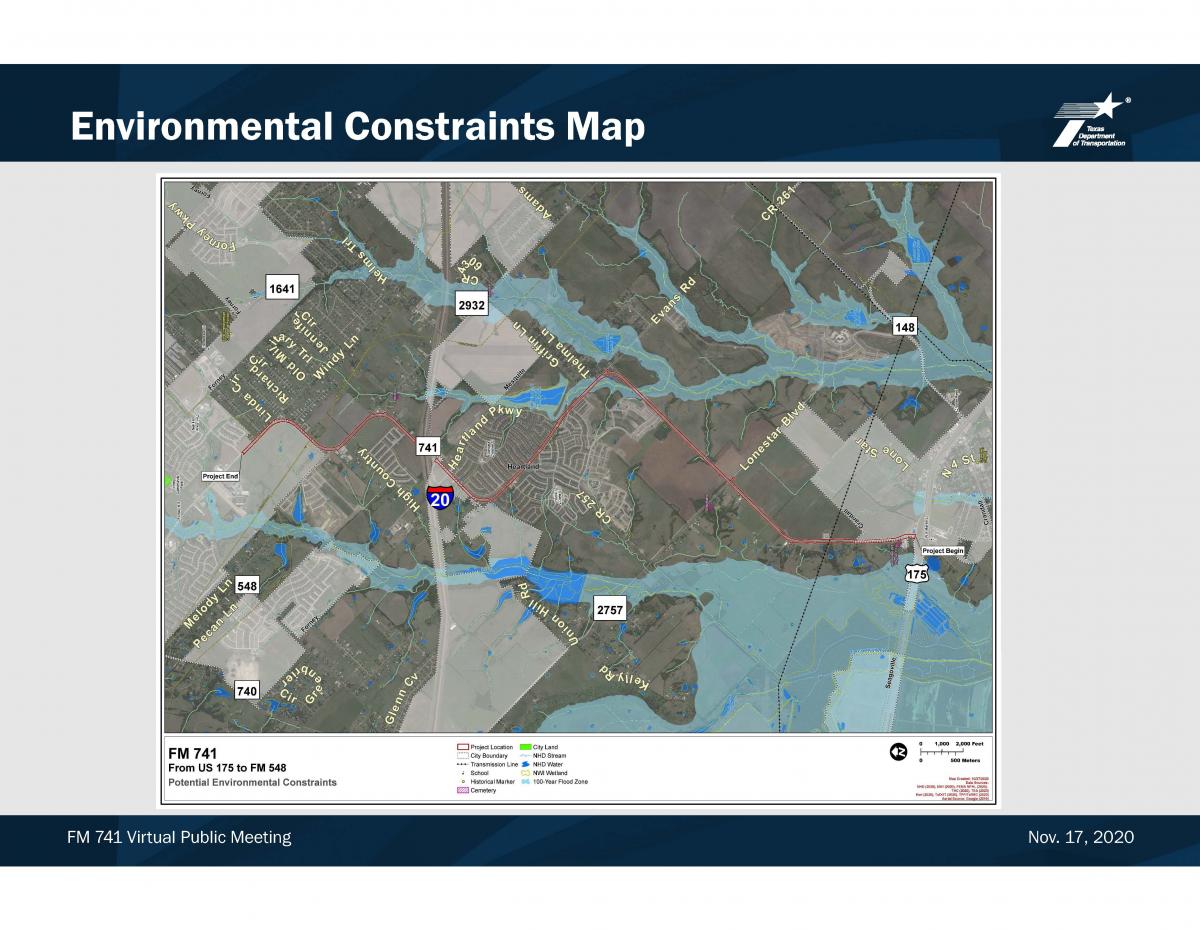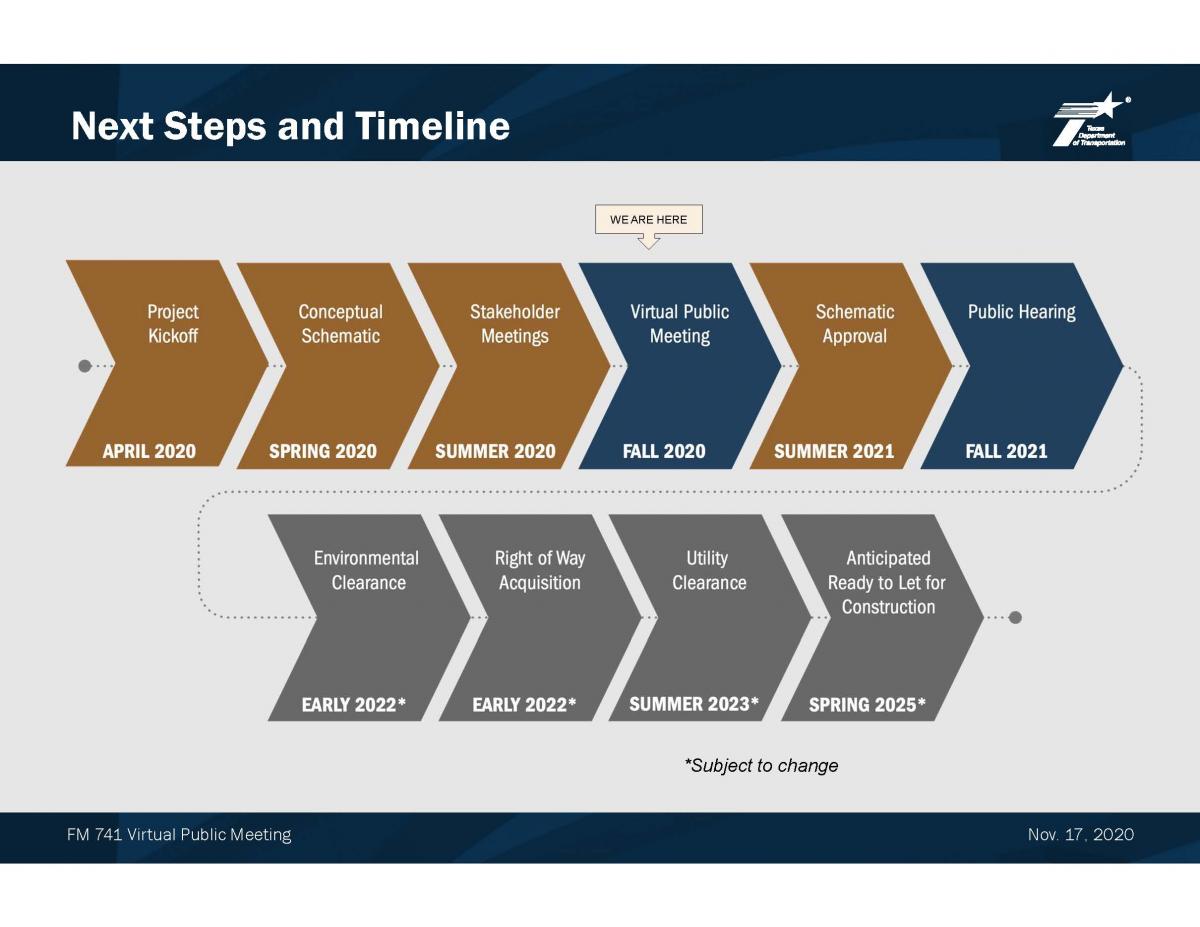 PROJECT SCHEMATIC
Roll_1 From US 175 to North of Venner Circle
Roll_2 North of Venner Circle to North of FM 2757
Roll_3 North of FM 2757 to North of County Woods Rd
Roll_4 North of County Woods Rd to North of Sunnybrook Dr
Roll_5 North of Sunnybrook Dr to North of IH 20
Roll_6 North of IH 20 to North of Golden Meadow LN
Roll_7 North of Golden Meadow Ln to South of FM 548
PROJECT FACT SHEET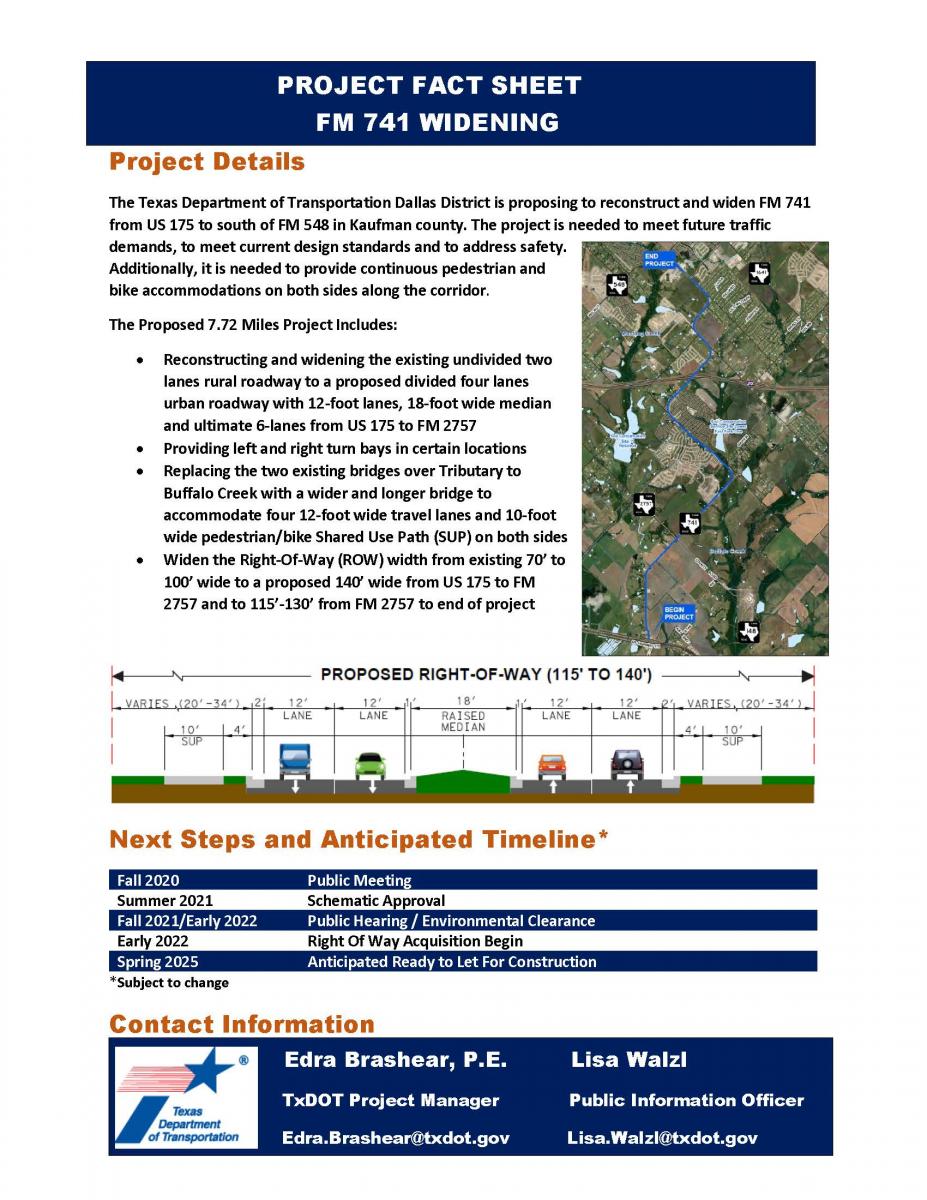 RIGHT-OF-WAY (ROW) INFORMATION
If you would like to familiarize yourself with the process for state purchase of ROW and relocation assistance, please click on the below link:
https://www.txdot.gov/inside-txdot/forms-publications/publications/landowner-rights.html
HOW TO PROVIDE COMMENTS
The deadline for providing comments is Wednesday, December 2, 2020.
Comments may be provided by voicemail, email, or mail, as explained below.
Verbal Testimony:
Leave a recorded voicemail with your verbal testimony starting on Tuesday, November 17, 2020, at 6:00 p.m.; you can leave a voicemail at any time until 11:59 p.m. on Wednesday, December 2, 2020:
Phone: (833) 933-0432
Online Submittal
https://www.surveymonkey.com/r/fm-741
Written Comments:
Deadline: Submit written comments on or before Wednesday, December 2, 2020:
Provide Comments Via:
Email: [email protected]
Mail: TxDOT Dallas District Office
Attention Edra Brashear, P.E.
4777 East US Highway 80
Mesquite, TX 75150-6643
The PDF Comment Form may be completed on the computer or printed and handwritten, and can be submitted by email or mail. Click the links below for the PDF Comment Form.
PDF Comment Form English
PDF Comment Form Spanish
QUESTIONS?
Contact the TxDOT project manager, Edra Brashear, P.E., to ask questions about the project at [email protected] or (214) 320-6651.