Virtual Public Meeting for I-30 East Corridor Project in Dallas County
Interstate Highway 30 (I-30)
From I-345/I-45 to Ferguson Road

Within the Overall I-30 East Corridor Project Limits from I-345/I-45 to Broadway Boulevard in Dallas County, Texas
CSJ: 0009-11-252, etc

June 8, 2021
This virtual meeting begins on Tuesday, June 8, 2021 at 4 PM and will remain available online through the comment period deadline of Wednesday, June 23. During this time, please view the project materials and other information provided on this site to learn about the project and provide your comments.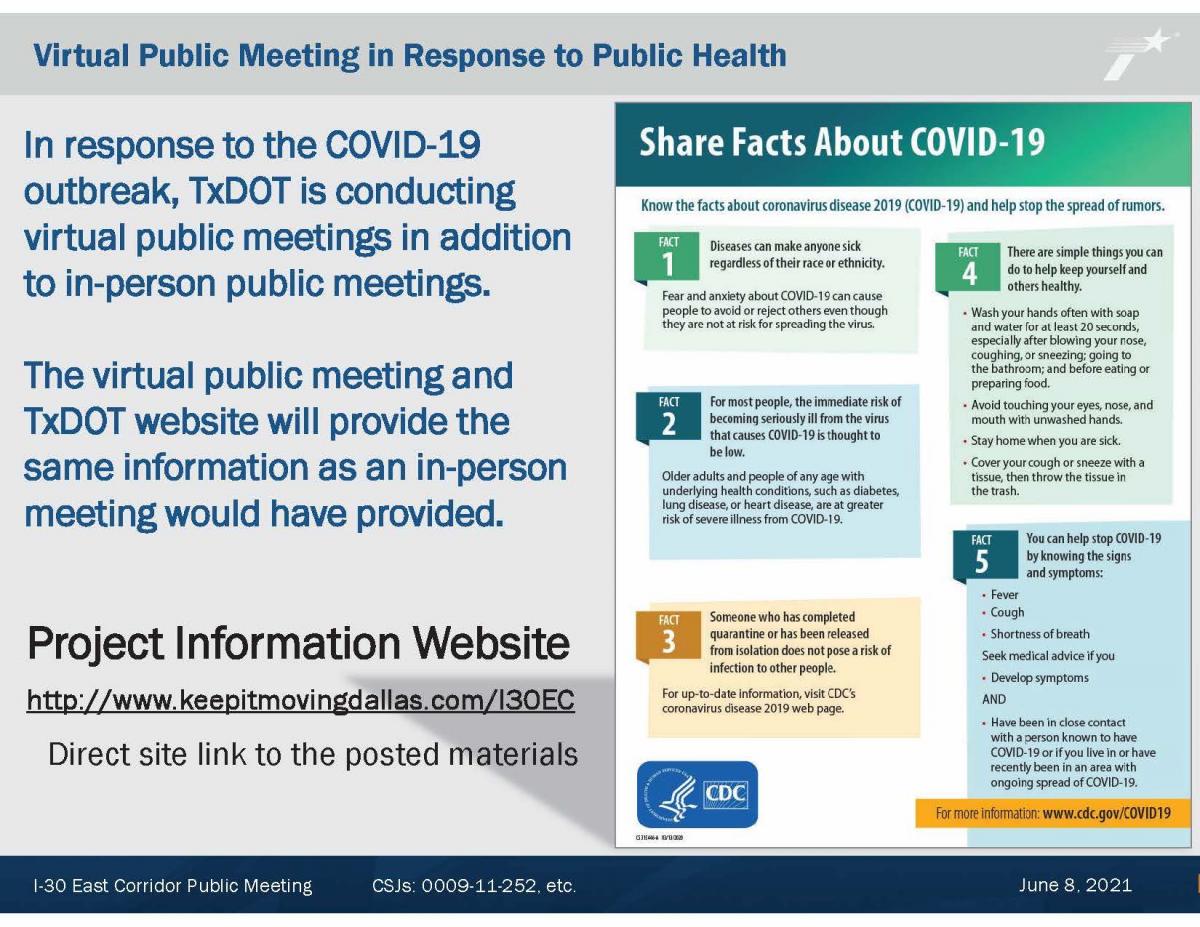 PROJECT DESCRIPTION, PRESENTATION AND EXHIBITS
The proposed improvements to I-30 between I-345/I-45 and Ferguson Road would include ten general purpose lanes (five in each direction), two reversible managed lanes, discontinuous two to three lane frontage roads in each direction, and reconstruction of ramps and bridges. The proposed I-30 main lanes and managed lanes would be depressed from I-345/I-45 to Dolphin Road. Accommodations for bicycle and pedestrian travel along the project corridor are a component of project development.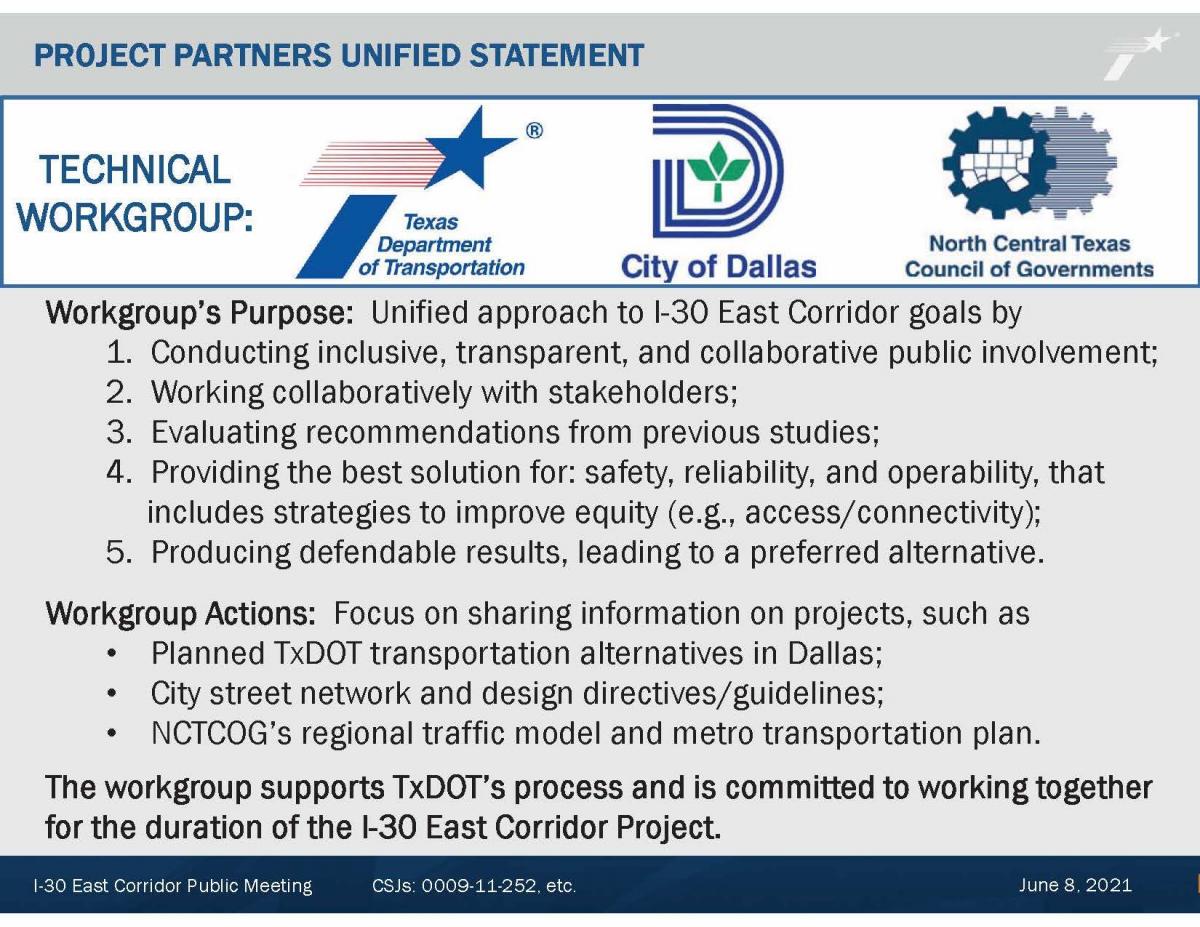 PRESENTATION
Click here to view the narrated video presentation: https://www.youtube.com/watch?v=mZ1wYUeHRB4
TxDOT EXHIBITS
You may click on any of the project exhibits below to view them at full size

CITY OF DALLAS EXHIBITS
You may click on any of the project exhibits below to view them at full size
RIGHT OF WAY (ROW) INFORMATION
The existing ROW typically ranges from 195 feet to 483 feet. The proposed ROW typically ranges from 308 feet to 505 feet. The proposed improvements would require additional ROW.
Information about the process for state purchase of ROW and relocation assistance may be found in the following pamphlets:
Relocation Assistance: English
Relocation Assistance: Spanish
State Purchase of ROW: English
State Purchase of ROW: Spanish

HOW TO PROVIDE COMMENTS
The deadline for providing comments is Wednesday, June 23, 2021.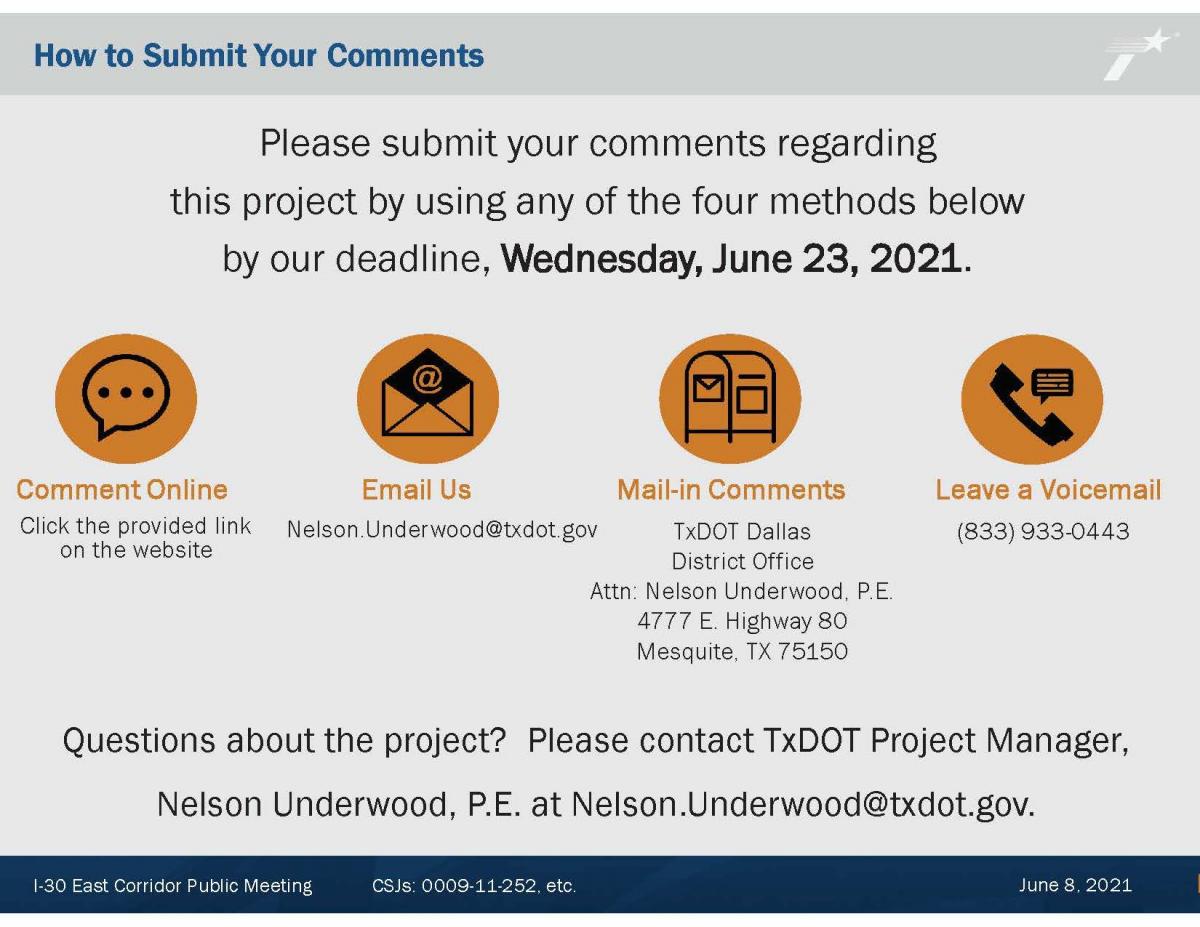 Comment Online: Comments may be completed and submitted online by clicking here: https://www.surveymonkey.com/r/9DGFTVD
Comment via email or mail: The PDF Comment Form may be completed on the computer or printed and handwritten and can be submitted by email or mail. Click the links below for the PDF Comment Form.
PDF Comment Form: English
PDF Comment Form: Spanish
Email comments to [email protected]
Mail Comments to:
TxDOT Dallas District Office
Attention: Nelson Underwood, P.E.
4777 East US Hwy 80
Mesquite, TX 75150-6643
Verbal Comments: Call (833) 933-0443 and leave your comment on the voicemail. For the official documentation, please clearly state your name and address before your verbal comment. You will be able to record a 3-minute long message. Your comment will be transcribed and included in the meeting documentation.

QUESTIONS?
Contact the TxDOT project manager Nelson Underwood, P.E. to ask questions about the project at [email protected] or (214) 320-6628.