Virtual Public Scoping Meeting - Spur 399 Extension Environmental Impact Statement (EIS)
Spur 399
from US 75 to US 380
Collin County, Texas
CSJ: 0364-04-051
This virtual meeting begins at 6 p.m. on February 23, 2021 and will remain available online through the comment period deadline of March 10, 2021.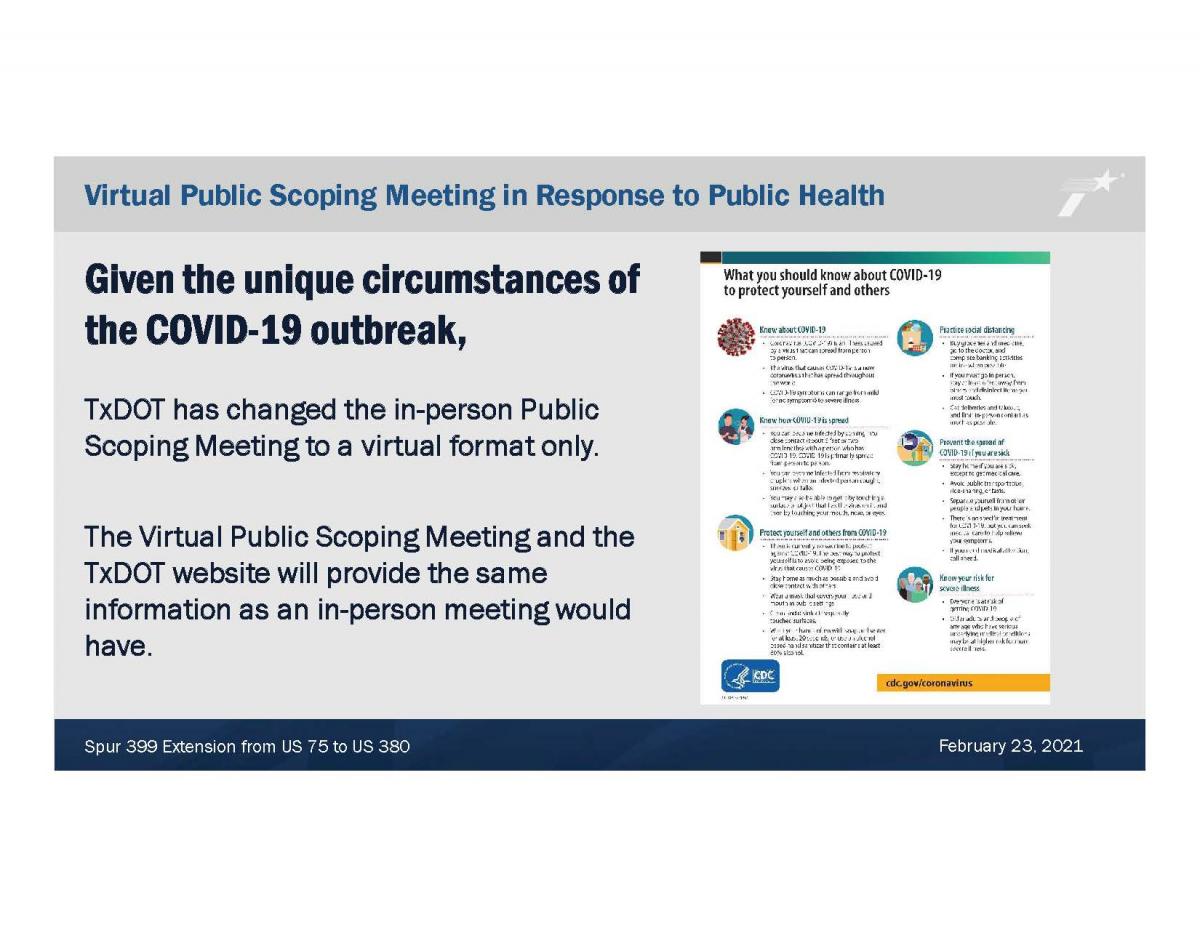 Why Is This Study Being Done?
TxDOT's 2016-2020 Collin County Feasibility Study was the very first step in the development of this project. The purpose of a feasibility study is to determine whether a project should proceed for further study and development, and to develop potential alignments. Feasibility Studies are conducted when the project may involve a major fund investment, a transportation solution is unknown, a major environmental concern is present, or a consensus of the general public and property owners along a route has not been developed. A Feasibility Study is meant to provide a high-level view of a potential project. Although TxDOT recommended a single alignment at the conclusion of the Feasibility Study, there were some other alternatives that are also reasonable, and those alternatives require more detailed study during the environmental review (NEPA) phase of the project, including alternatives that were eliminated during the Feasibility Study. Because this phase of the project involves a more detailed evaluation and collection of new information, it is possible that data being gathered could change previously studied alignments or lead TxDOT to consider new alternatives.
A feasibility study covers the following areas:
The purpose of, and need for, a project;
Conformance with the Texas Transportation Plan;
Description of the limits of the study area;
Social (e.g., a demographic profile), economic, and environmental features;
Level of community support;
Cost effectiveness;
Infrastructure safety issues;
Preliminary Level of Service analysis;
Comparison of different routes, or corridors, and design alternatives;
Analysis of existing transportation systems in the study area; and
Alignment recommendations.
During the Feasibility Study, TxDOT used preliminary and available data to identify the location of its Recommended Alignment. Feasibility Study data included initial traffic and travel demand analysis as well as information from existing environmental databases. Field investigations and detailed analyses were not conducted at this step, which is the normal procedure for feasibility studies.
TxDOT announced its Feasibility Study Recommended Alignment to identify a general location for a possible freeway so that it could be considered for future growth and development plans. Because of existing and new homes and businesses, an expanding McKinney National Airport, parks, utilities, landfills and other environmental resources in the project vicinity, the list of project constraints and areas TxDOT needs to avoid is growing and the available land for a future freeway is becoming more and more limited.
Now that the Feasibility Study is complete, the project is progressing to the development of a schematic design and environmental study. While the feasibility study was a high-level look at
the project, schematic design and environmental study allows us to view the project "on the ground." TxDOT is required to adhere to the National Environmental Policy Act (NEPA) process which includes the development of an Environmental Impact Statement (EIS). Adhering to NEPA is required on any project that would receive any federal funding. During this phase of project development, the federal governmental requires TxDOT to gather additional and more specific data to more fully develop and evaluate all reasonable alternatives to determine if they should be moved forward for further study or be eliminated. TxDOT is required to complete more in-depth traffic and travel demand analysis, and to complete an environmental study which includes in-person field assessments and surveys in areas where landowners have agreed to allow access. The purpose of the assessments is to determine locations of resources such as wetlands, floodplains, and culturally sensitive areas.
During this EIS, TxDOT will develop the schematic design which means that the following tasks must be completed:
Determine number of lanes;
Develop ramp location and interchange configurations;
Determining the amount of land (also called right-of way) needed to construct the project;
Complete drainage design;
Consider bicycle and pedestrian accommodations; and
Calculate more detailed cost estimates.
Included in EIS development is a federally required evaluation of potential environmental impacts. This includes impacts to air quality, archeological resources, biological resources, community impacts, hazardous materials, historic resources, protected lands (parks), traffic noise, and water resources, among other considerations. This is the phase of project development where TxDOT will be able to determine if sounds walls are feasible and where they could be placed. TxDOT is also required to complete more public involvement and coordination with resources agencies, municipalities, and major utility providers.
A more complete list of what TxDOT will consider in the comparison of alternatives can be found in the Public Scoping Meeting materials. This detailed comparison will ultimately help TxDOT make the most informed decision about the final, Preferred Alternative at the end of the of the EIS process. After the EIS is complete, the final, Preferred Alternative will move forward to detailed design and then to construction.
PURPOSE OF PUBLIC SCOPING MEETING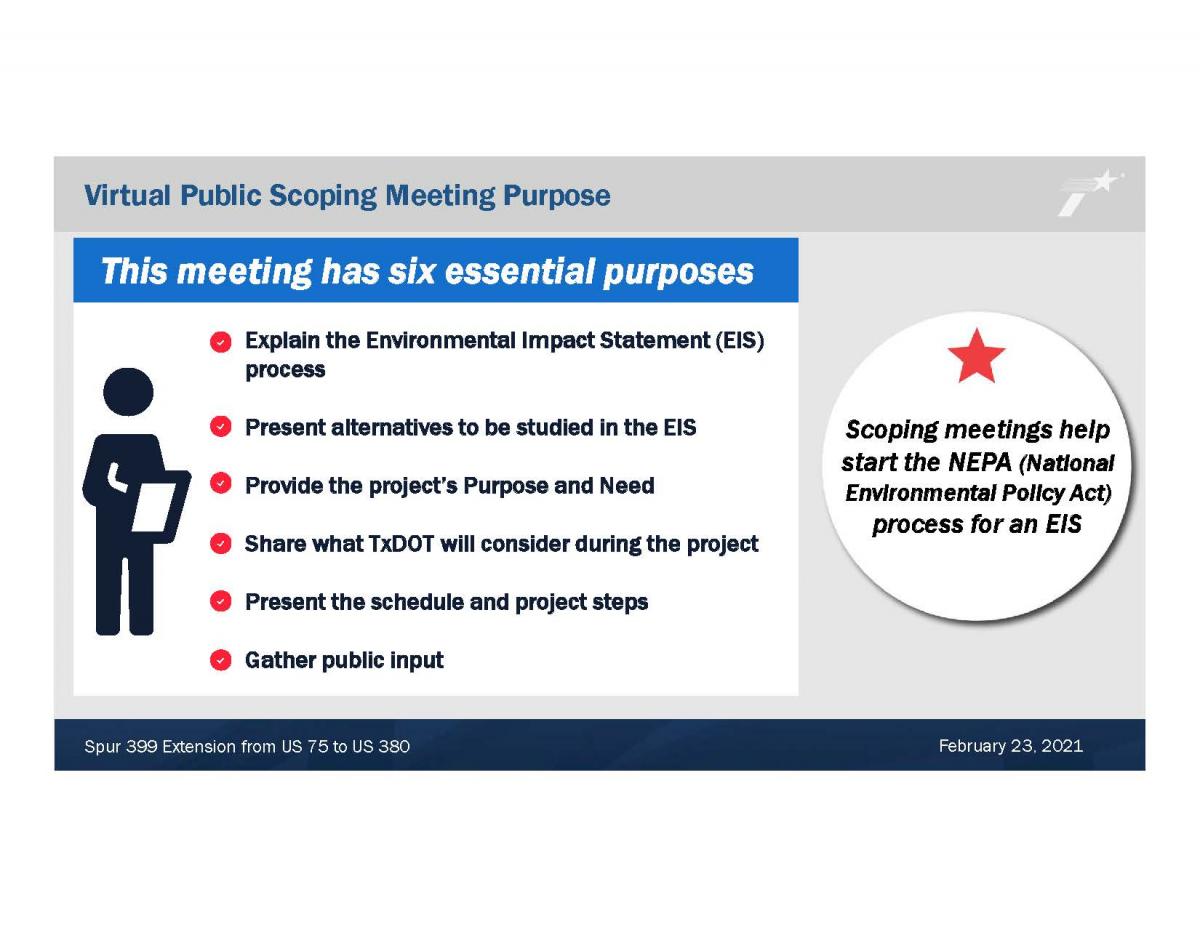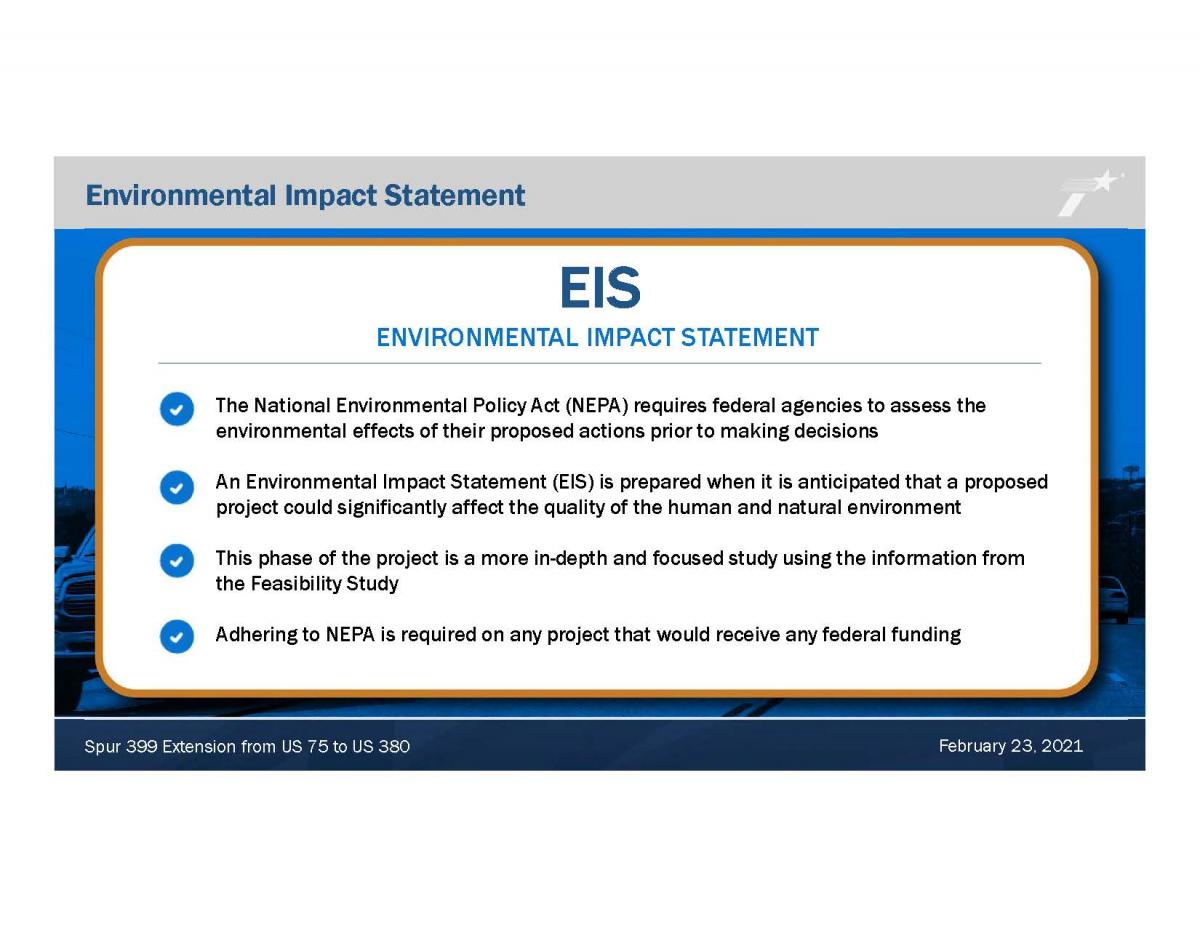 This public scoping meeting is being held in accordance with National Environmental Policy Act (NEPA) requirements for an Environmental Impact Statement (EIS). The public scoping meeting presents the following materials for review and comment:
(click links below to view the documents)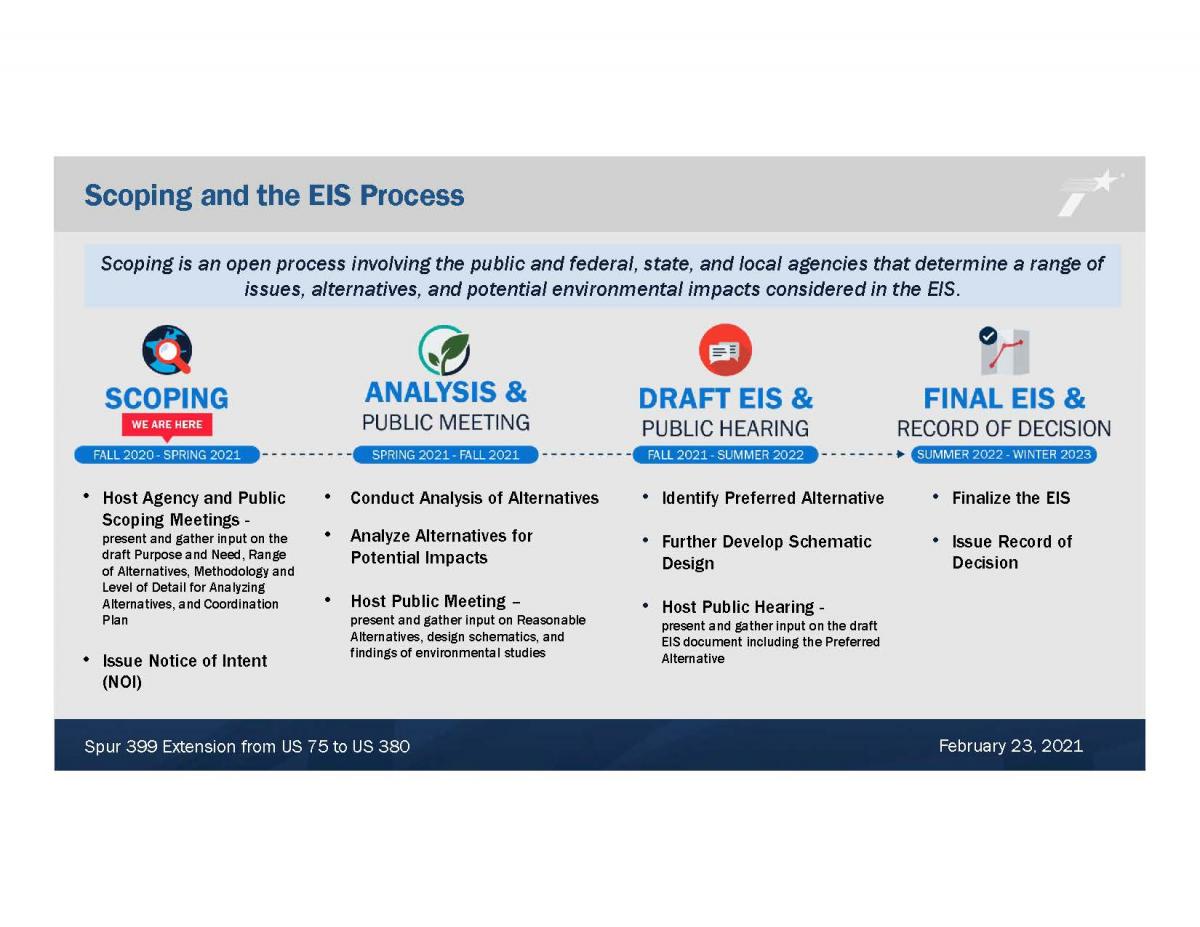 VIRTUAL MEETING WEBSITE
Click here to view the virtual meeting: https://www.spur399.com
On this site, information about the Spur 399 project will be available, including project history, current project status and detailed information about alternatives under consideration, and a description of the EIS process.
Please note: If you are on an old browser such as Internet Explorer, your browser can not support certain interactive elements displayed in the US 380 Virtual Public Scoping Meeting for Coit Rd to FM1827. The materials on this page are the same materials displayed in the Virtual Public Scoping Meeting.
If you wish to view the interactive site, please upgrade your internet browser (provide "Upgrade" button/link to here: https://updatemybrowser.org/)
PRESENTATION
Click this link to view the narrated video presentation: https://youtu.be/tJglL9ELK-Y
The presentation slides and script are also available in PDF format here:
WHY IS TXDOT LOOKING AT MORE ALTERNATIVES?
EXHIBITS AND OTHER PROJECT INFORMATION
Click the links below to view the exhibits/documents:
Roll Plot Showing Alternatives
Environmental Constraints Map
Frequently Asked Questions (FAQ)
Glossary of Terms
RIGHT-OF-WAY (ROW) INFORMATION
Various concepts under consideration would require new ROW. The amount of new ROW needed will not be determined until after the final alignment is selected.
Information about the process for state purchase of ROW and relocation assistance may be found in the following pamphlets:
Relocation Assistance ENGLISH
Relocation Assistance SPANISH
State Purchase of ROW ENGLISH
State Purchase of ROW SPANISH

HOW TO PROVIDE COMMENTS
The deadline for providing comments is March 10, 2021.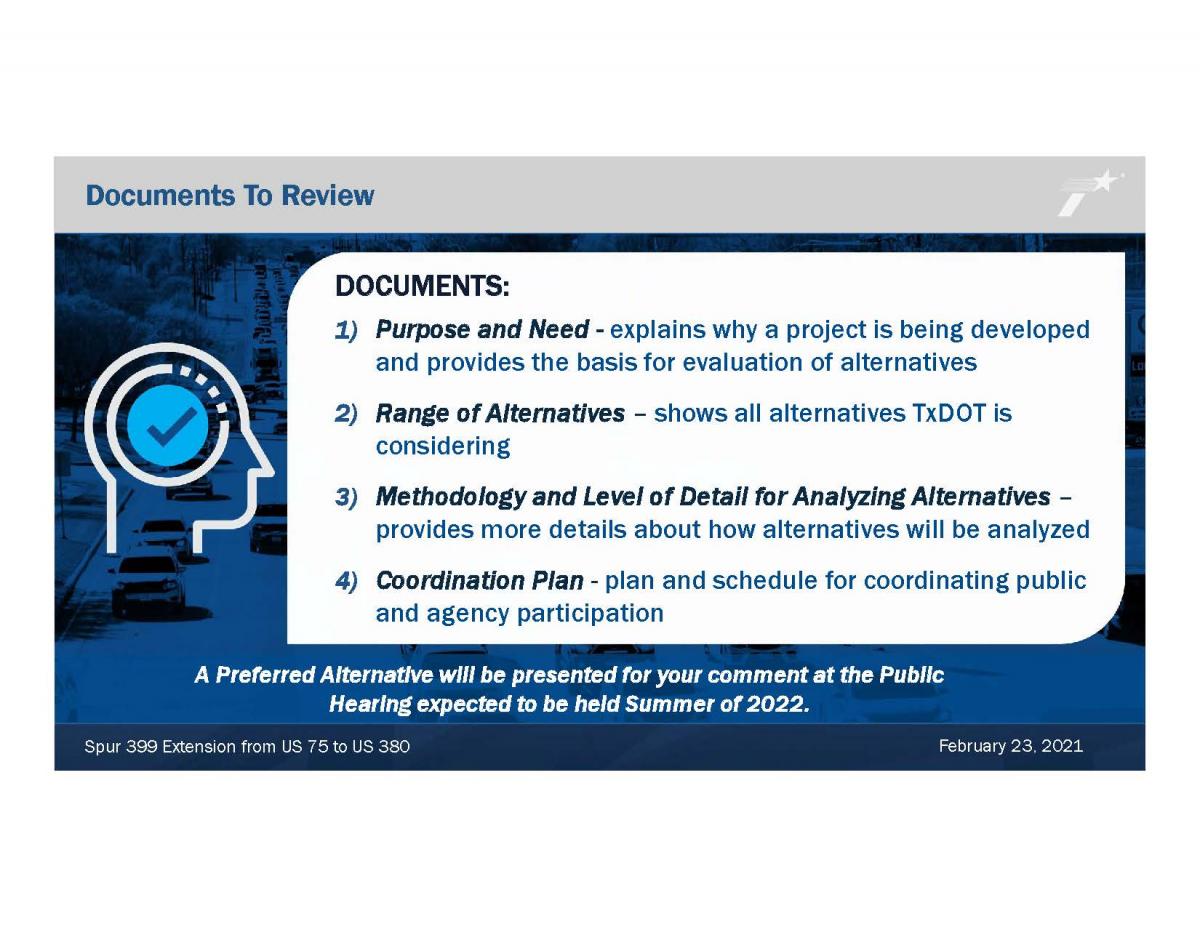 These documents can be accessed using the links above in the Purpose of Public Scoping Meeting section, and are also available on the virtual meeting website.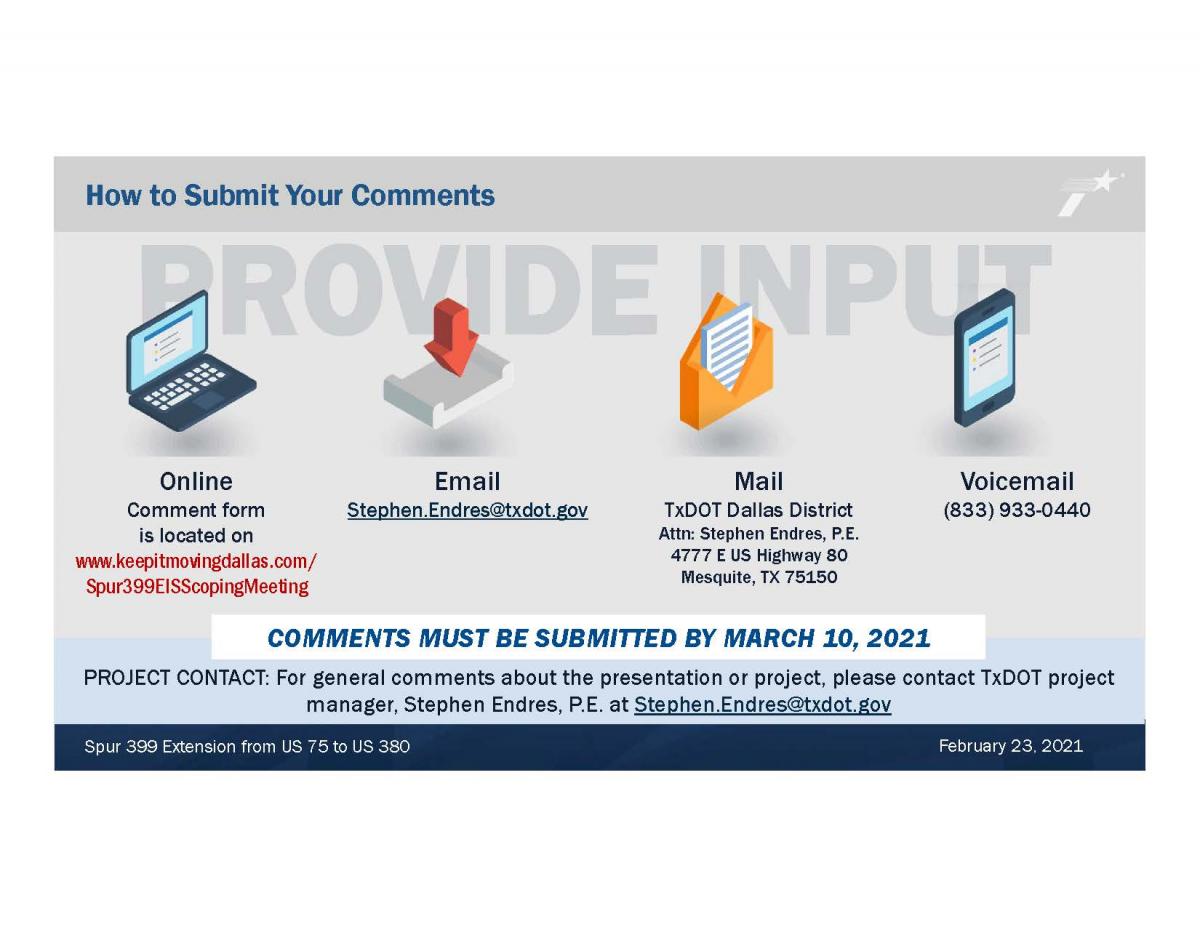 Comments may be provided online, or by mail, email, or voicemail, as explained below.
Comment Online: https://www.surveymonkey.com/r/spur399
Comment via Email or Mail: The PDF Comment Form may be completed on the computer or printed and handwritten, and can be submitted by email or mail. Click the links below for the PDF Comment Form.
Comment Form ENGLISH
Comment Form SPANISH
Email comments to [email protected]
Mail comments to:
TxDOT Dallas District Office
Attention Stephen Endres, P.E.
4777 East US Highway 80
Mesquite, TX 75150-6643
Verbal Comments: Call (833) 933-0440 and leave your comment on the voicemail. For the official documentation, please clearly state your name and address before your verbal comment. You will be able to record a 3-minute long verbal comment. Your comment will be transcribed and included in the meeting documentation.
QUESTIONS?
Contact the TxDOT project manager, Stephen Endres, P.E., to ask questions about the project at [email protected] or (214) 320-4469.