Virtual Public Scoping Meeting - US 380 Environmental Impact Statement (EIS)
US 380
From Coit Road to FM 1827
Collin County, Texas
CSJ: 0135-02-065, 0135-03-053
This virtual meeting begins at 6 p.m. on January 21, 2021 and will remain available online through the comment period deadline of February 5, 2021.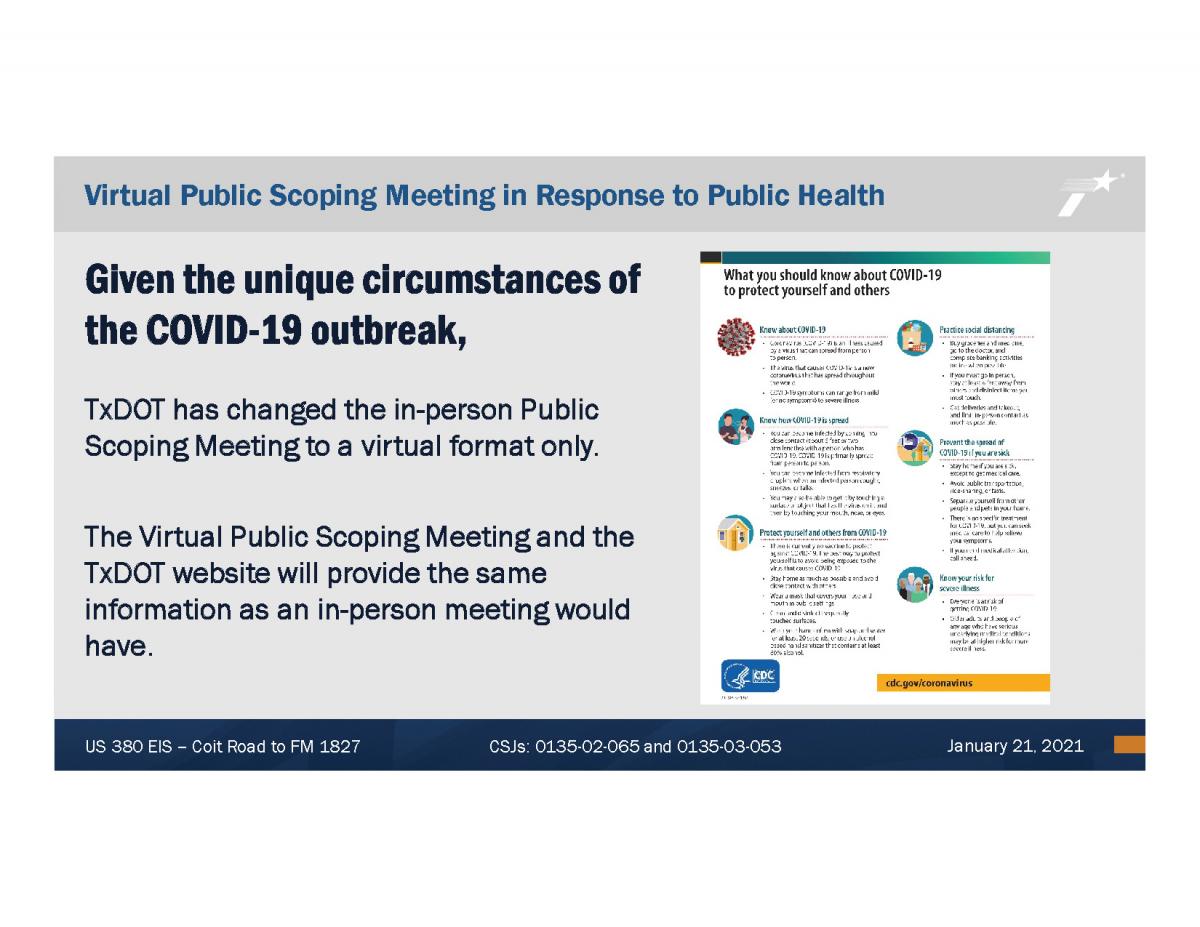 PURPOSE OF PUBLIC SCOPING MEETING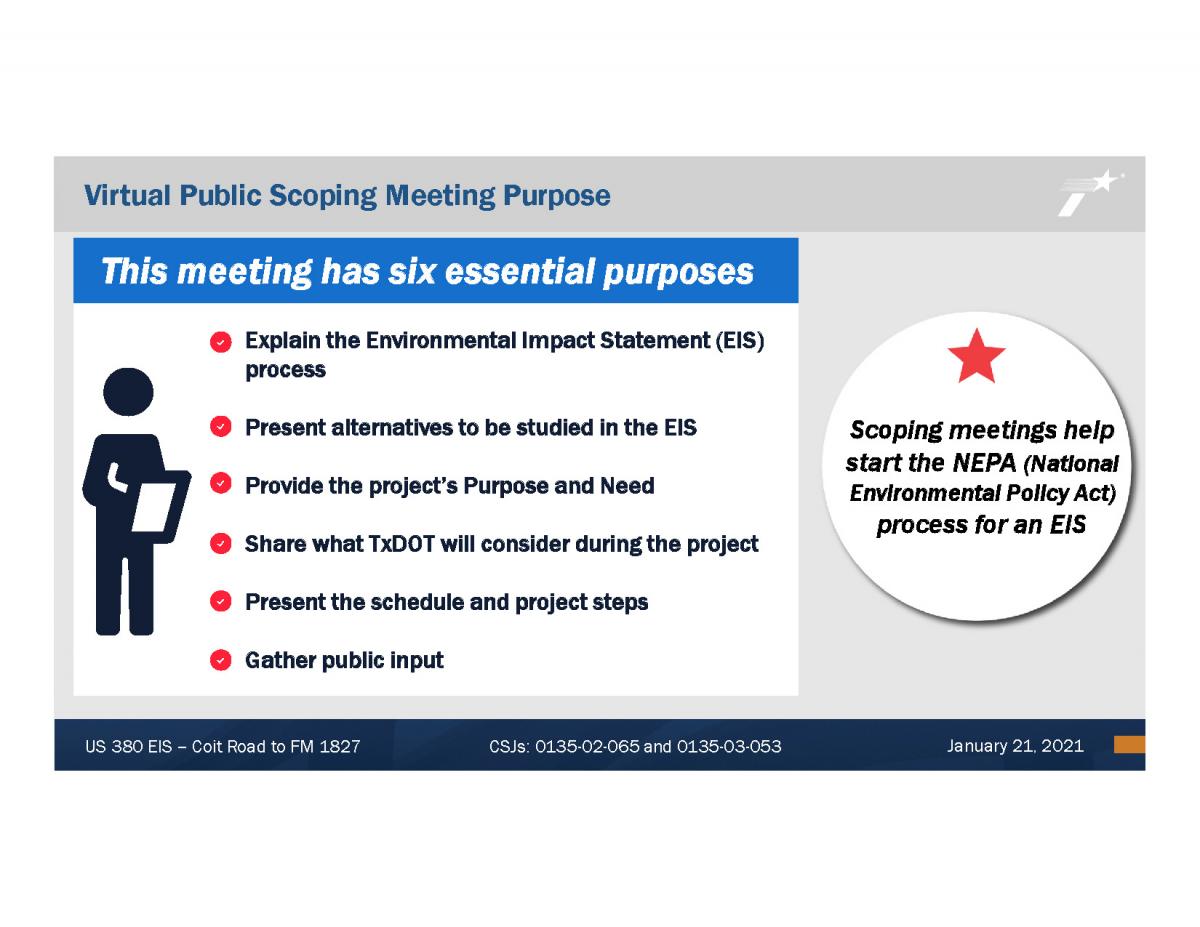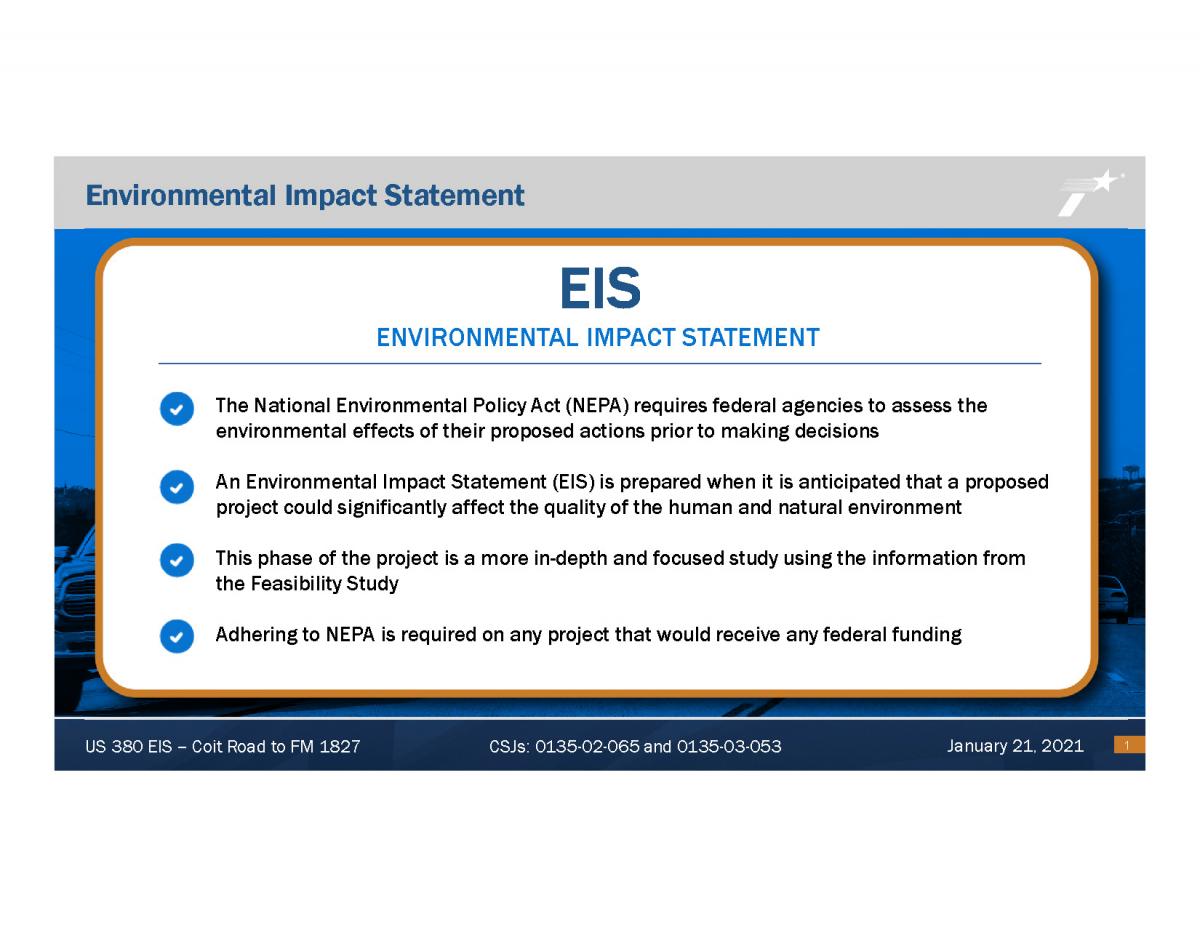 This public scoping meeting is being held in accordance with National Environmental Policy Act (NEPA) requirements for an Environmental Impact Statement (EIS). The public scoping meeting presents the following materials for review and comment:
(click links below to view the documents)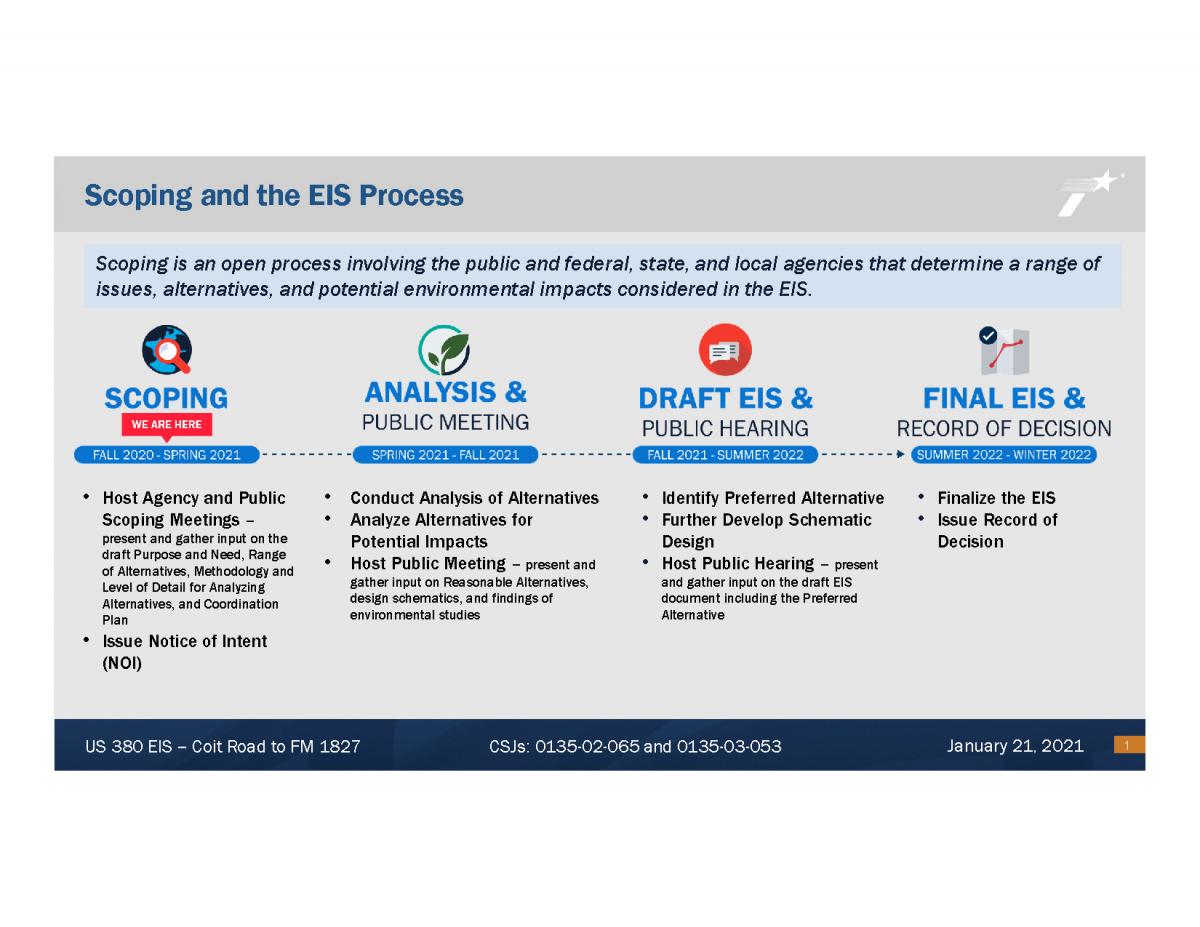 VIRTUAL MEETING WEBSITE
Click here to view the virtual meeting: https://www.drive380.com/coitfm1827
On this site, information about the US 380 project will be available, including project history, current project status and detailed information about alternatives under consideration, and a description of the EIS process.
Please note: If you are on an old browser such as Internet Explorer, your browser can not support certain interactive elements displayed in the US 380 Virtual Public Scoping Meeting for Coit Rd to FM1827. The materials on this page are the same materials displayed in the Virtual Public Scoping Meeting.
If you wish to view the interactive site, please upgrade your internet browser (provide "Upgrade" button/link to here: https://updatemybrowser.org/)
PRESENTATION
Click this link to view the narrated video presentation: https://youtu.be/LL8-adbE5U8
The presentation slides and script are also available in PDF format here:
WHY IS TXDOT LOOKING AT MORE ALTERNATIVES?
EXHIBITS AND OTHER PROJECT INFORMATION
Click the links below to view the exhibits/documents:
Roll Plot Showing Alternatives
Environmental Constraints Map
Frequently Asked Questions (FAQ)
RIGHT-OF-WAY (ROW) INFORMATION
Various concepts under consideration would require new ROW. The amount of new ROW needed will not be determined until after the final alignment is selected.
Information about the process for state purchase of ROW and relocation assistance may be found in the following pamphlets:
Relocation Assistance ENGLISH
Relocation Assistance SPANISH
State Purchase of ROW ENGLISH
State Purchase of ROW SPANISH
HOW TO PROVIDE COMMENTS
The deadline for providing comments is February 5, 2021.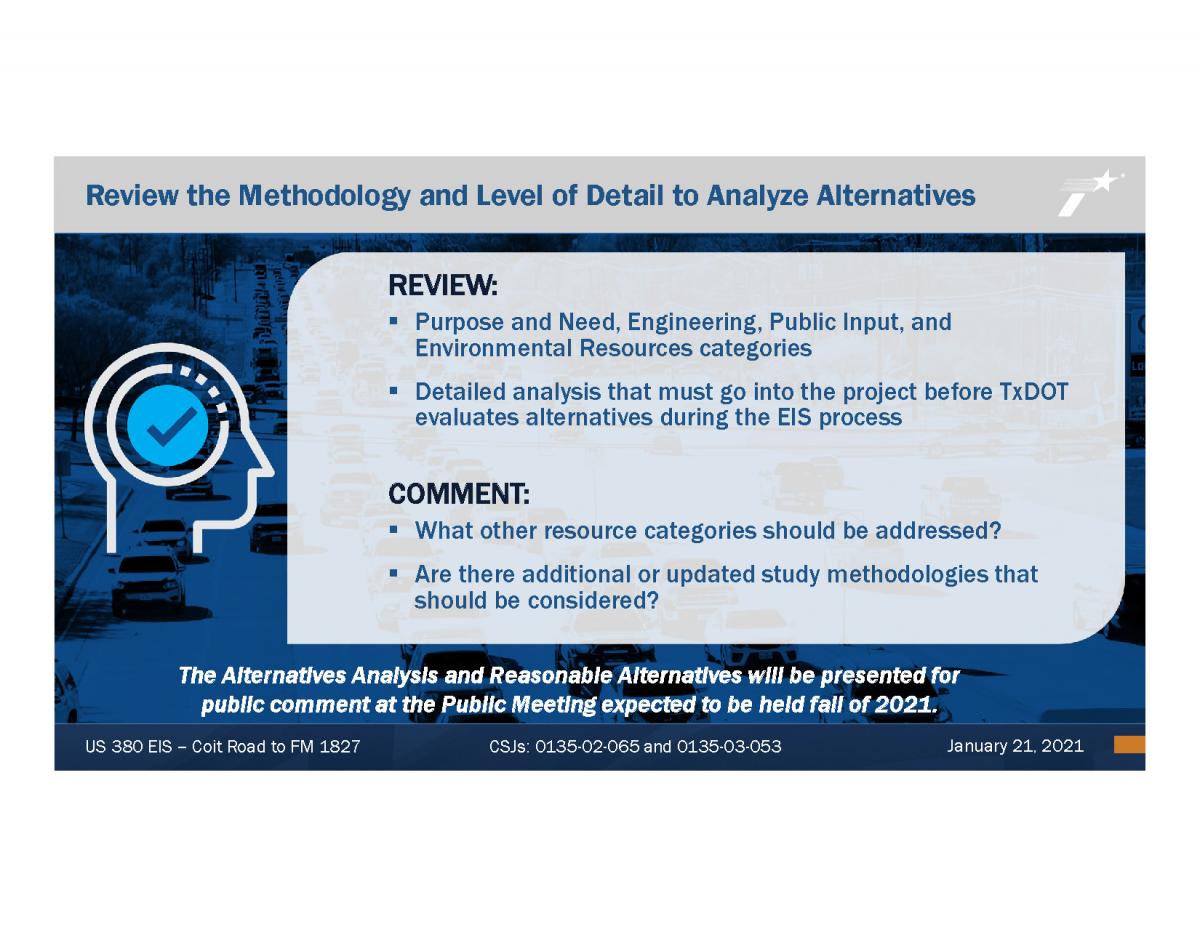 These documents can be accessed using the links above in the Purpose of Public Scoping Meeting section, and are also available on the virtual meeting website.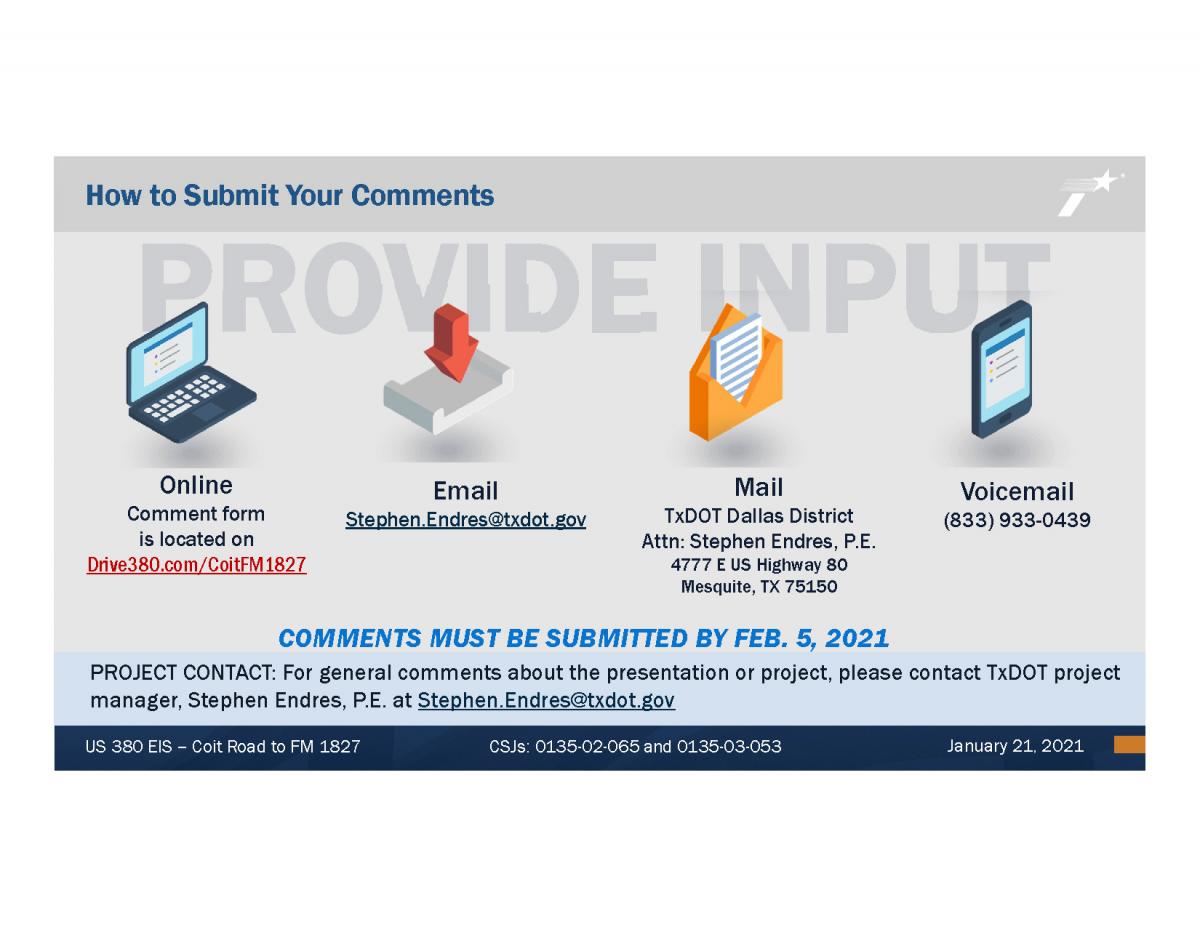 Comments may be provided online, or by mail, email, or voicemail, as explained below.
Comment Online: https://www.surveymonkey.com/r/C92BKVH
Comment via Email or Mail: The PDF Comment Form may be completed on the computer or printed and handwritten, and can be submitted by email or mail. Click the links below for the PDF Comment Form.
Comment Form ENGLISH
Comment Form SPANISH
Email comments to [email protected]
Mail comments to:
TxDOT Dallas District Office
Attention Stephen Endres, P.E.
4777 East US Highway 80
Mesquite, TX 75150-6643
Verbal Comments: Call (833) 933-0439 and leave your comment on the voicemail. For the official documentation, please clearly state your name and address before your verbal comment. You will be able to record a 3-minute long verbal comment. Your comment will be transcribed and included in the meeting documentation.
QUESTIONS?
Contact the TxDOT project manager, Stephen Endres, P.E., to ask questions about the project at [email protected] or (214) 320-4469.