Virtual Public Meeting for Loop 12
From Spur 408 to south of State Highway (SH 183)
Dallas County, Texas
CSJs 0581-02-077, 0581-02-146, 0581-02-154
Tuesday, May 3, 2022
The virtual meeting begins on Tuesday, May 3 at 5:30 PM and will remain available online through the comment period deadline of May 20, 2022. During this time, please view the project materials and other information provided on this site to learn about the project and provide your comments.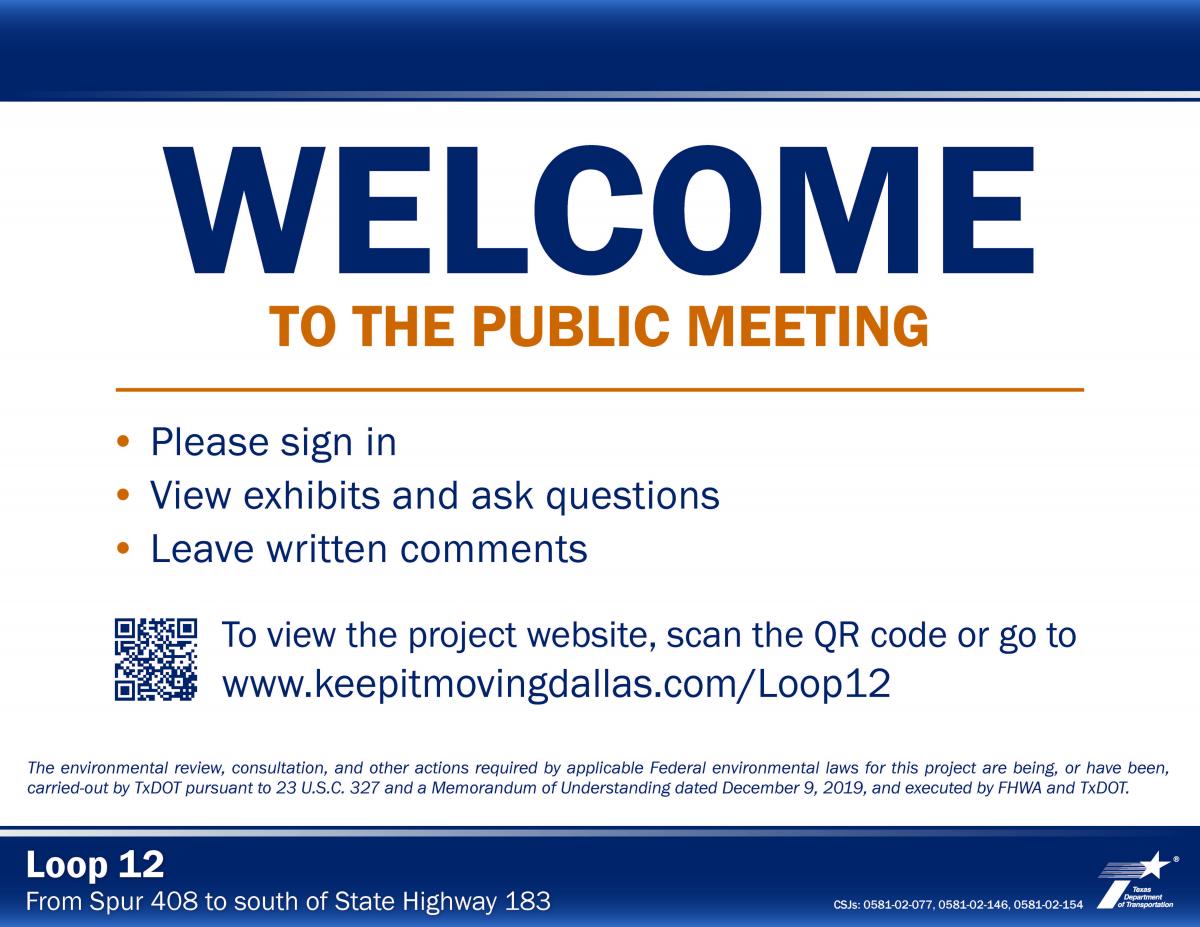 PROJECT DESCRIPTION
The proposed project includes the reconstruction and widening of Loop 12 from Spur 408 to south of SH 183, within the Cities of Irving and Dallas in Dallas County. The total length of improvements is approximately 10 miles; from which 7.8 miles would be along Loop 12 and 2.2 miles would be along I-30. The proposed improvements would consist of the reconstruction of Loop 12 to a minimum of six and maximum of eight 12-foot wide general purpose lanes with 10-foot wide shoulders between Spur 408 and south of SH 183. The proposed project would also include the addition of two 12-foot wide reversible managed lanes, and reconstruction of the discontinuous frontage roads to continuous frontage roads between Spur 408 and south of SH 183. The frontage roads would be reconstructed to include a minimum of two to a maximum of three 12-foot wide lanes in each direction. Other improvements consist of the addition of a 10-foot wide shared-use path for bicyclists and pedestrians along the northbound frontage road. There would be a buffer between the shared-use path and the frontage roads. Sidewalk improvements would occur along the southbound frontage road. Other pedestrian and bicycle improvements include sidewalks and bicycle paths at street crossings. The proposed project would also include the reconstruction of the Loop 12 and I-30 interchange..
PRESENTATION
TxDOT EXHIBITS
You may click on any of the project exhibits below to view them at full size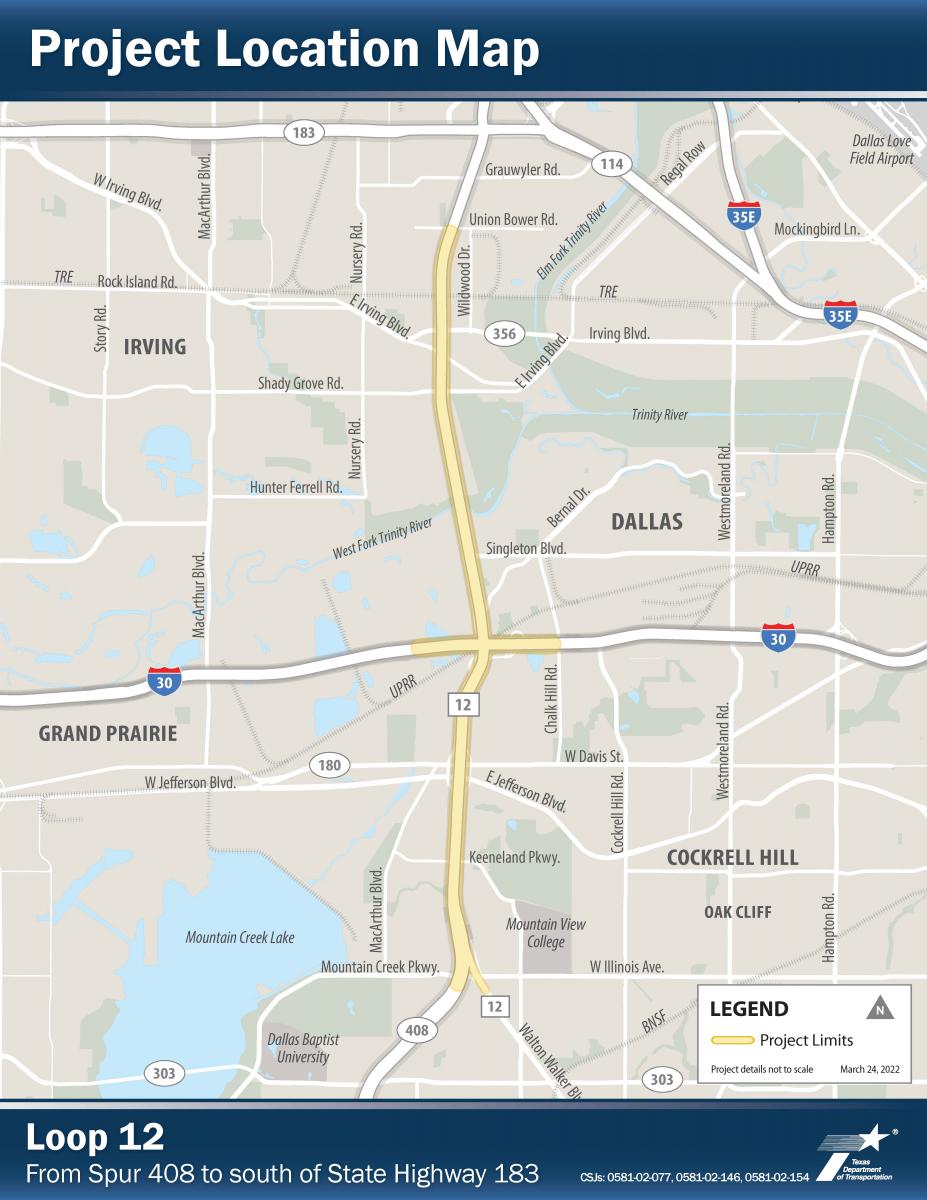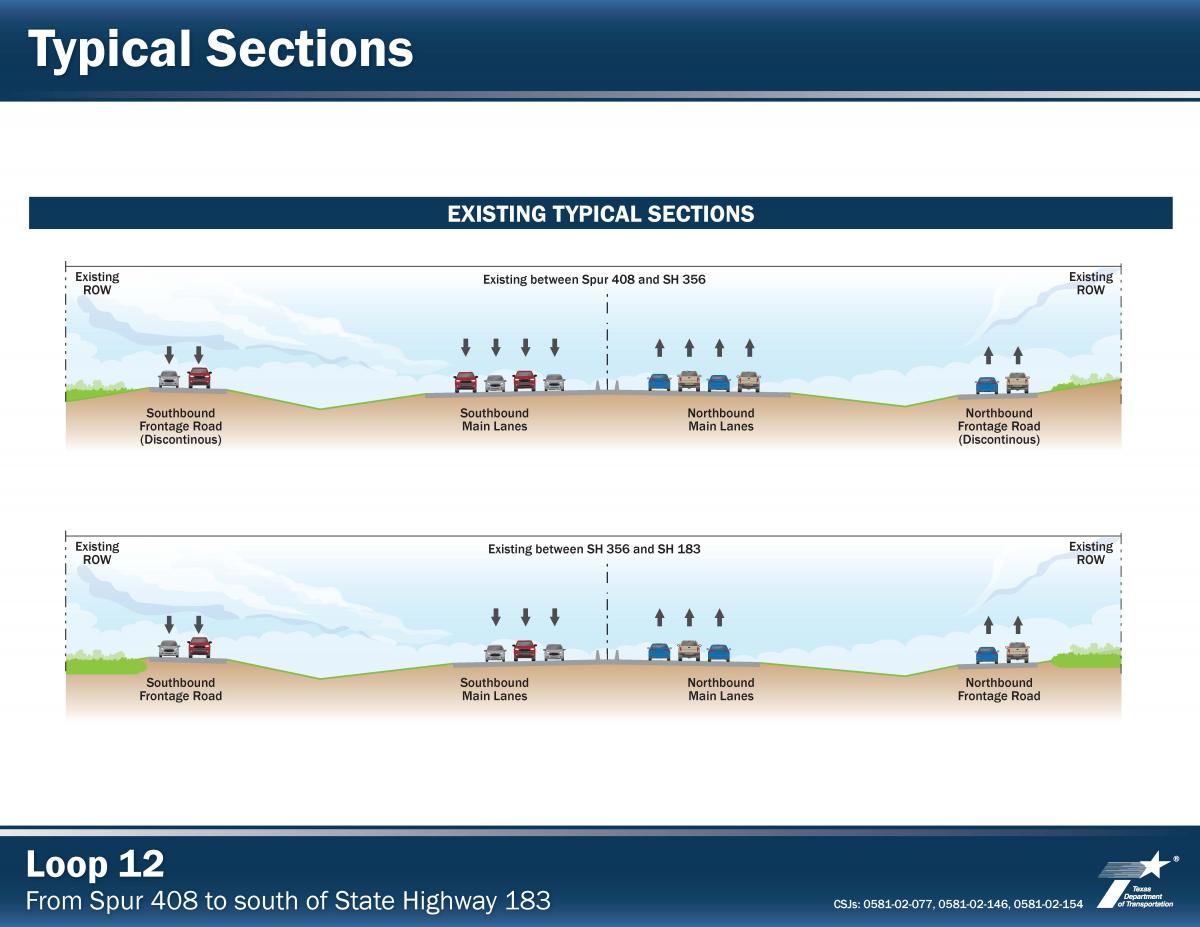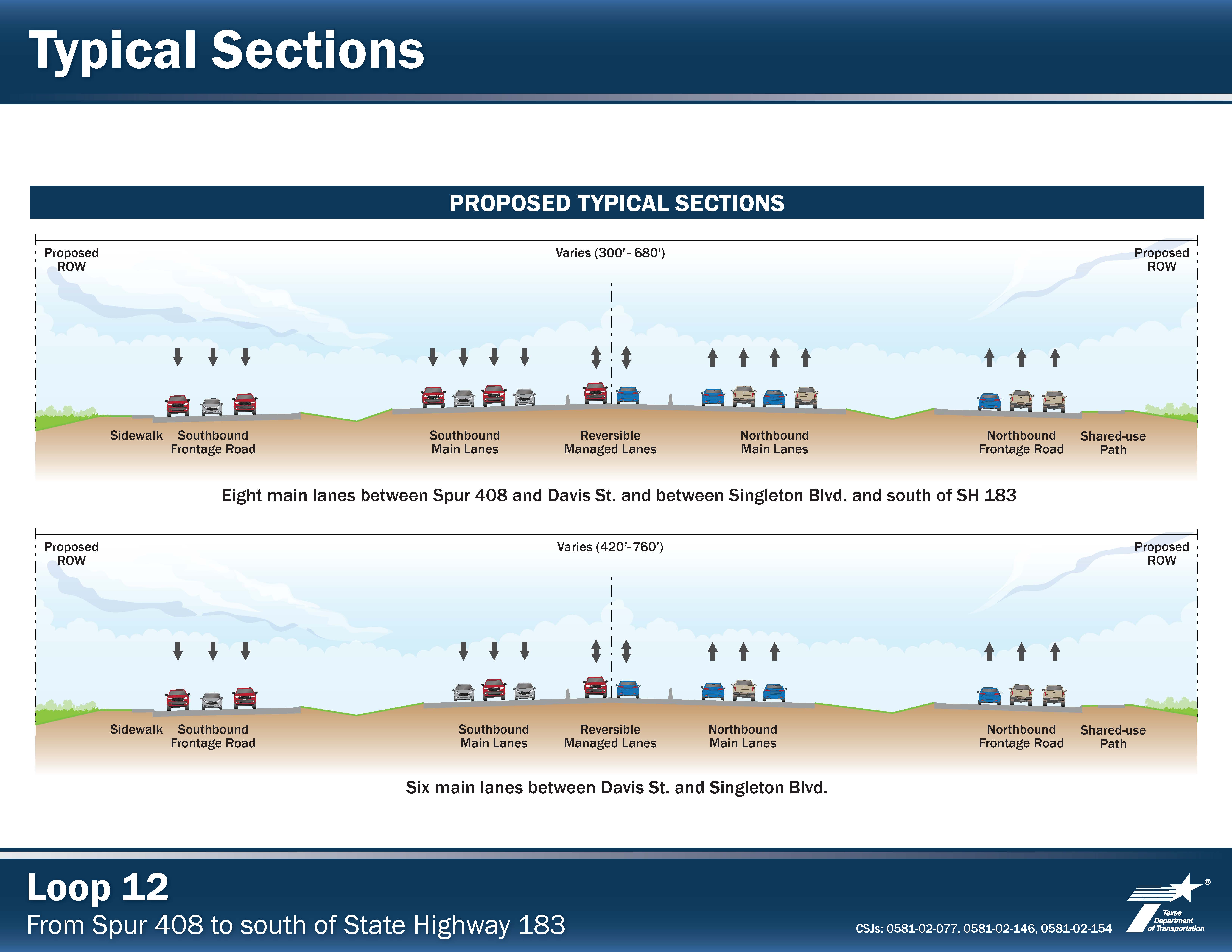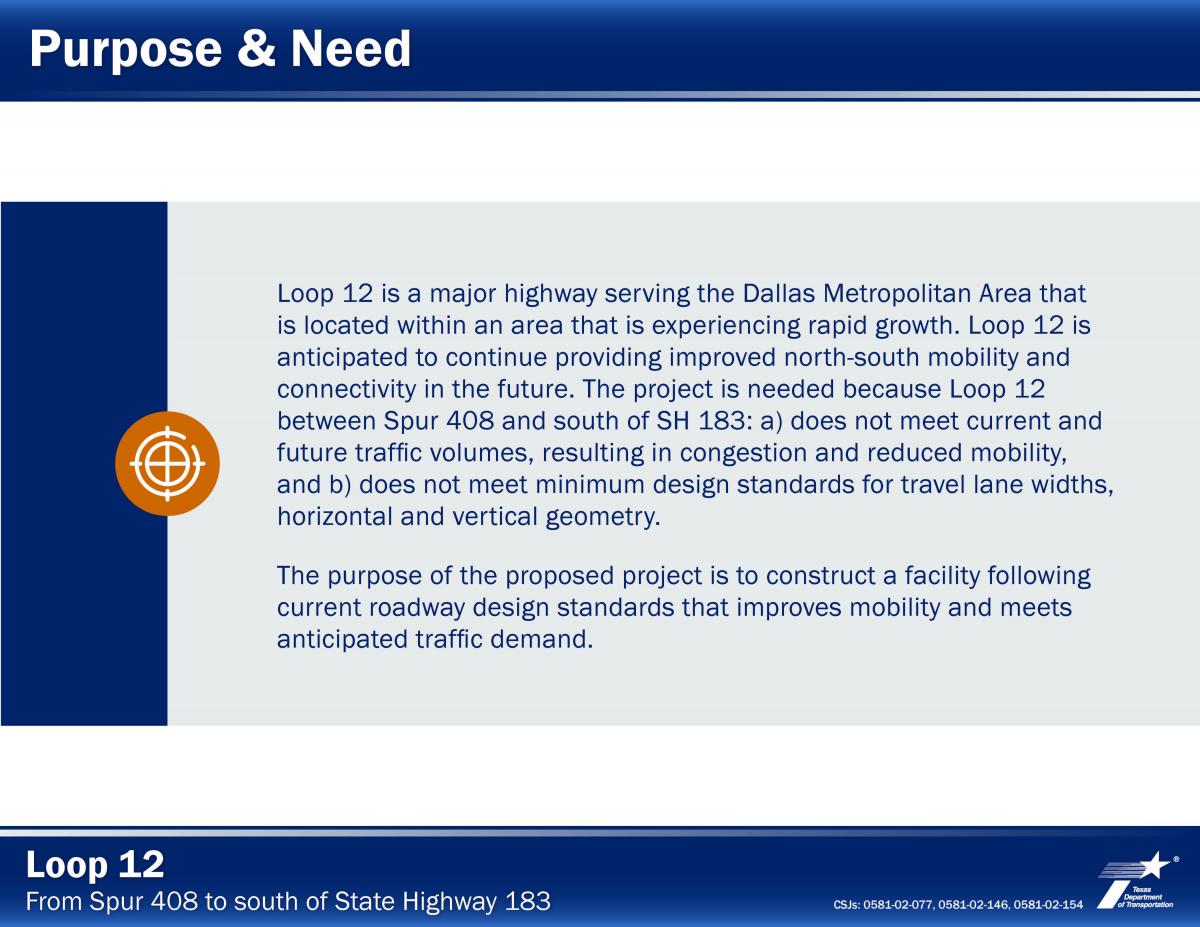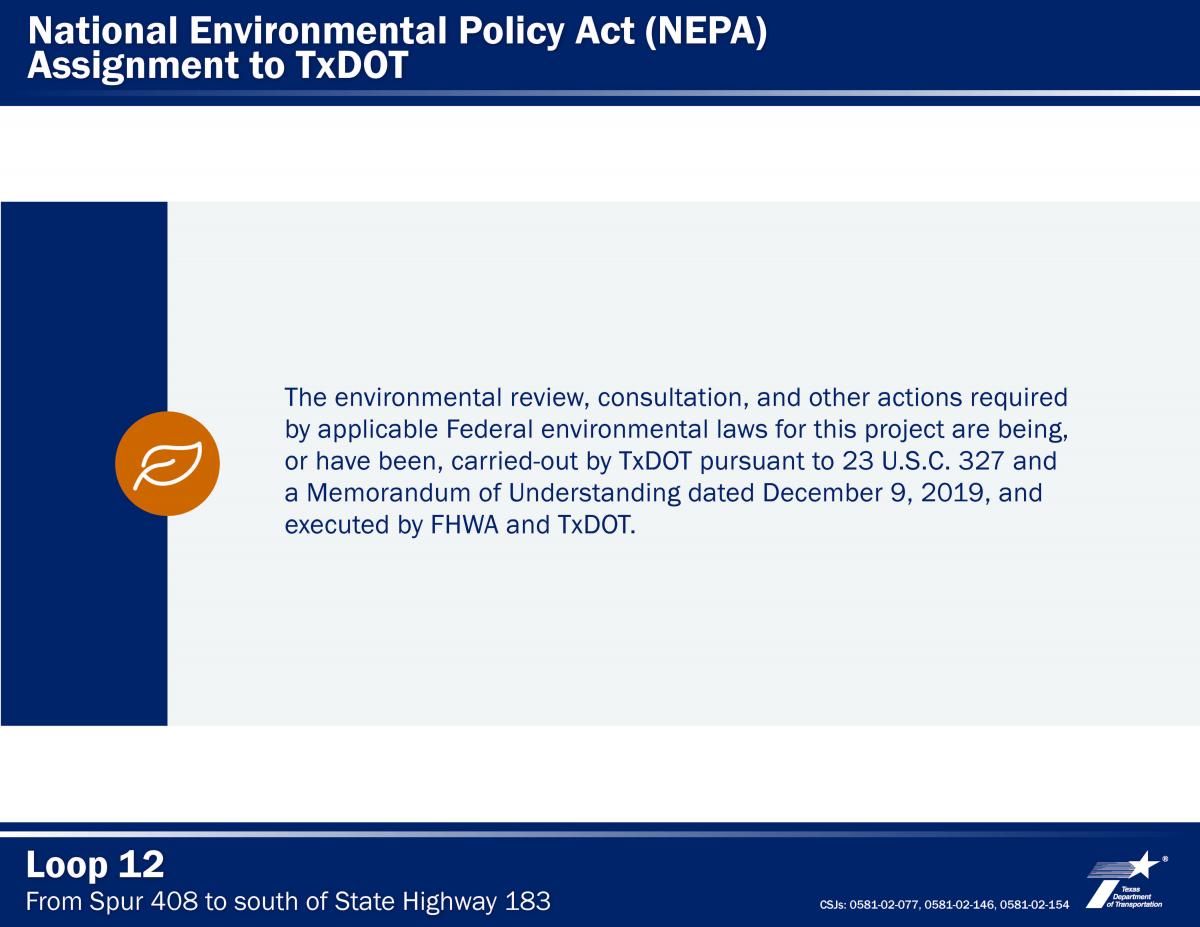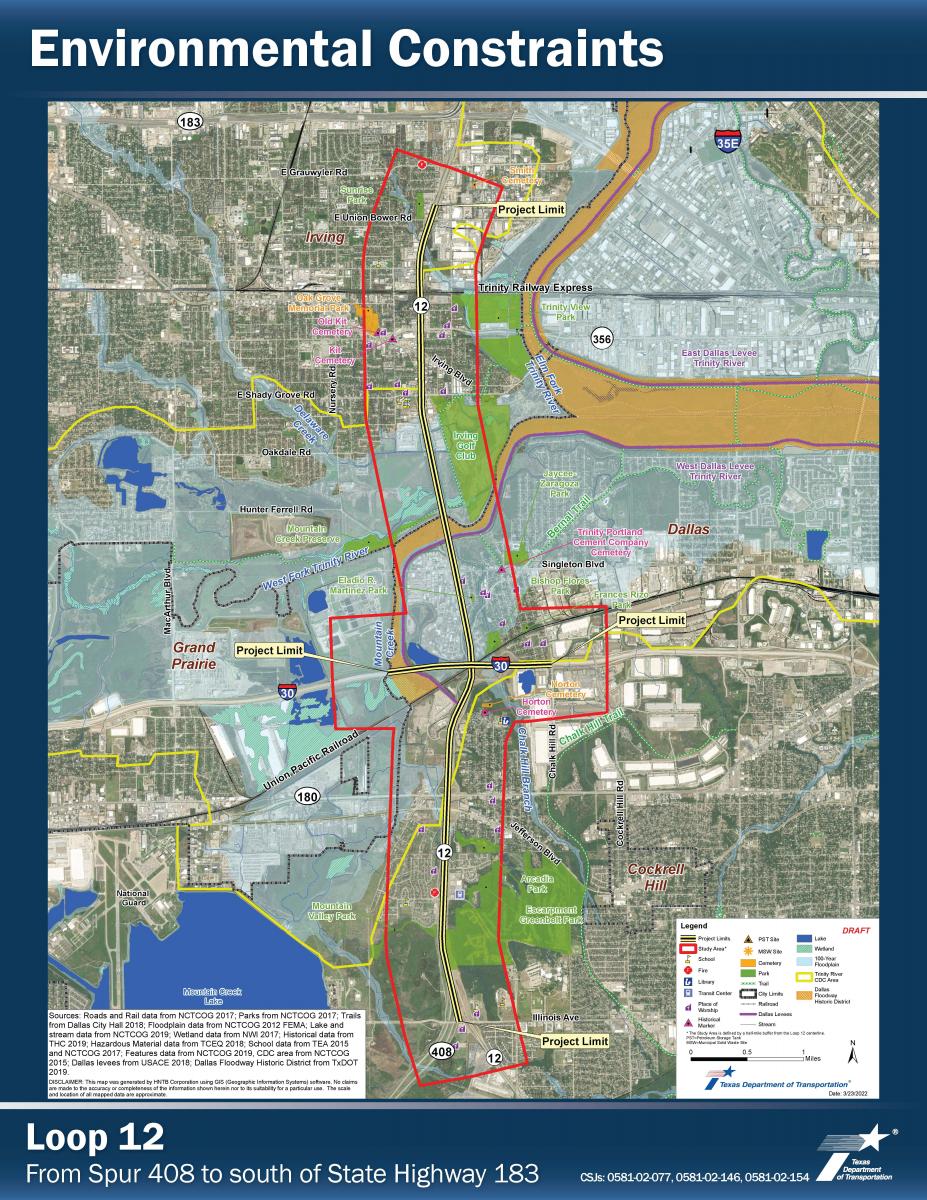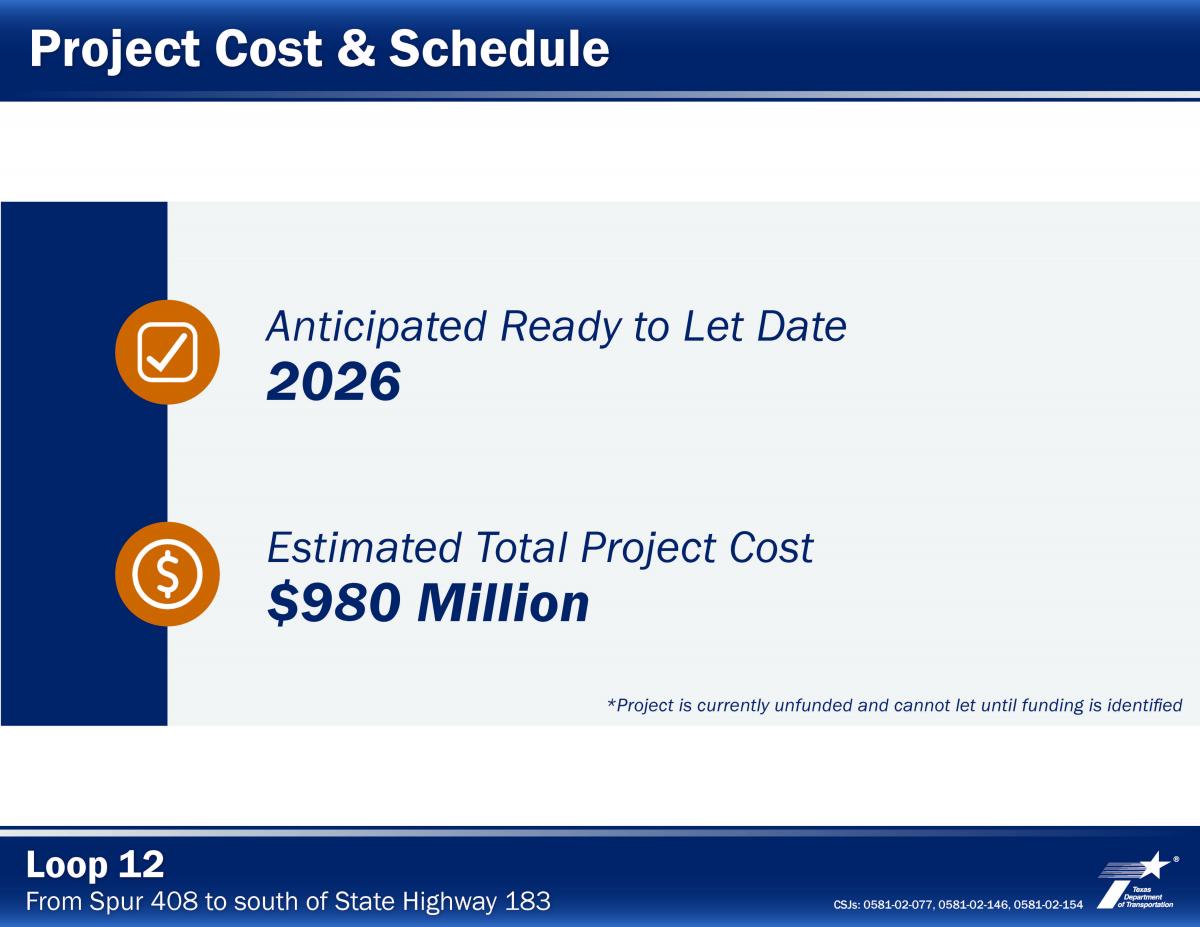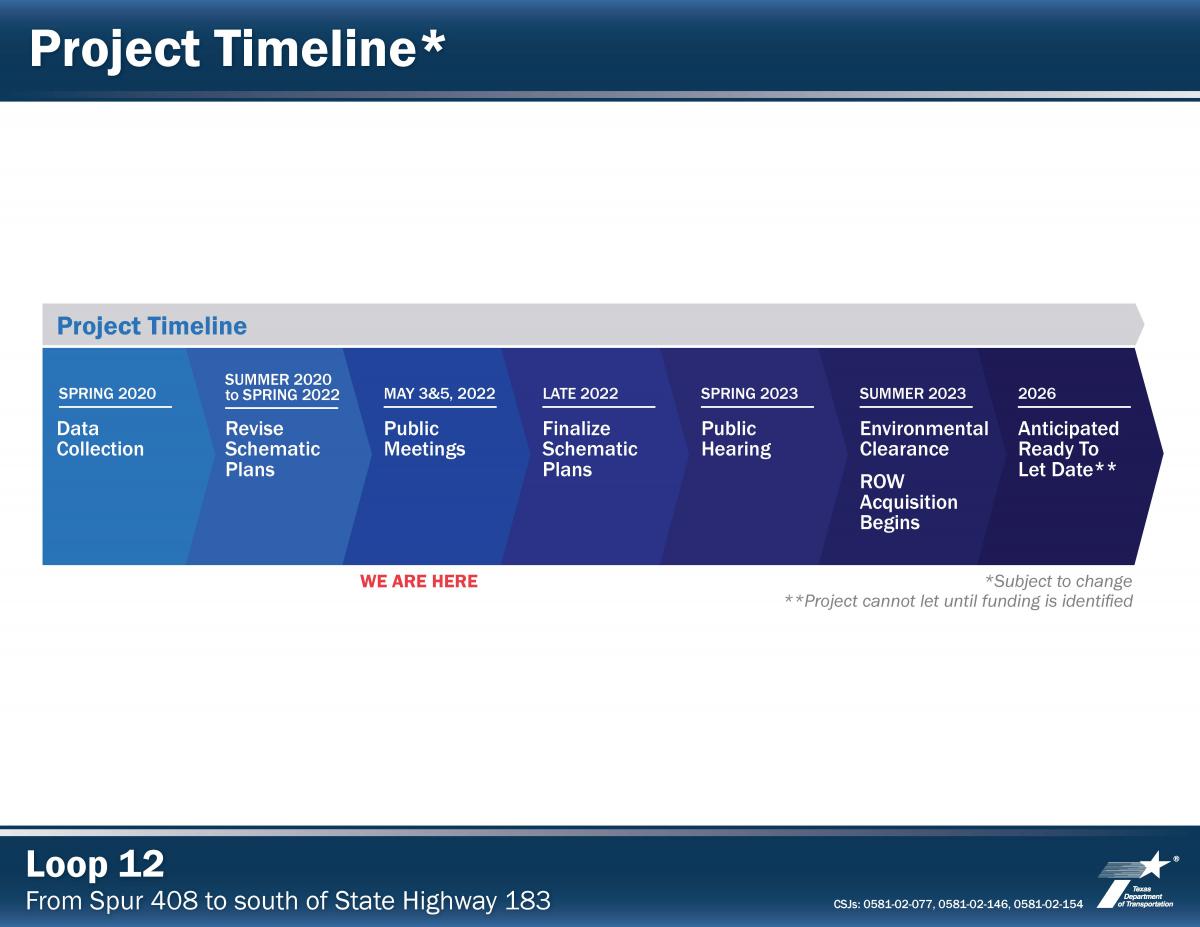 SCHEMATICS (updated May 30, 2023)
Schematic Pages 1-3 (Mountain Creek Parkway/W. Illinois Avenue to Townview Lane)
Schematic Pages 4-6 (east of Townview Lane to Irving Boulevard)
Schematic Pages 7-8 (SH 356 to south of SH 183)
Schematic Pages 9-11 (I-30 between west of Loop 12 and North Cockrell Road)
RIGHT OF WAY (ROW) INFORMATION
The proposed ROW will range from 300 feet to 760 feet and will require approximately 2.39 acres of new ROW.
Information about the process for state purchase of ROW and relocation assistance may be found in the following pamphlets:
Relocation Assistance: English
Relocation Assistance: Spanish
State Purchase of ROW: English
State Purchase of ROW: Spanish
HOW TO PROVIDE COMMENTS
The deadline for providing comments is May 20, 2022.
QUESTIONS?
Contact the TxDOT project manager Jordan Mrayyan, P.E. to ask questions about the project at [email protected] or (214) 320-4431.