Virtual Public Hearing for FM 1385
FM 1385 Final Environmental Assessment (EA)
To view the Final EA, click HERE
FINDING OF NO SIGNIFICANT IMPACT (FONSI)
From US 380 to FM 455
Denton County
CSJ 1315-01-030
Monday, May 8, 2023
The virtual hearing begins on Monday, May 8, 2023 at 5:30 PM and will remain available online through the comment period deadline of May 23, 2023. During this time, please view the project materials and other information provided on this site to learn about the project and provide your comments.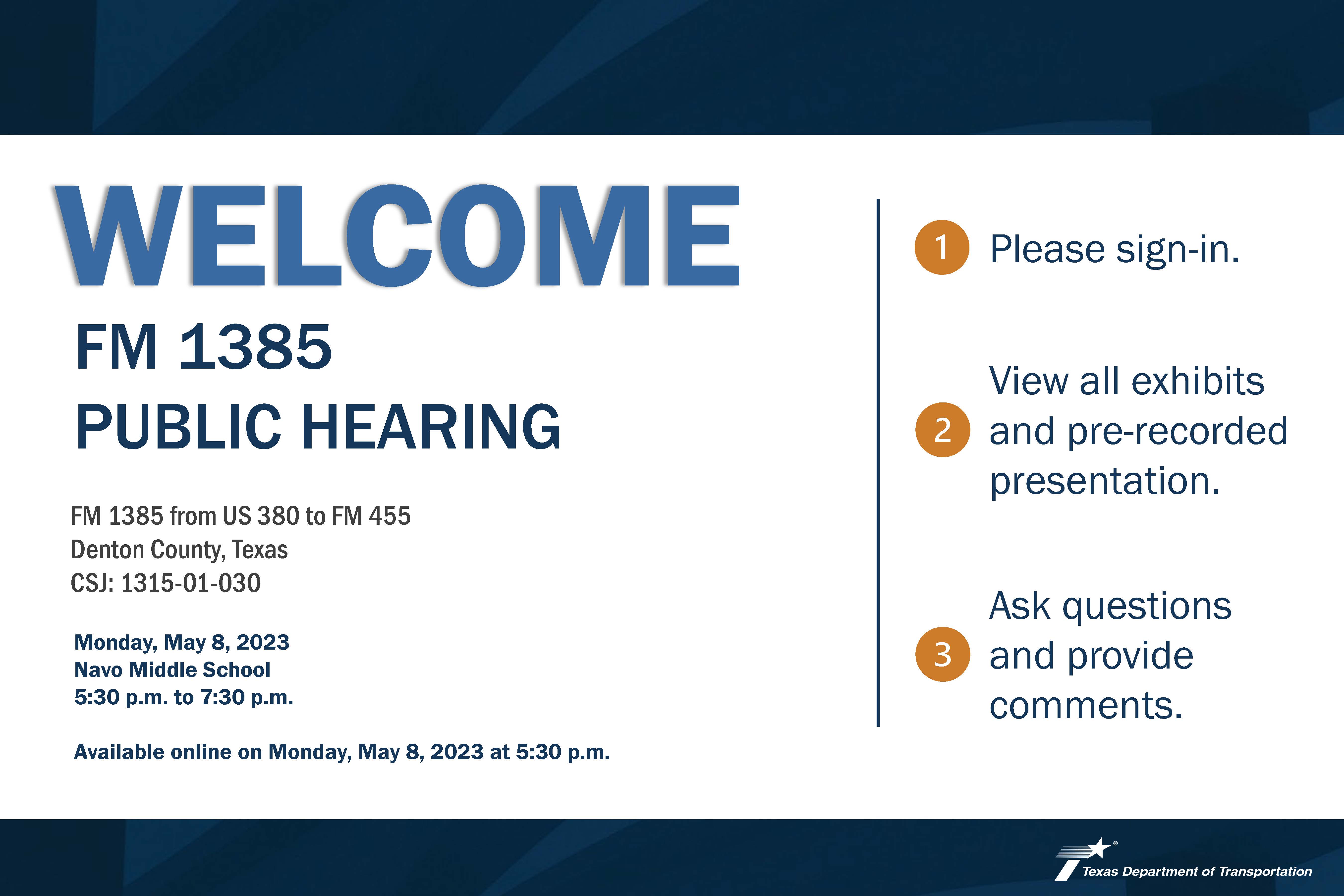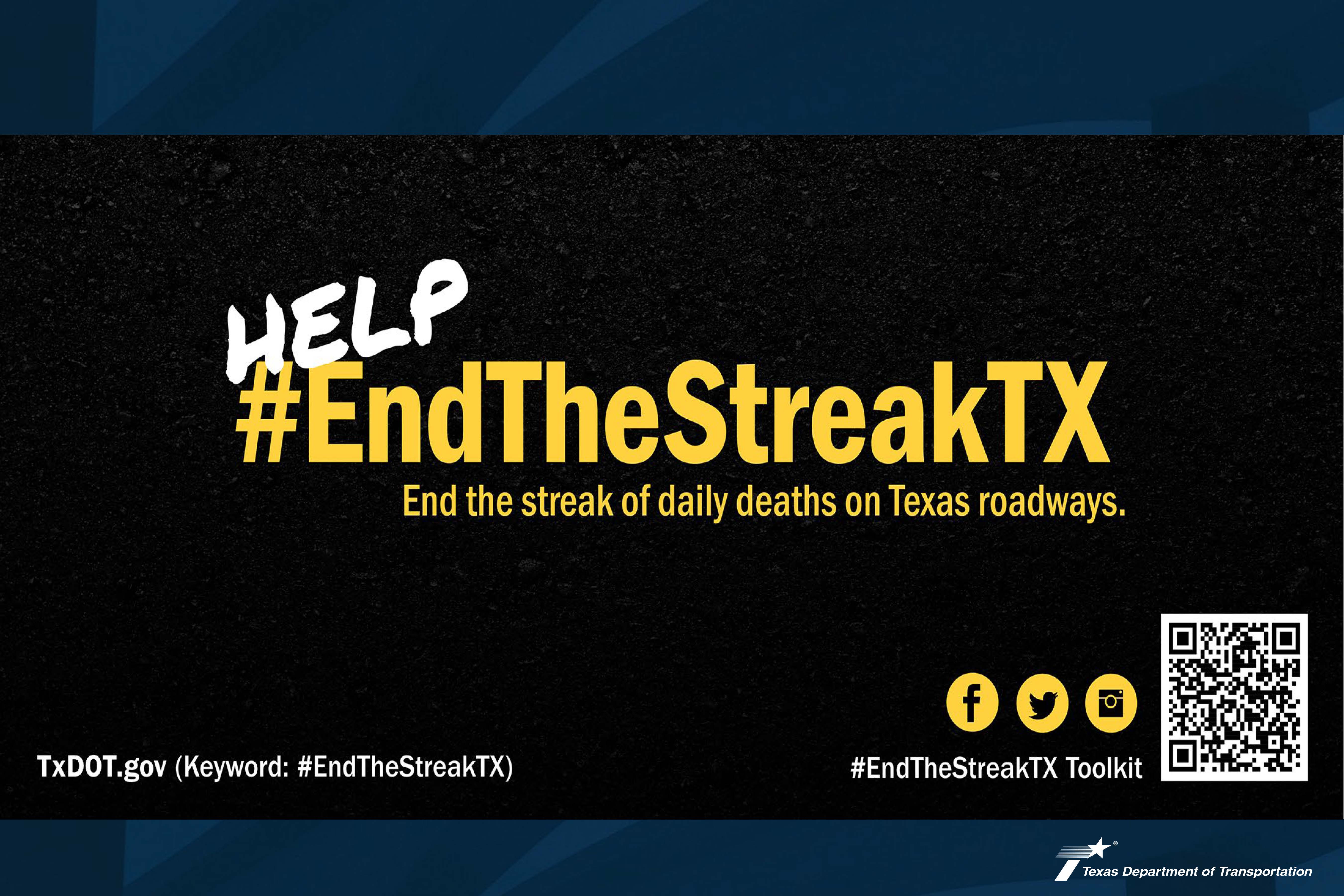 PROJECT DESCRIPTION
The proposed project would include construction of a six-lane divided urban roadway from US 380 to Mustang Road and a four-lane interim (six-lane ultimate) divided roadway from Mustang Road to FM 455 with sidewalks/shared use paths. A realignment of the central portion of FM 1385 at Mustang Road is proposed to directly connect FM 1385 to the north and south without requiring vehicles to travel along the Mustang Road portion of existing FM 1385. Additionally, a realignment of the southern portion of FM 1385 at Gee Road/Fishtrap Road is also proposed. This would flatten out the existing "S" curve at Gee Road/Fishtrap Road and improve mobility along FM 423 at the intersection with FM 1385.
PRESENTATION
TxDOT EXHIBITS
You may click on any of the project exhibits below to view them at full size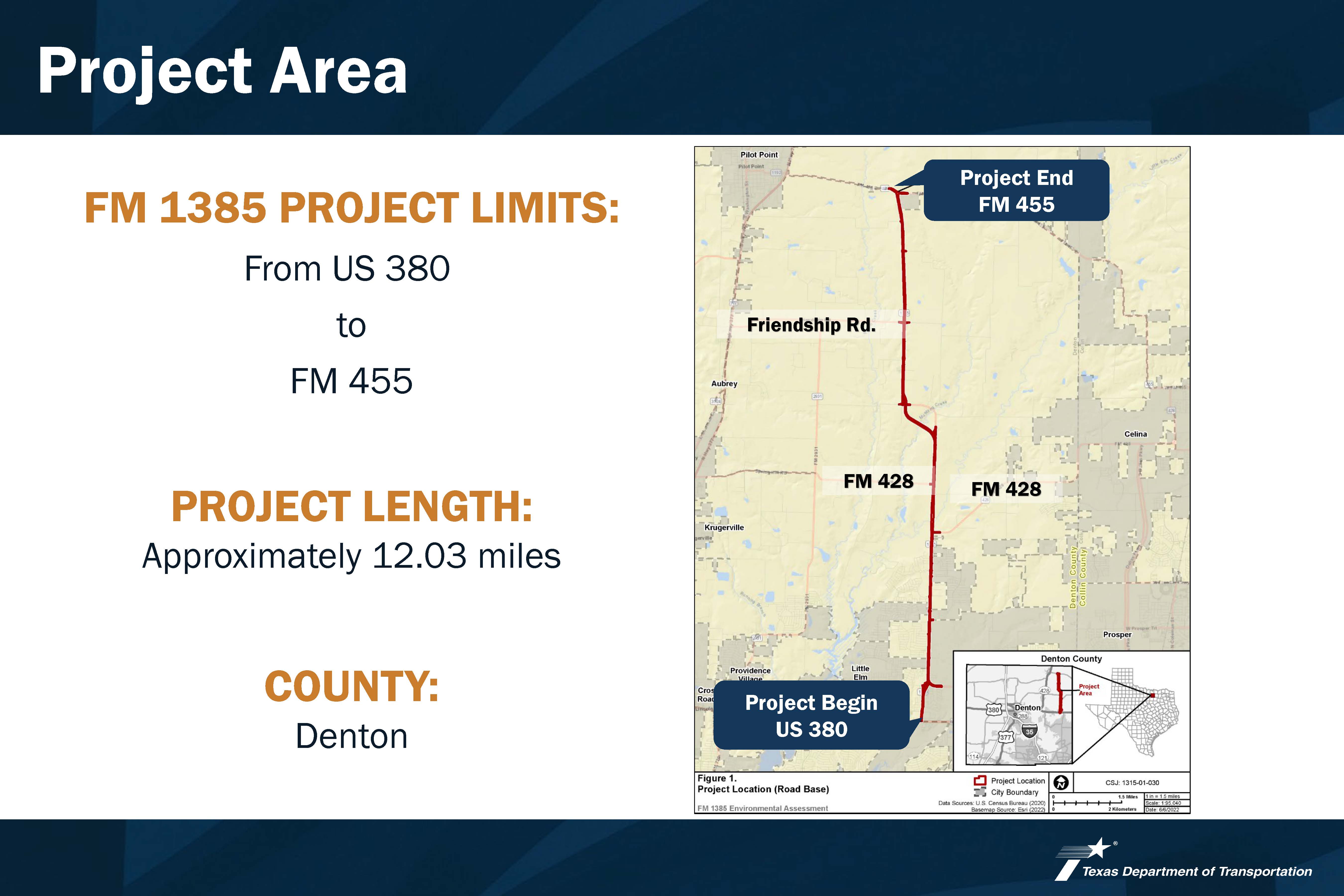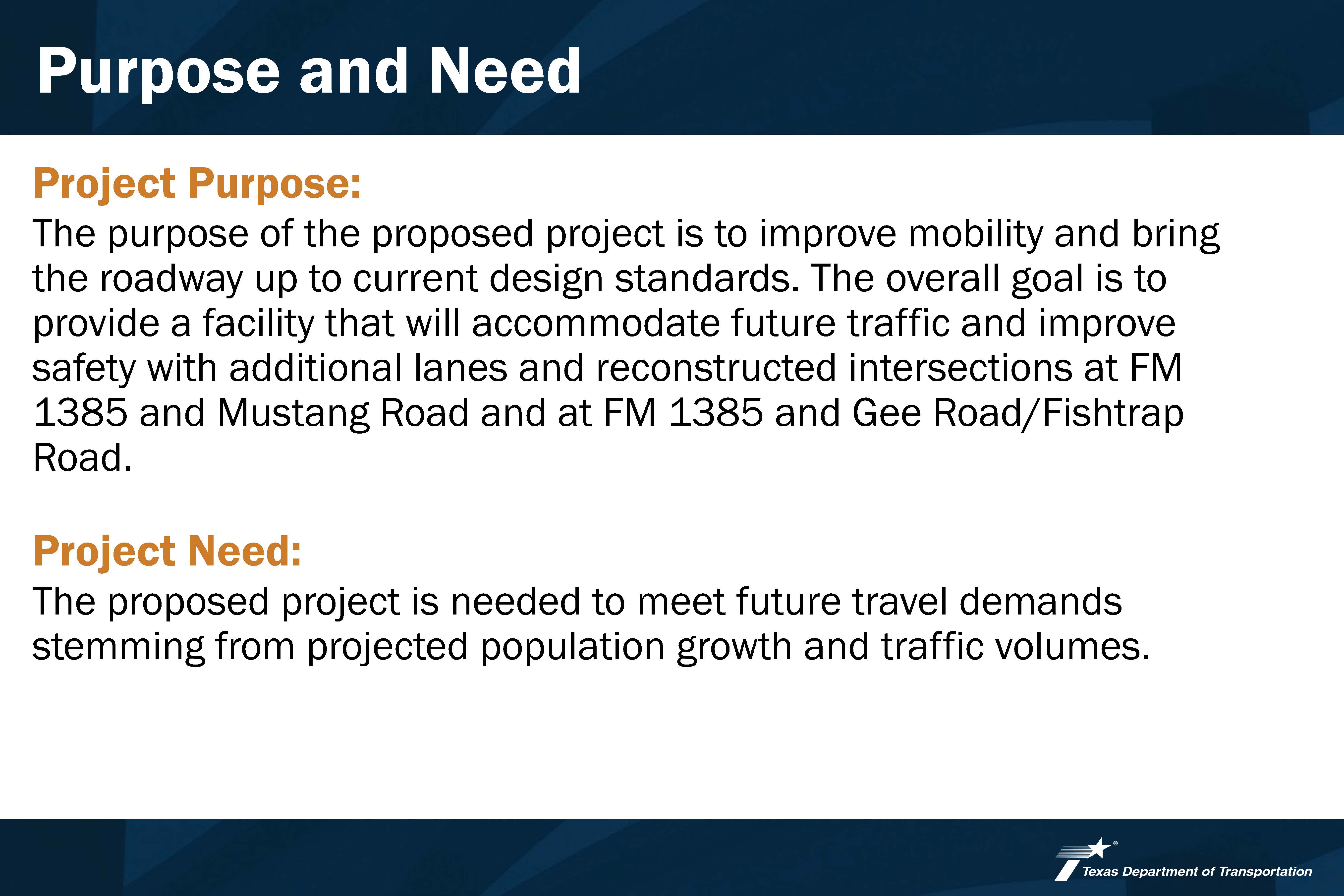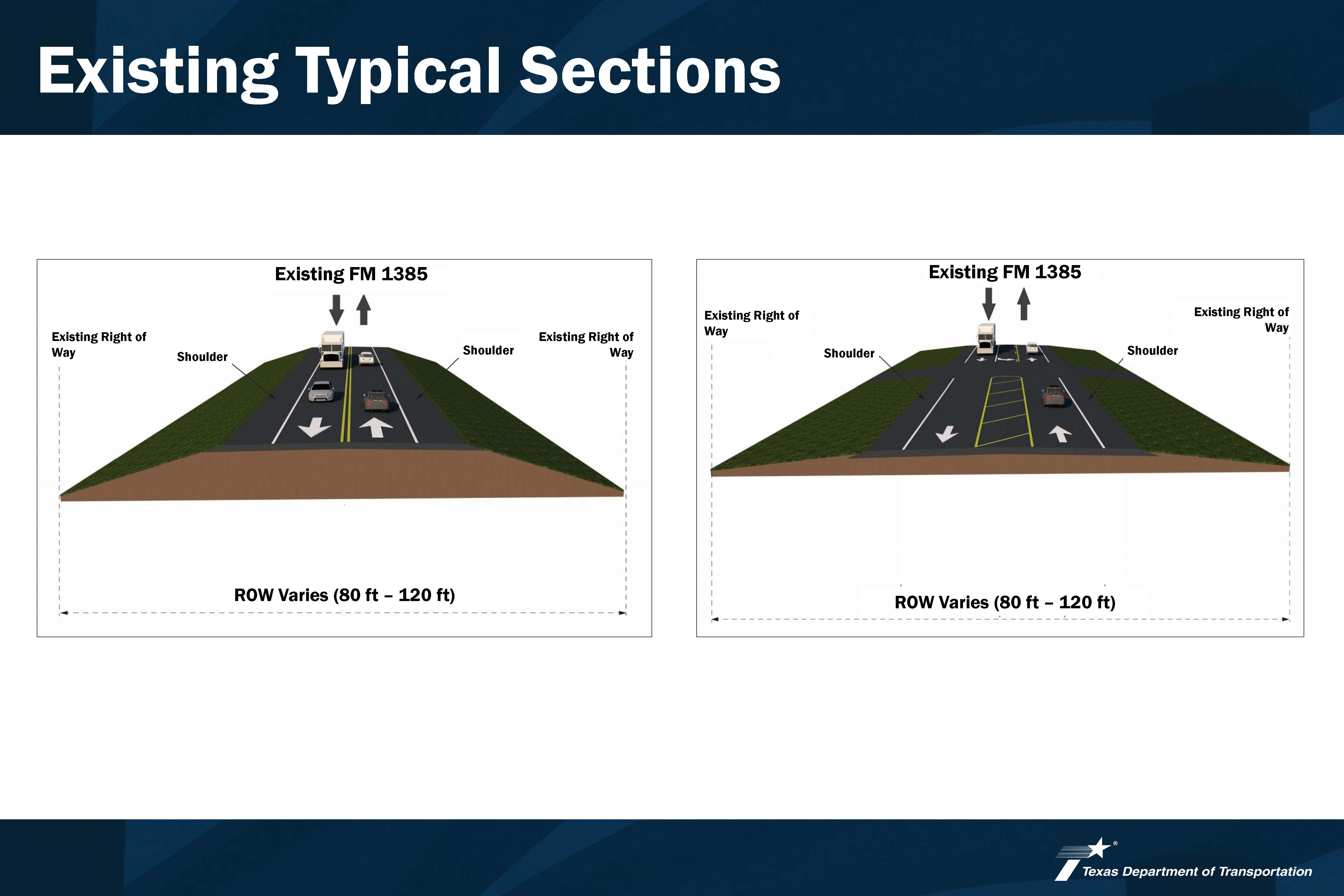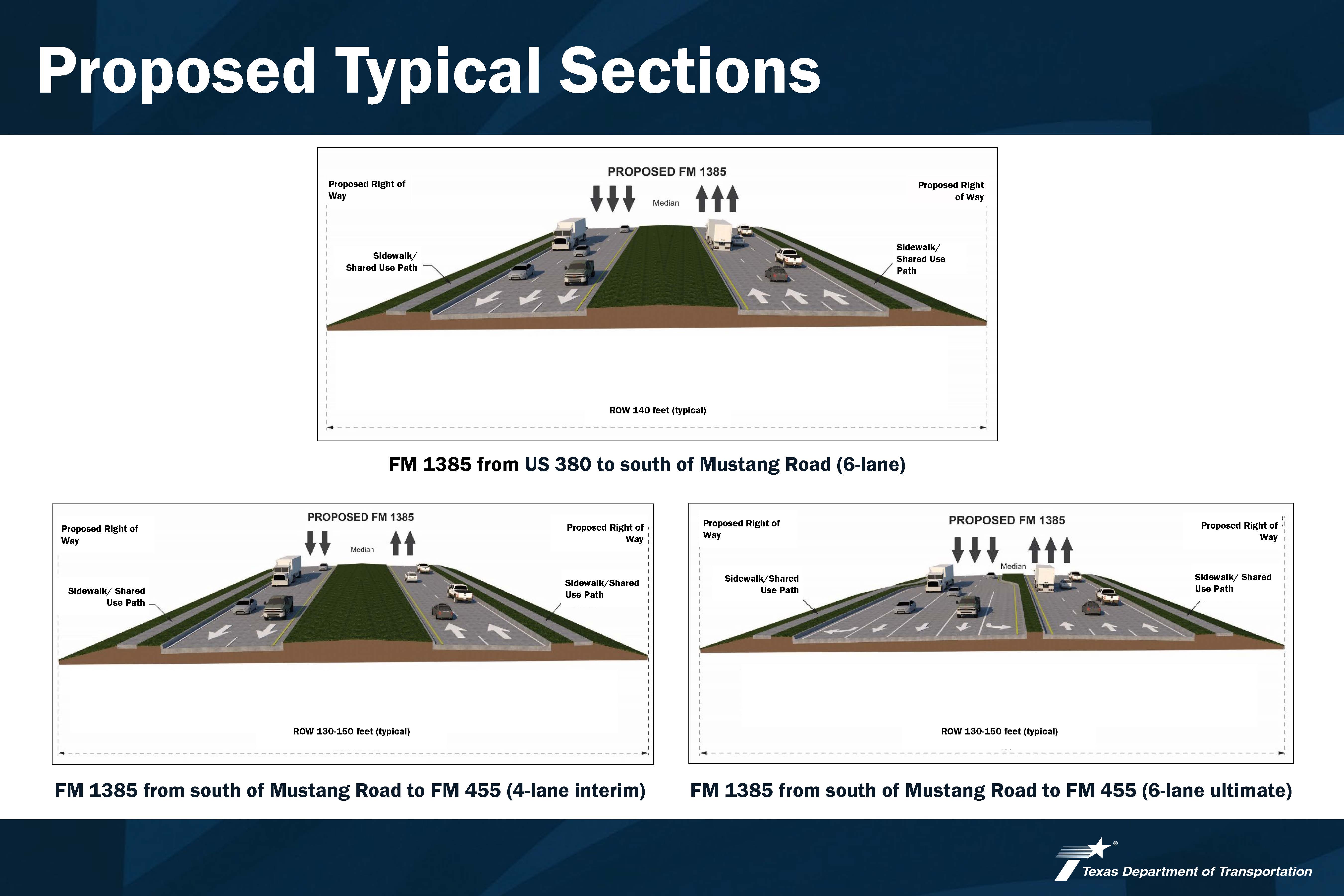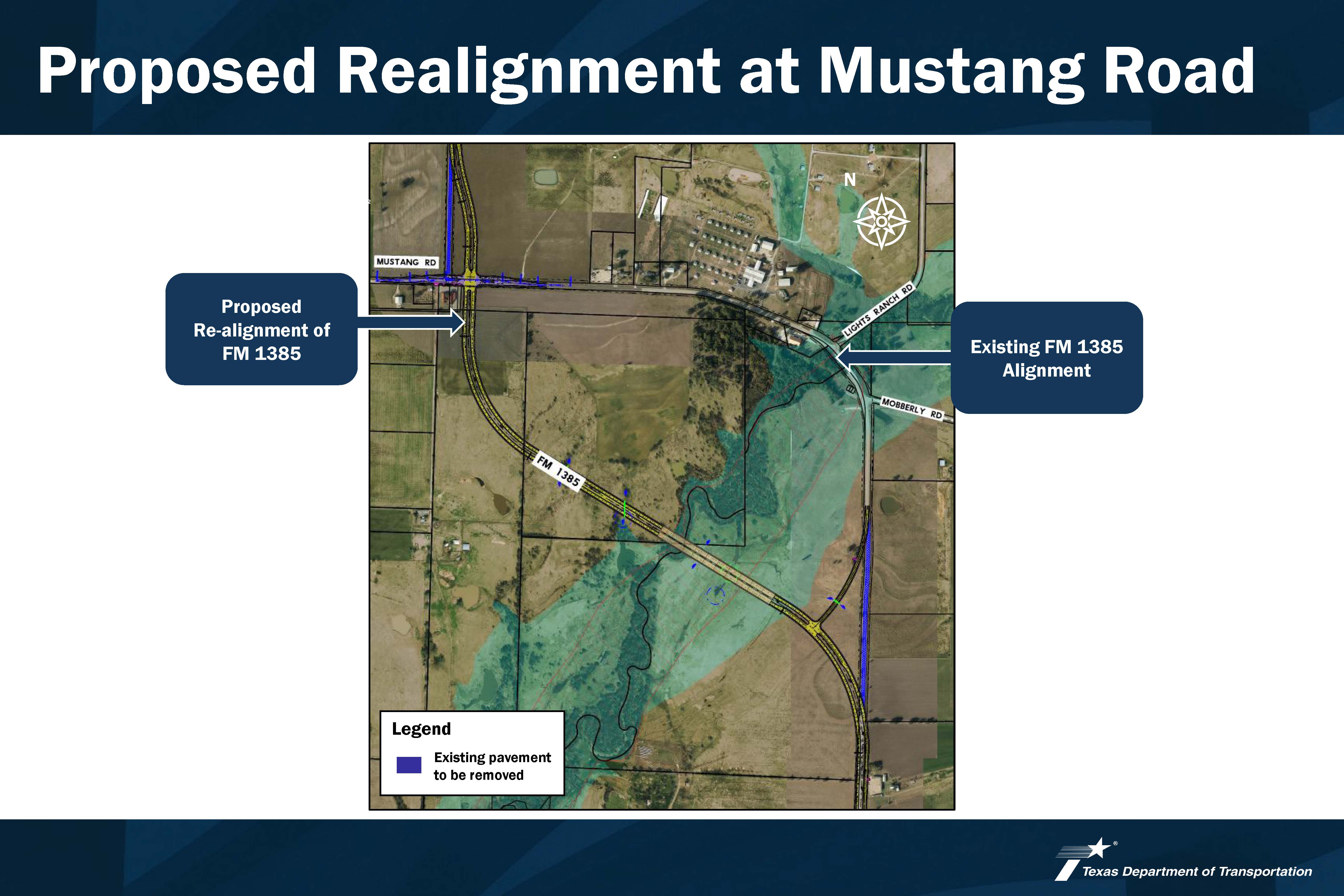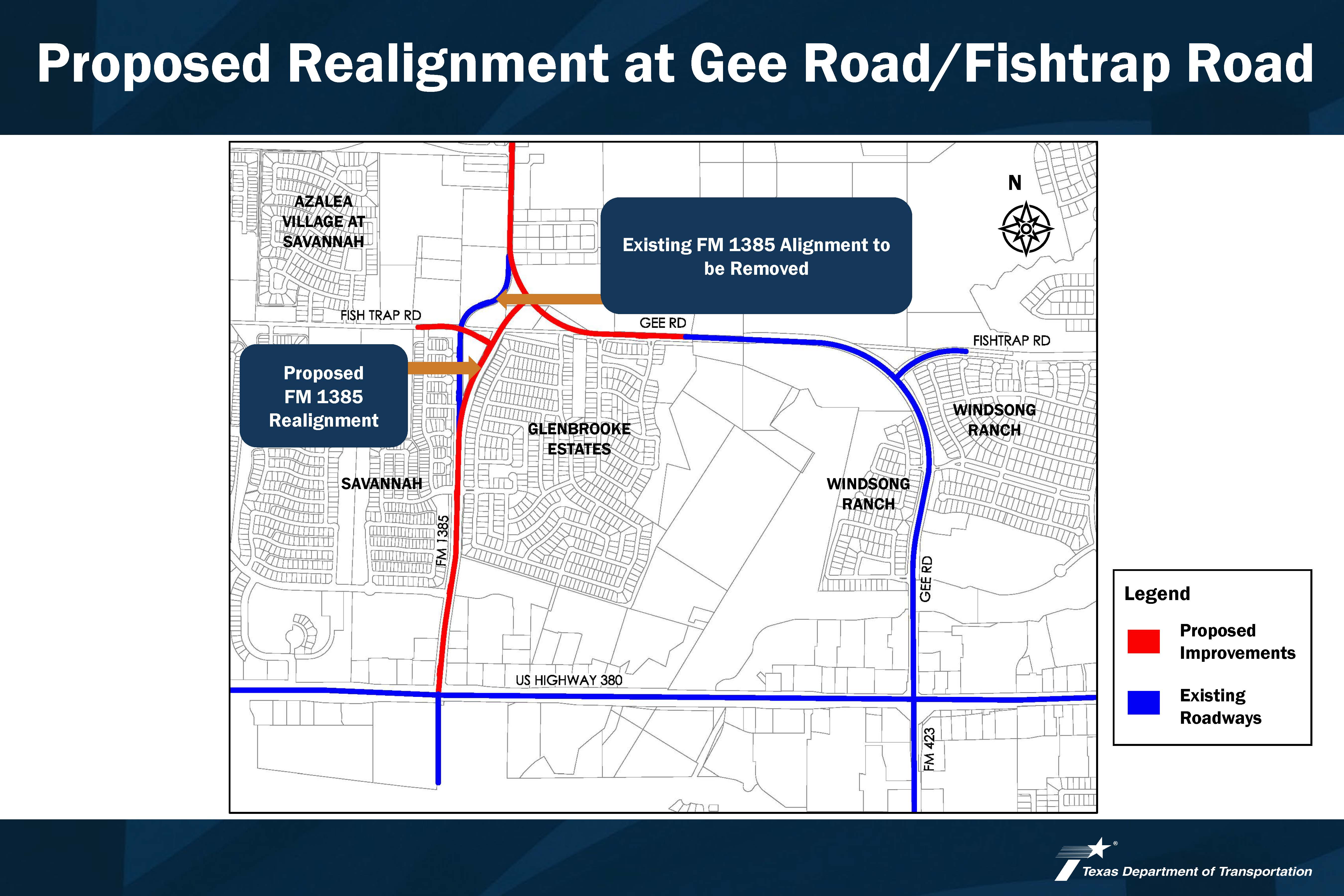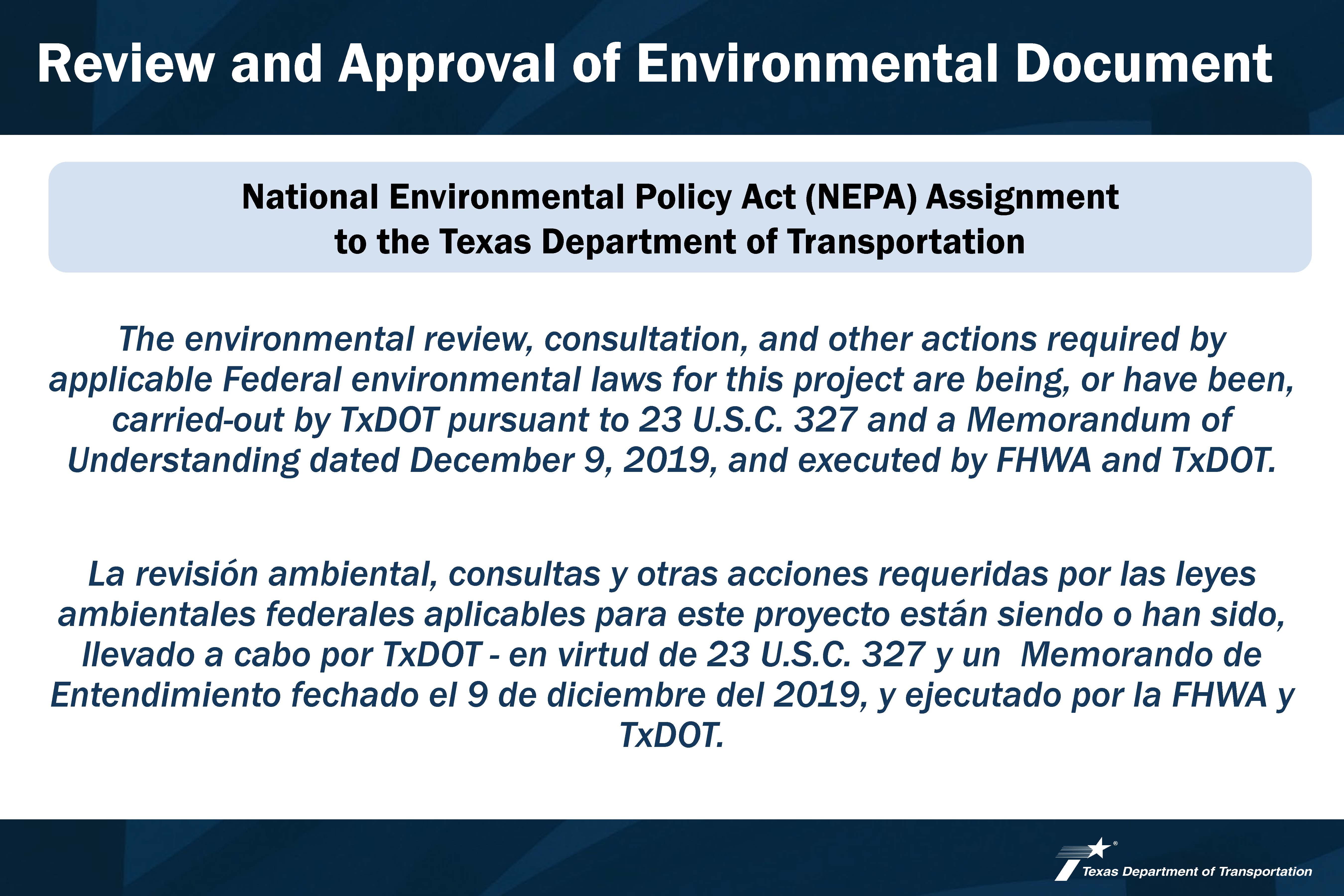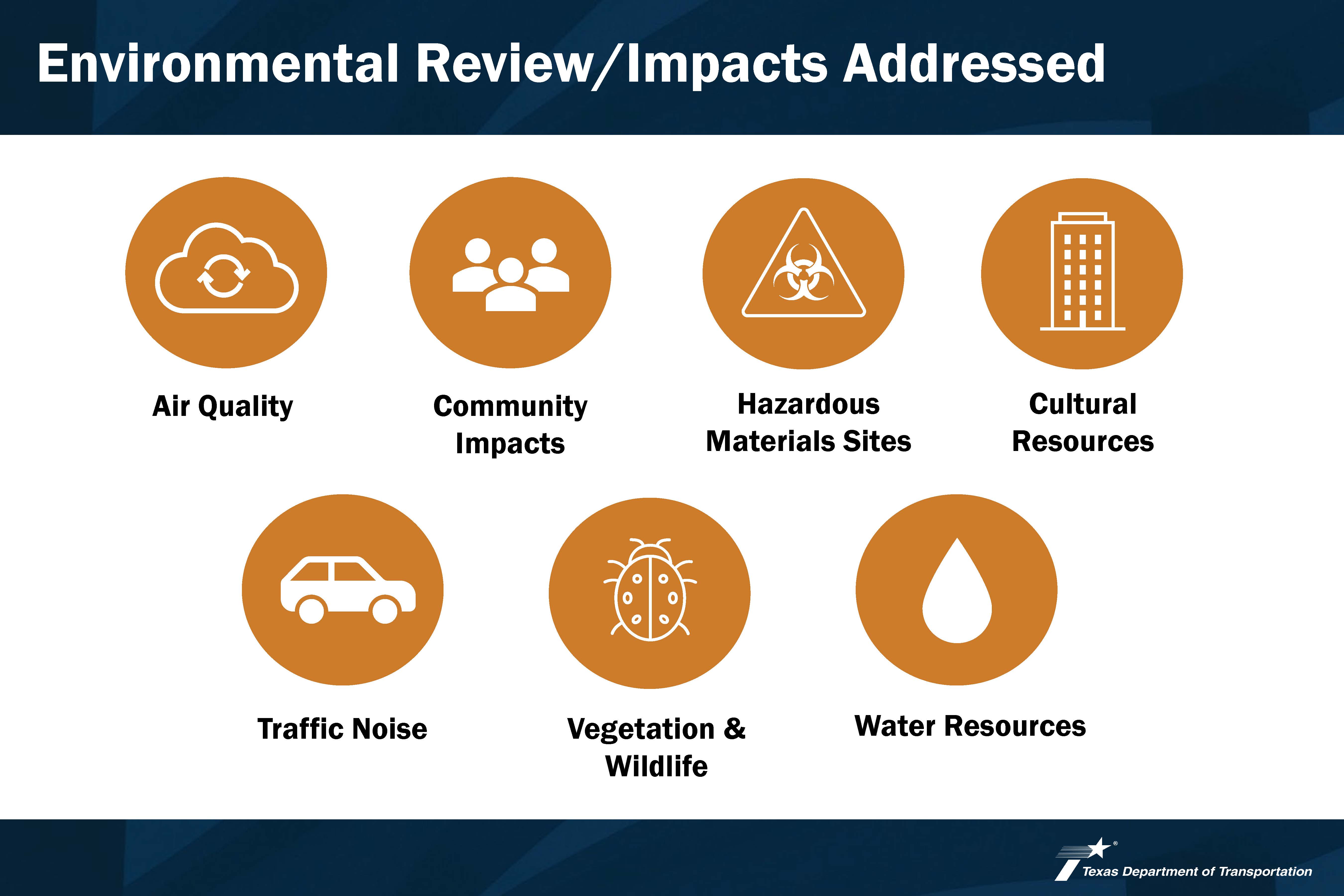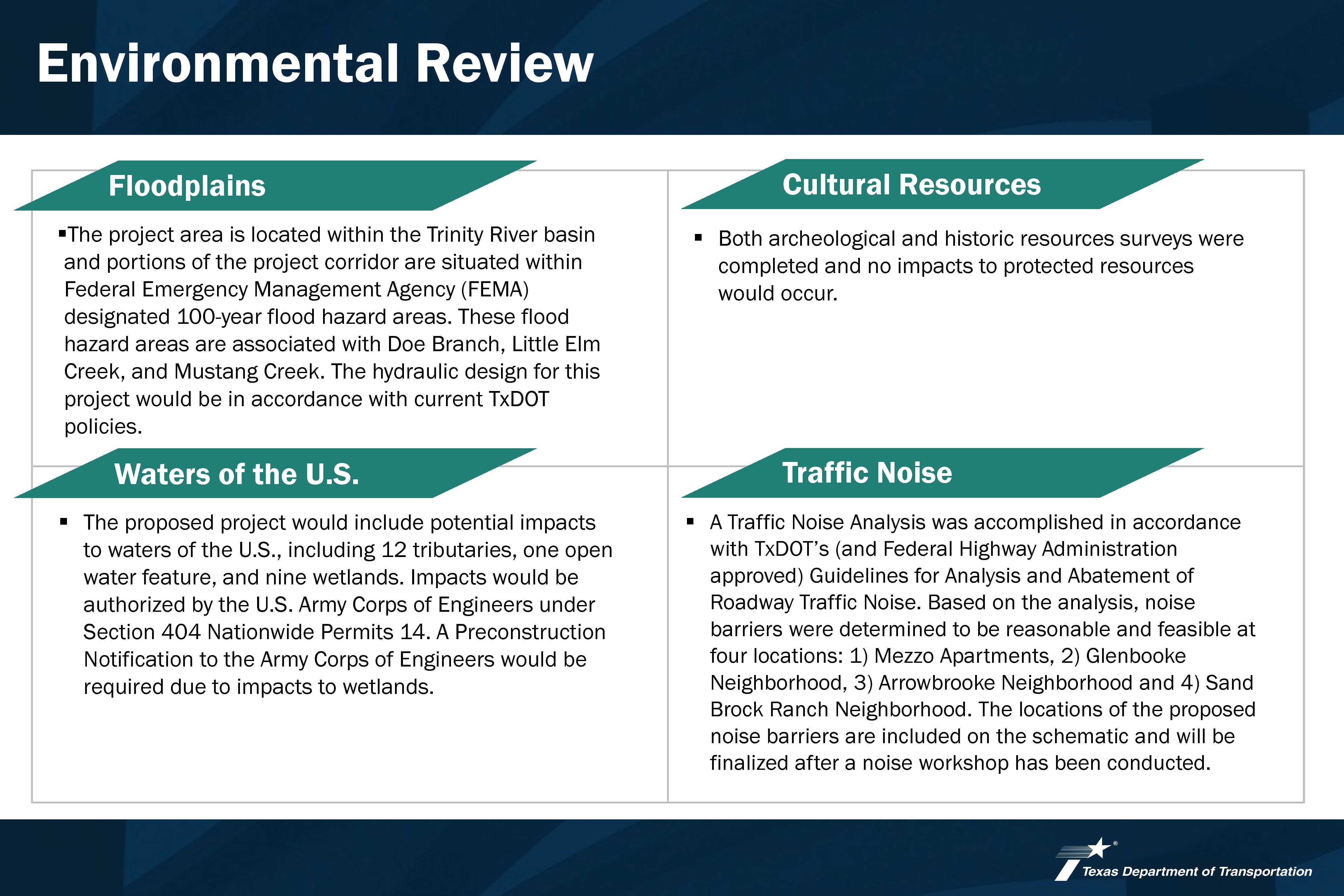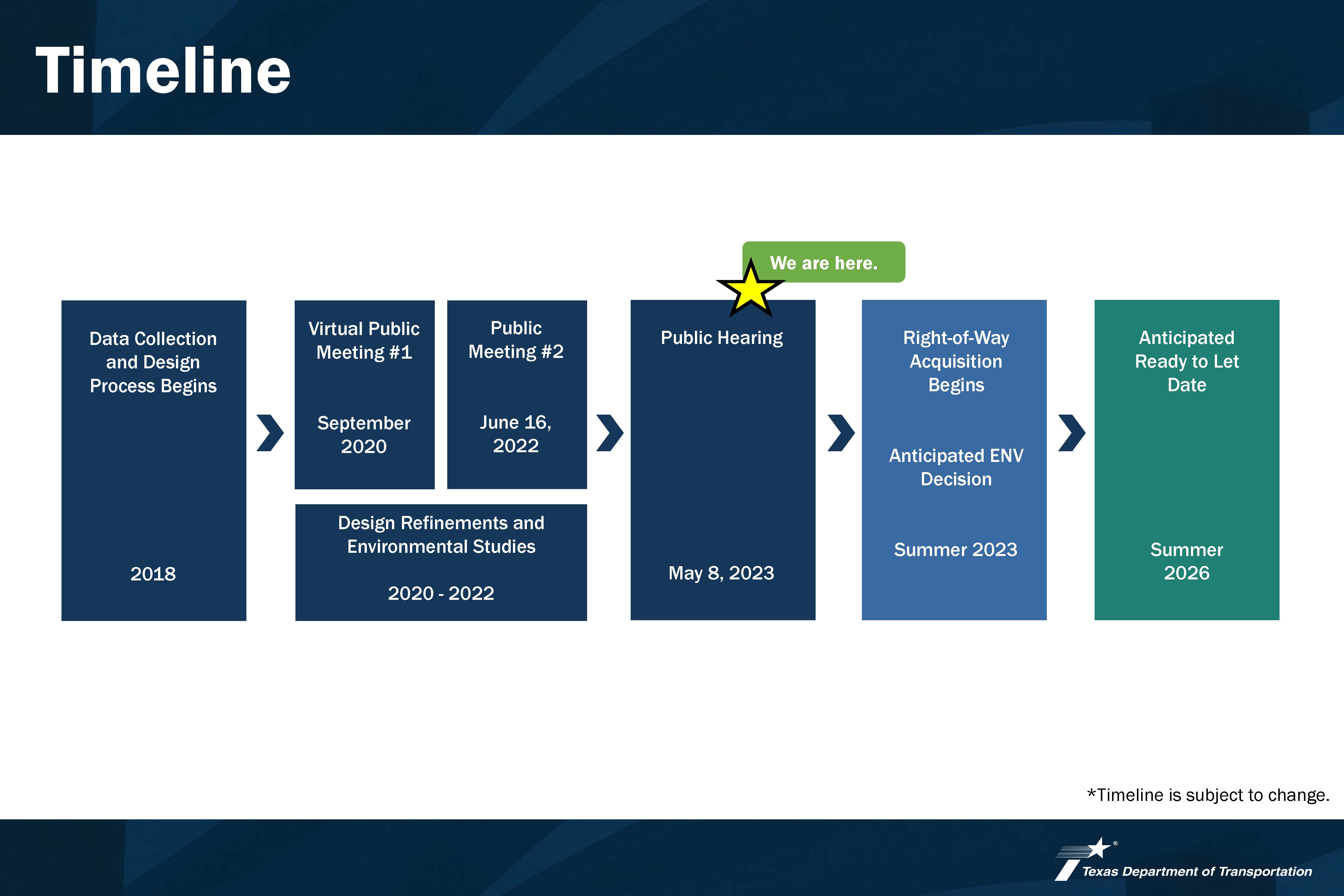 SCHEMATIC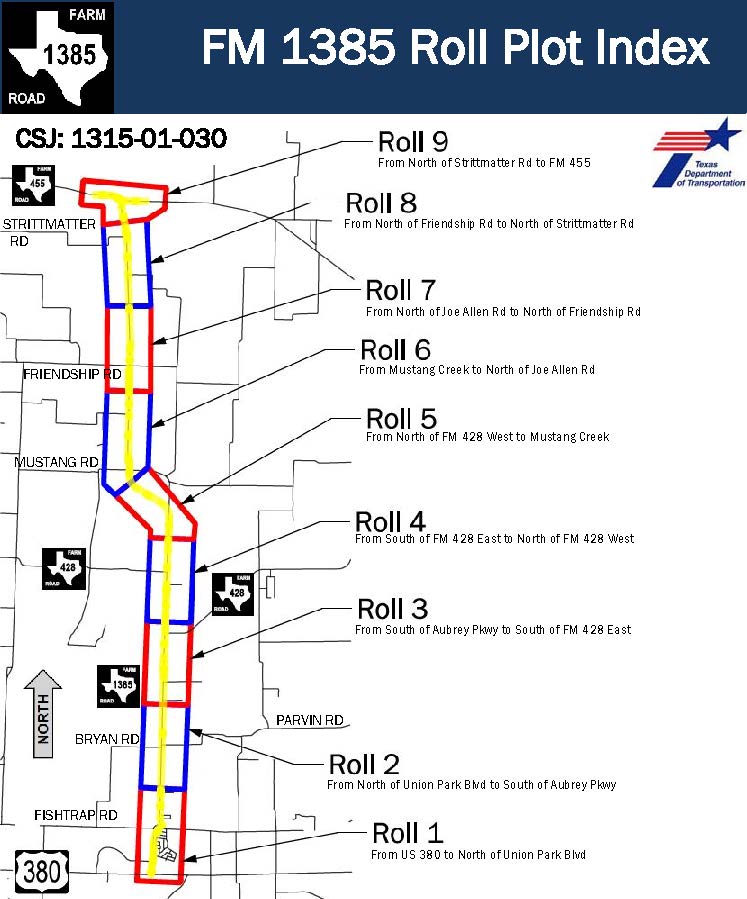 Roll 1 – US 380 to north of Union Park Blvd
Roll 2 – North of Union Park Blvd to south of Aubrey Pkwy
Roll 3 – South of Aubrey Pkwy to FM 428 East
Roll 4 – FM 428 East to north of FM 428 West
Roll 5 – North of FM 428 West to Mustang Creek
Roll 6 – Mustang Creek to north of Joe Allen Rd
Roll 7 – North of Joe Allen Rd to north of Friendship Rd
Roll 8 – North of Friendship Rd to Strittmatter Rd
Roll 9 – Strittmatter Road to FM 455
RIGHT OF WAY (ROW) INFORMATION
The proposed improvements would potentially require approximately 124.41 acres of new ROW and potentially displace two residences, one billboard and one commercial structure.
Information about the process for state purchase of ROW and relocation assistance may be found in the following pamphlets:
Relocation Assistance: English
Relocation Assistance: Spanish
State Purchase of ROW: English
State Purchase of ROW: Spanish
HOW TO PROVIDE COMMENTS
The deadline for providing comments is May 23, 2022.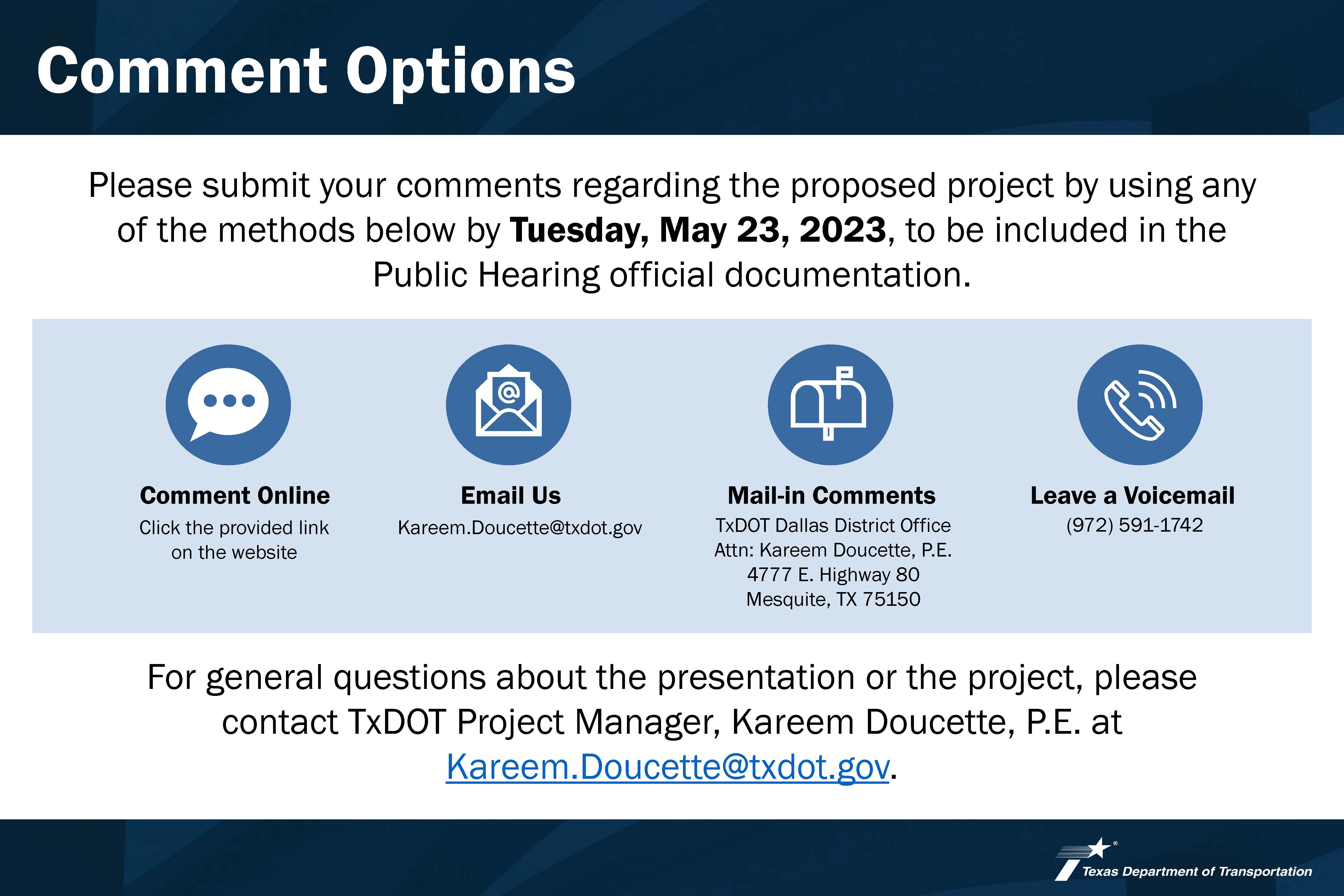 QUESTIONS?
Contact the TxDOT project manager Kareem Doucette, P.E. to ask questions about the project at [email protected] or (940) 323-1811.
To view the June 2022 public meeting materials, click HERE