Virtual Public Meeting for IH 30 Operational Improvements Project in Dallas County
Interstate Highway (IH) 30
From IH 635 to Bass Pro Drive in Dallas County, Texas
CSJ: 0009-11-259
May 13, 2021

This virtual meeting begins on Thursday, May 13, 2021 at 6 p.m. and will remain available online through the comment period deadline of Friday, May 28, 2021. During this time, please view the project materials and other information provided on this site to learn about the project and provide your comments.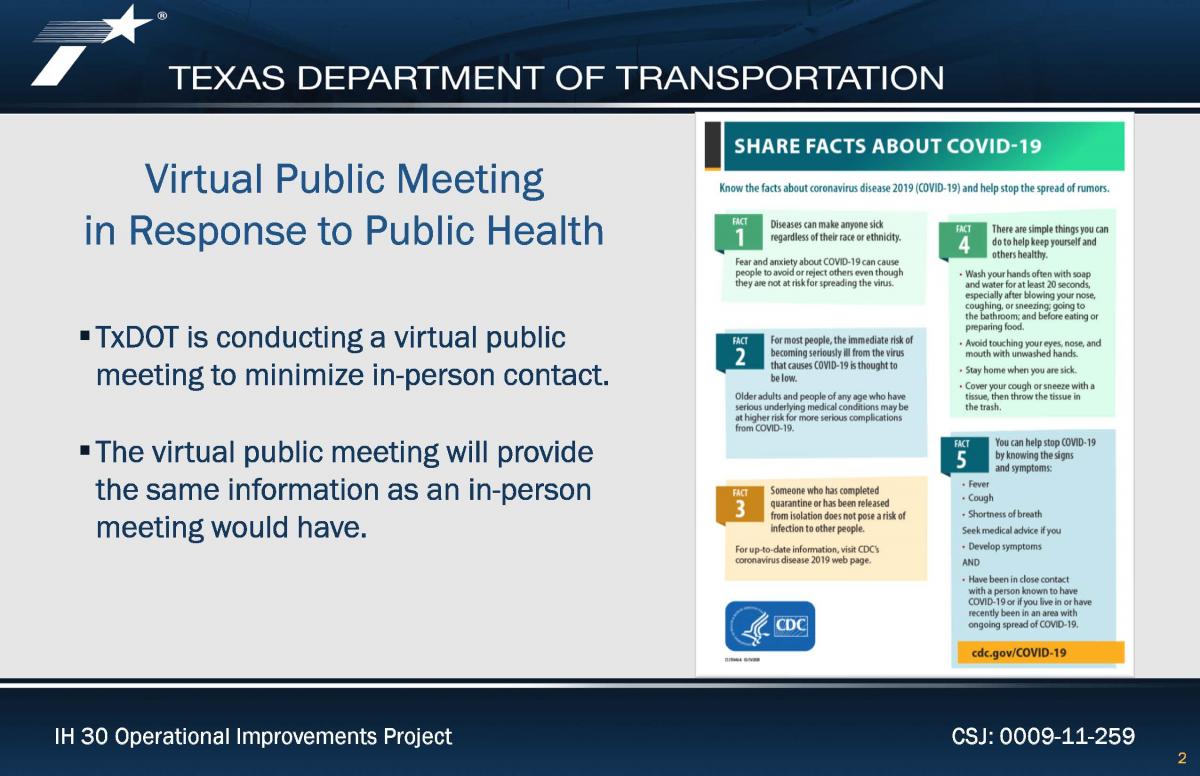 PROJECT DESCRIPTION AND EXHIBITS
You may click on any of the project exhibits below to view them at full size.
The proposed project consists of operational improvements to approximately 5.5 miles of IH 30 from IH 635 in Mesquite to Bass Pro Drive in Garland, TX. The proposed improvements are designed to improve traffic flow and mobility by reducing traffic bottlenecks within the highway corridor.
1. Welcome to the Virtual Public Meeting (VPM)
2. VPM Purpose
3. Viewing Design Schematic and Other Project Information
4. Project Location, Need and Purpose
5. Primary Operational Changes Proposed
6. Operational Improvements Proposed, continued
7. Project Cost and Schedule
8. Review and Approval of Environmental Document
9. Environmental Review / Impacts to Be Assessed
10. Next Steps and Project Timeline
11. Thank You for Your Interest
12. Constraints Map
PROJECT SCHEMATICS
Click the links below to view the schematics for the IH 30 Operational Improvements Project
HOW TO PROVIDE COMMENTS
The deadline for providing comments is May 28, 2021.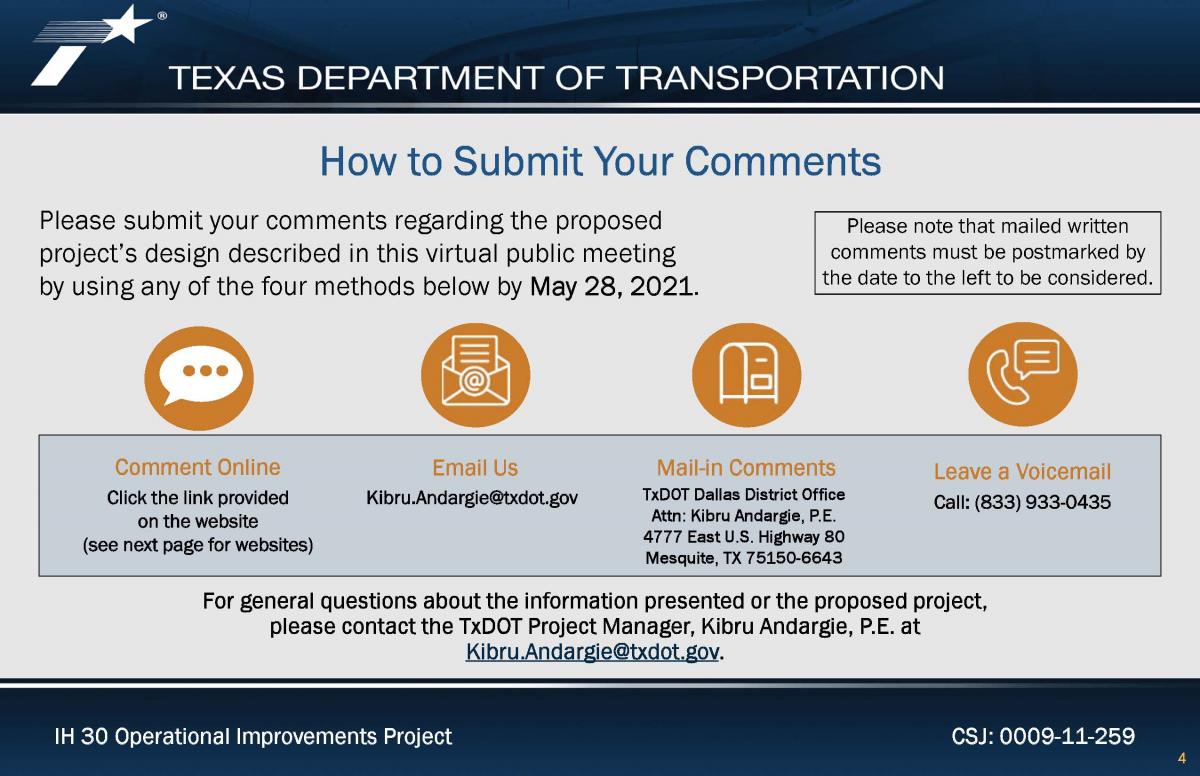 Comments may be provided online, or by mail, email, or voicemail, as explained below.
Comment Online: Comments may be completed and submitted online by clicking here: https://www.surveymonkey.com/r/P7HSFBJ
Comment via Email or Mail: The PDF Comment Form may be completed on the computer or printed and handwritten and can be submitted by email or mail. Click the links below for the PDF Comment Form.
PDF Comment Form: ENGLISH
PDF Comment Form: SPANISH
Email comments to [email protected]
Mail comments to:
TxDOT Dallas District Office
Attention: Kibru Andargie, P.E.
4777 East US Highway 80
Mesquite, TX 75150-6643
Verbal Comments: Call (833) 933-0435 and leave your comment on the voicemail. For the official documentation, please clearly state your name and address before your verbal comment. You will be able to record a 3-minute long verbal comment. Your comment will be transcribed and included in the meeting documentation.
QUESTIONS?
Contact the TxDOT project manager, Kibru Andargie, P.E., to ask questions about the project at [email protected] or (214) 320-6200.