Virtual Public Meeting for I-345 Feasibility Study in Dallas County
I-345 from I-30 to Woodall Rodgers Freeway (Spur 366)
CSJ 0092-14-094
June 22, 2021
The I-345 virtual public meeting begins on Tuesday, June 22 at 3 PM and will remain online through the comment period deadline of Sunday, August 22. During this time, please review the project materials and other information provided on this site to learn about the feasibility study and provide your comments.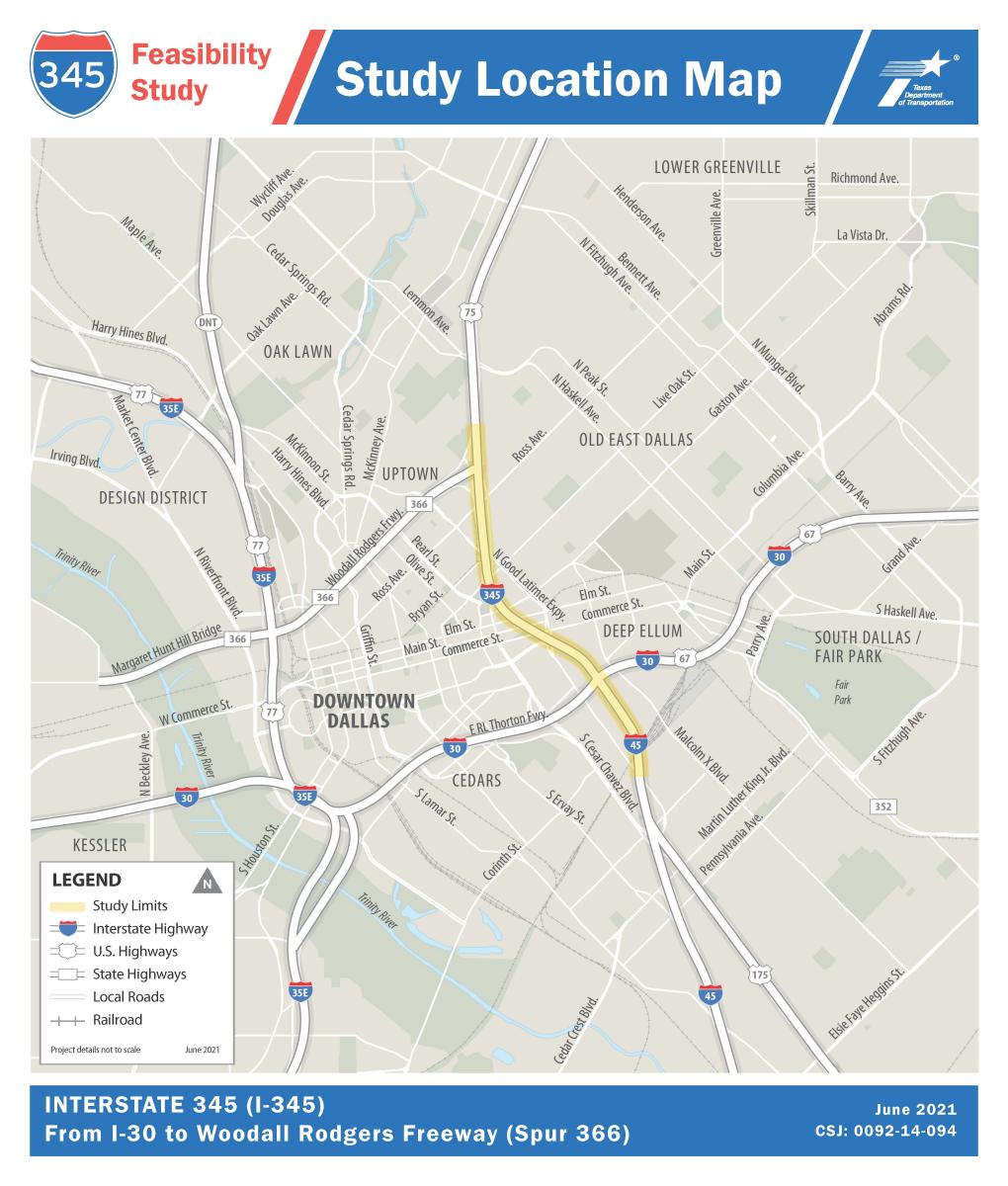 The presentation slides and script are also available in PDF format here:
To view materials by station, click on the Station Number and Name
At this station, you can:
Review the Study Location Map to see the limits of the study
Watch the I-345 flyover video for aerial perspectives of the existing highway
Review previous public involvement outreach, common themes and feedback received from stakeholders during listening sessions conducted in 2019 & 2020
At this station, you can:
Review the Study Approach to get information on the study process
Review the I-345 Project Timeline to understand the overall timeline and next steps
View the Study Goals for both City Map and the I-345 Feasibility Study
At this station, you can:
View the environmental constraints map which helps planners and engineers determine the least impactful method to fulfill the purpose of the project.
STATION 4: CONCEPTUAL ALTERNATIVES
At this station, you can:
View information on each of the 5 alternatives to help you better understand and visualize what is being proposed.
Each alternative includes typical sections, a conceptual rendering and a roll plot with design details.
No Build/Leave I-345 As-Is: No additional improvements would occur to I-345 other than those already programmed.
Depressed Alternative: Similar to US 75, where mainlanes are low (below DART D2) with discontinuous frontage roads along either side and cross streets over the top. Includes pedestrian and bicycle facilities along the frontage roads and local streets.
Removal Alternative: The existing mainlanes would be removed and the city grid is reconnected. Includes pedestrian and bicycle facilities.
Elevated Alternative: Similar to what exists now, with a smaller footprint of an elevated highway with aesthetic improvements, revised access and signage for drivers, and pedestrian and bicycle facilities under the highway.
Hybrid Alternative: Similar to US 75 and the proposed depressed alternative. There is limited access from the mainlanes to local streets that are reconnected over the top. No proposed frontage roads. Access to the area is from local streets, I-30 or Woodall Rodgers Freeway. Includes pedestrian and bicycle facilities along local streets.
STATION 5: TRAFFIC DEMAND APPROACH
At this station, you can:
Understand how we analyze traffic data for each alternative and the process for refining alternatives
View a map of the Traffic Study Area to understand the limits of the Macro and Micro Traffic models
Get an update on Adjacent Corridor projects, which affect how traffic uses I-345
View 2018 traffic counts to understand I-345 traffic volumes
STATION 6: ORIGIN AND DESTINATION TRAFFIC DATA
At this station, you can:
Learn what origin-destination (O-D) data is and where, when and why we collect this data
View O-D maps on three specific routes that utilize I-345
STATION 7: TRAFFIC IMPACTS BASED ON ALTERNATIVES
At this station, you can:
Learn how each alternative is projected to impact traffic in 2045
View heatmaps of the downtown area for each alternative
Answer the question: "Where does the traffic go?"
STATION 8: ALTERNATIVE SCREENING PROCESS
At this station, you can:
Review how each alternative has been evaluated
Learn how alternatives will be eliminated or refined
Understand how alternatives compare to each other
At this station, you can:
View coordination timeline with NCTCOG, City of Dallas and DART
Understand City of Dallas design guidance used for the development of I-345 alternatives
To view additional materials from our partners, please scroll down.
At this station, you can:
Take the I-345 Survey



CLICK HERE
Tell us how, when and why you use I-345
Give us your thoughts on the future of I-345
STATION 11: OFFER COMMENTS & STAY CONNECTED
At this station, you can:
Offer comments
Review the remaining I-345 Feasibility Study schedule
Learn how to join our email list and receive study updates
ADDITIONAL MATERIALS FROM OUR PARTNERS
CITY OF DALLAS EXHIBITS
DALLAS AREA RAPID TRANSIT (DART) EXHIBITS
Additional details about the DART D2 subway can be found on their website CLICK HERE
HOW TO PROVIDE COMMENTS ON THE I-345 FEASIBILITY STUDY