Public Hearing for Loop 9, Segment A
To view the Draft Environmental Impact Statement (EIS) please use the following link:
Loop 9, Segment A DEIS REPORT
Appendix A - Excerpt from the MTP and TIP
Appendix B - Traffic Methodology Report
Appendix C - Notice of Intent
Appendix D - Agency Coordination
Appendix E - Supporting Documentation
Appendix F - Interim Report for Archeological Survey
Appendix G - Community Impacts Assesssment
Appendix H - Hazardous Materials Initial Site Assessment
Appendix I - Historical Resources Survey Report
Appendix J - Species Analysis Spreadsheet and Documentation
Appendix K - DEIS Reasonable Alternatives Traffic Noise Analysis Report
Appendix L - Water Features Delineation Report
Appendix M - Water Features by Alternative Alignment
Appendix N - Surface Water Analysis Form
Exhibits
VIRTUAL PUBLIC HEARING FOR LOOP 9, SEGMENT A
From US Highway (US) 67 to Interstate Highway (I) 35E
Dallas and Ellis Counties
CSJ 2964-10-006
Thursday, December 8, 2022
The virtual hearing begins on Thursday, December 8, 2022 at 5:30 PM and will remain available online through the comment period deadline of January 3, 2023. During this time, please view the project materials and other information provided on this site to learn about the project and provide your comments.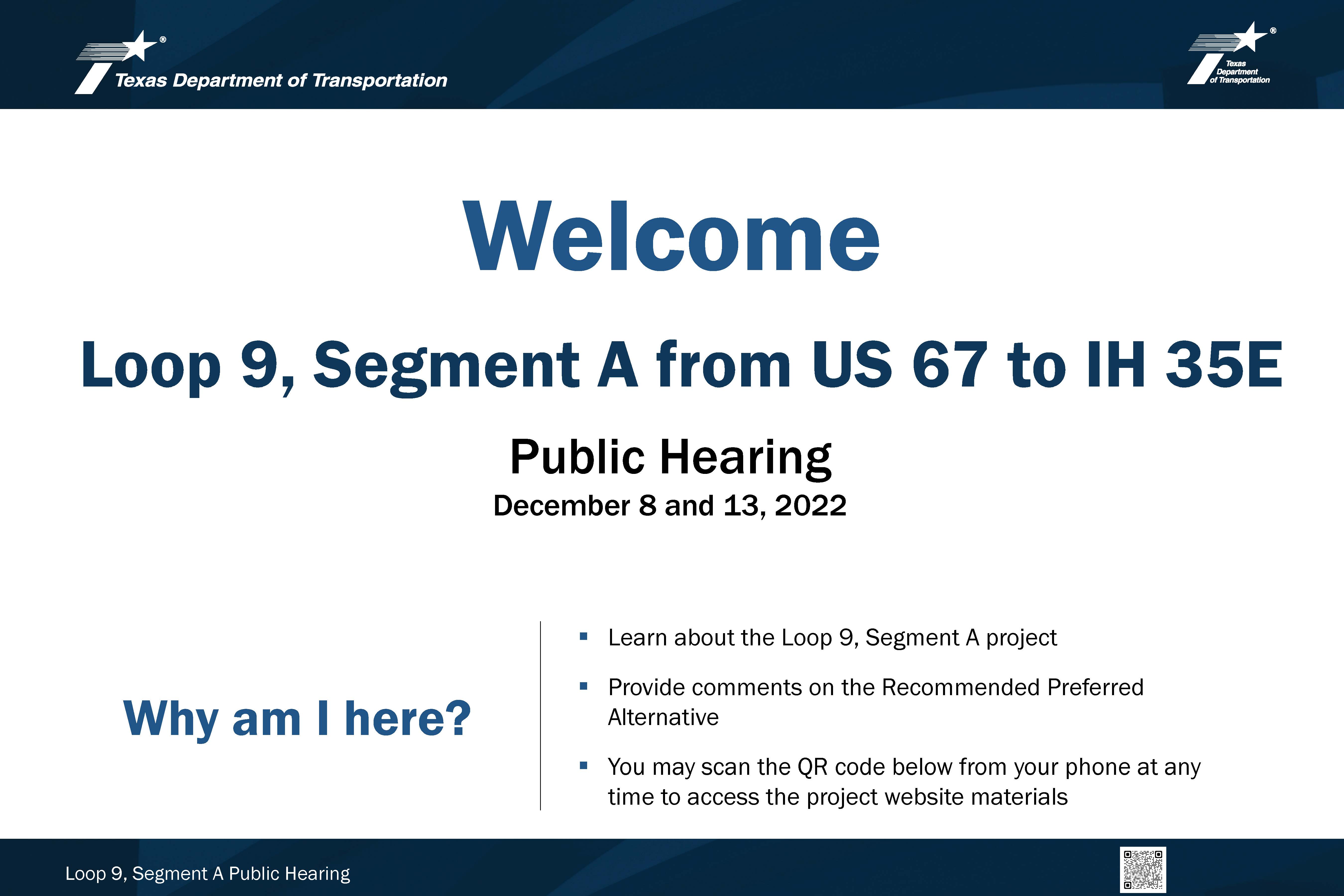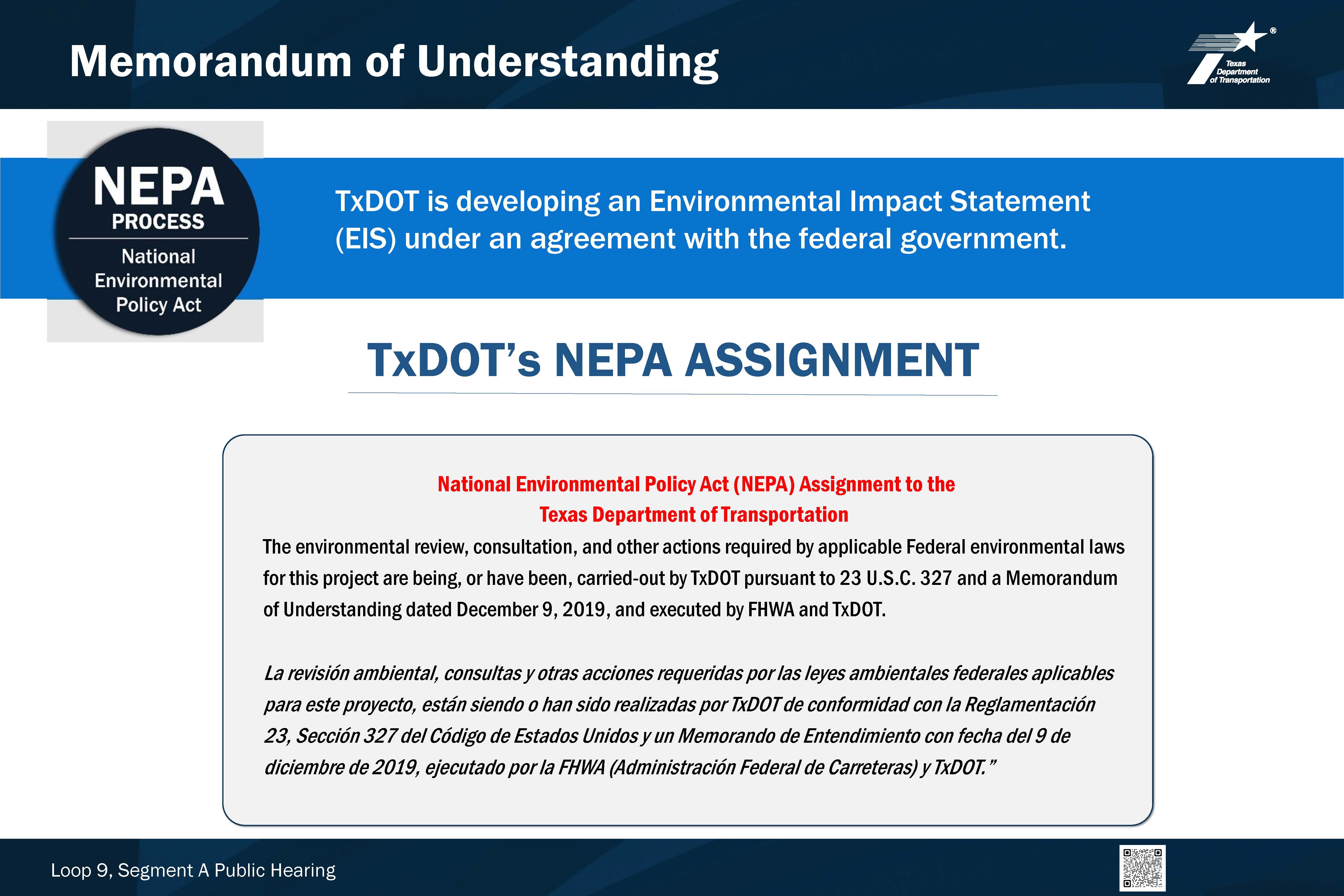 PROJECT DESCRIPTION & SELECTION OF RECOMMENDED PREFERRED ALTERNATIVE
The proposed Loop 9, Segment A project is an approximately 9.4 mile proposed new location, six-lane roadway within Dallas and Ellis Counties. Loop 9, Segment A would include an eastbound and westbound frontage road facility, each consisting of three 12-foot lanes, an 8-foot inside shoulder and an 8-foot outside shoulder. The proposed project right-of-way (ROW) would include a median that would accommodate the future construction of an ultimate access-controlled mainlane facility. Additionally, a 10-foot wide berm has been preserved on either side of the proposed ROW to accommodate a future shared use path. The proposed project passes through the cities of Cedar Hill, Ovilla, Glenn Heights and Red Oak.
As part of the NEPA process, TxDOT evaluated various project alternatives and modifications including the No-Build Alternative. After completing a very detailed evaluation, TxDOT selected Alternative 3 with Modifications D, C and B as its Recommended Preferred Alternative for the project.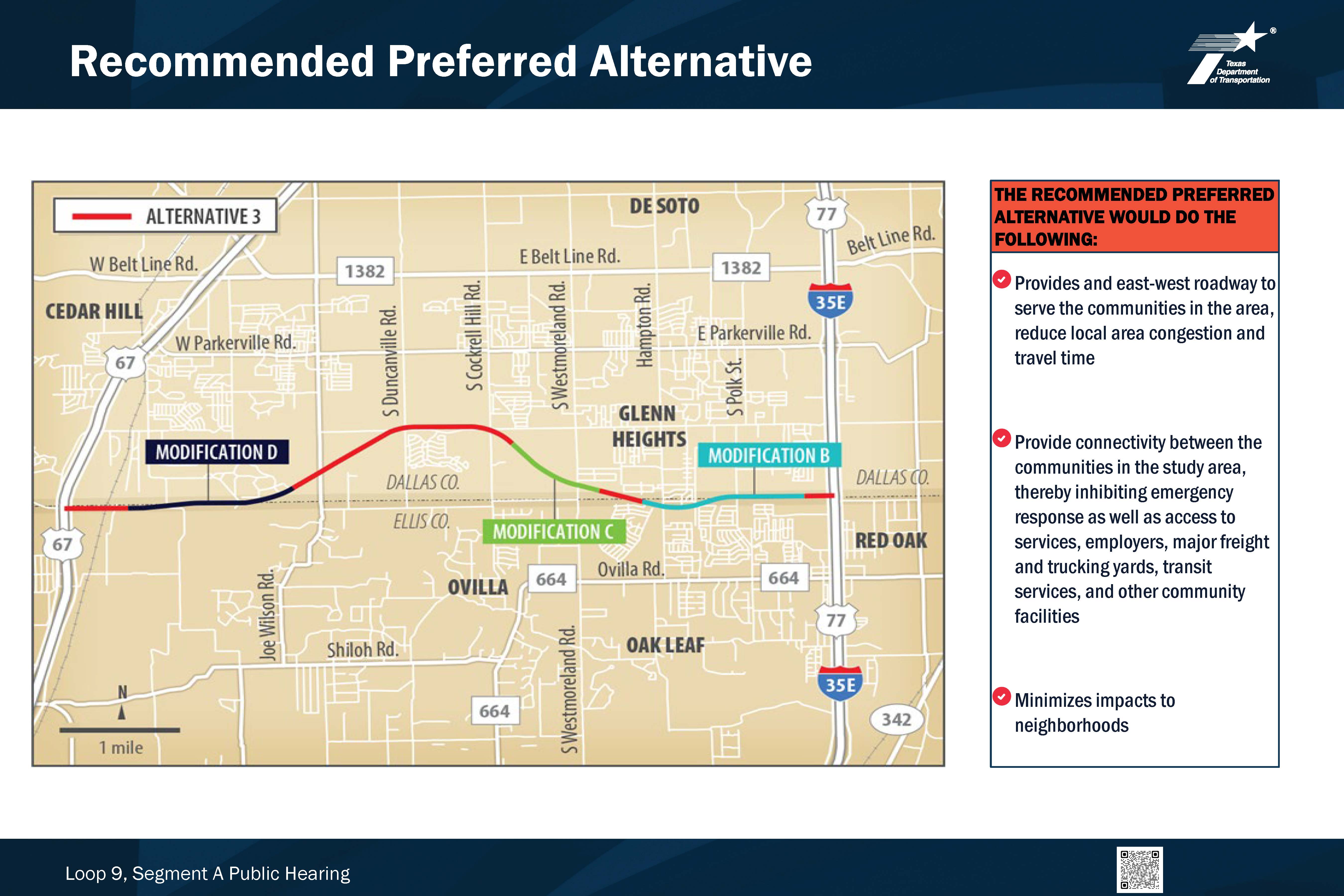 PRESENTATION
Presentation in English
Presentation in Spanish
Script in English
Script in Spanish
EXHIBITS
You may click on any of the project exhibits below to view them at full size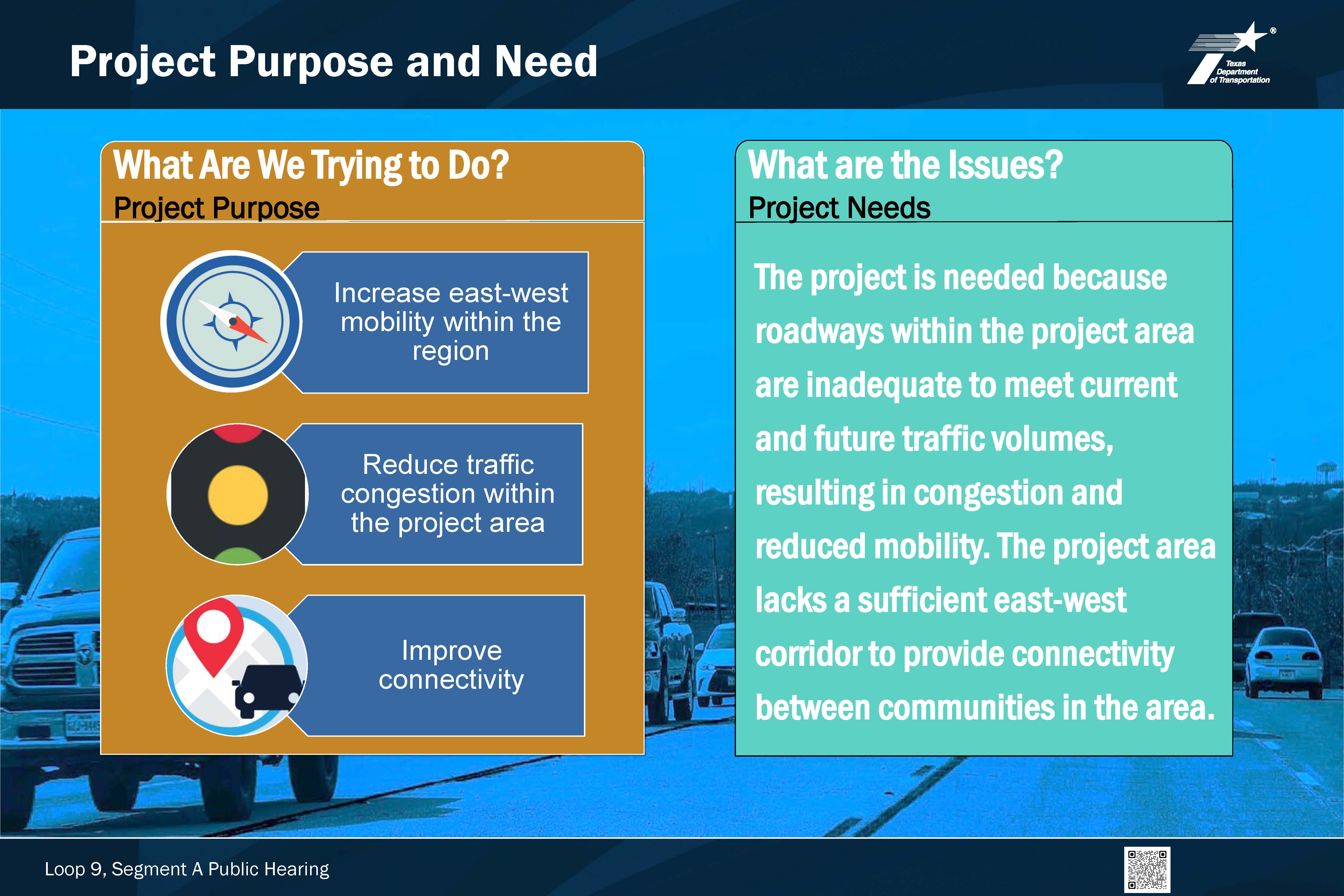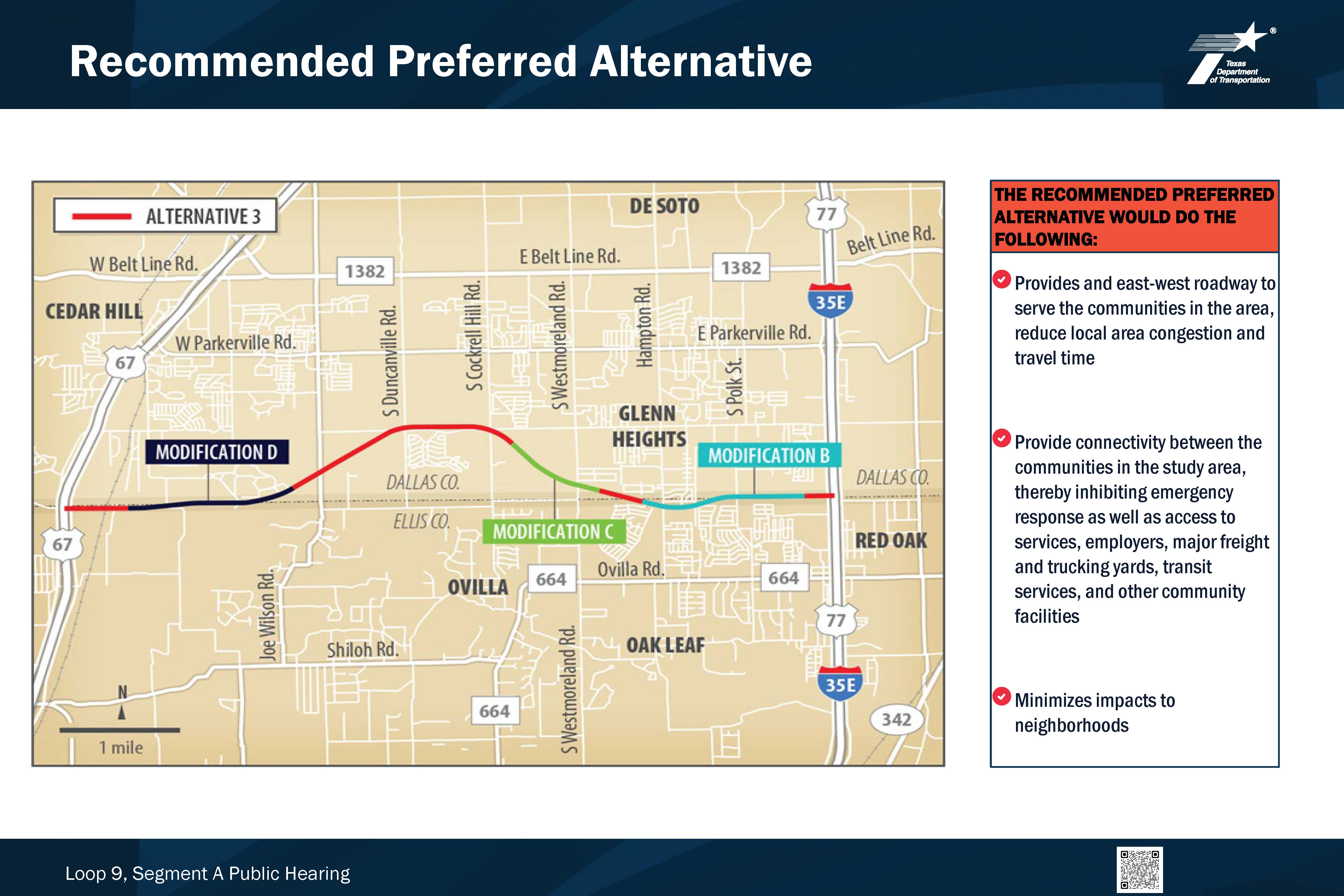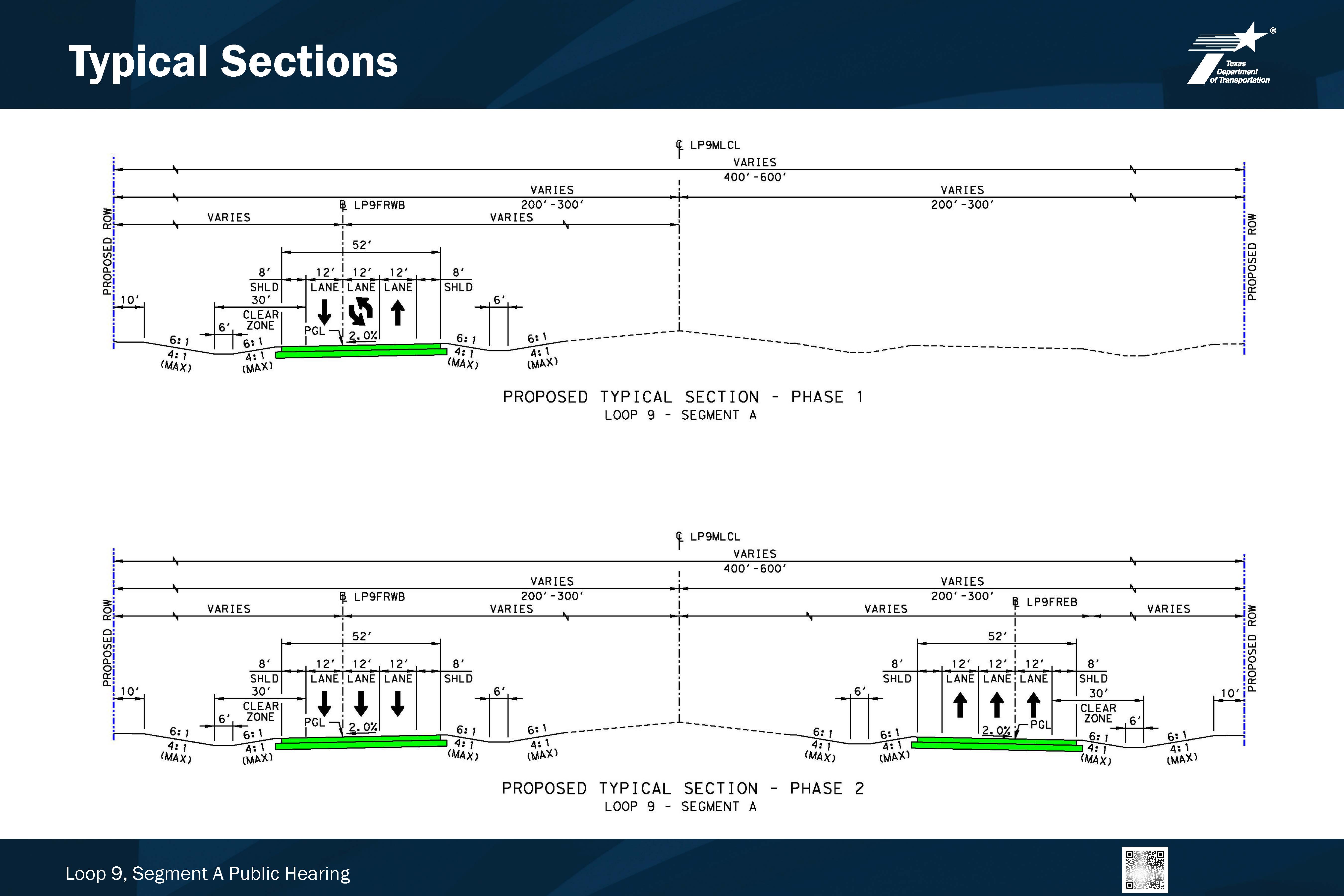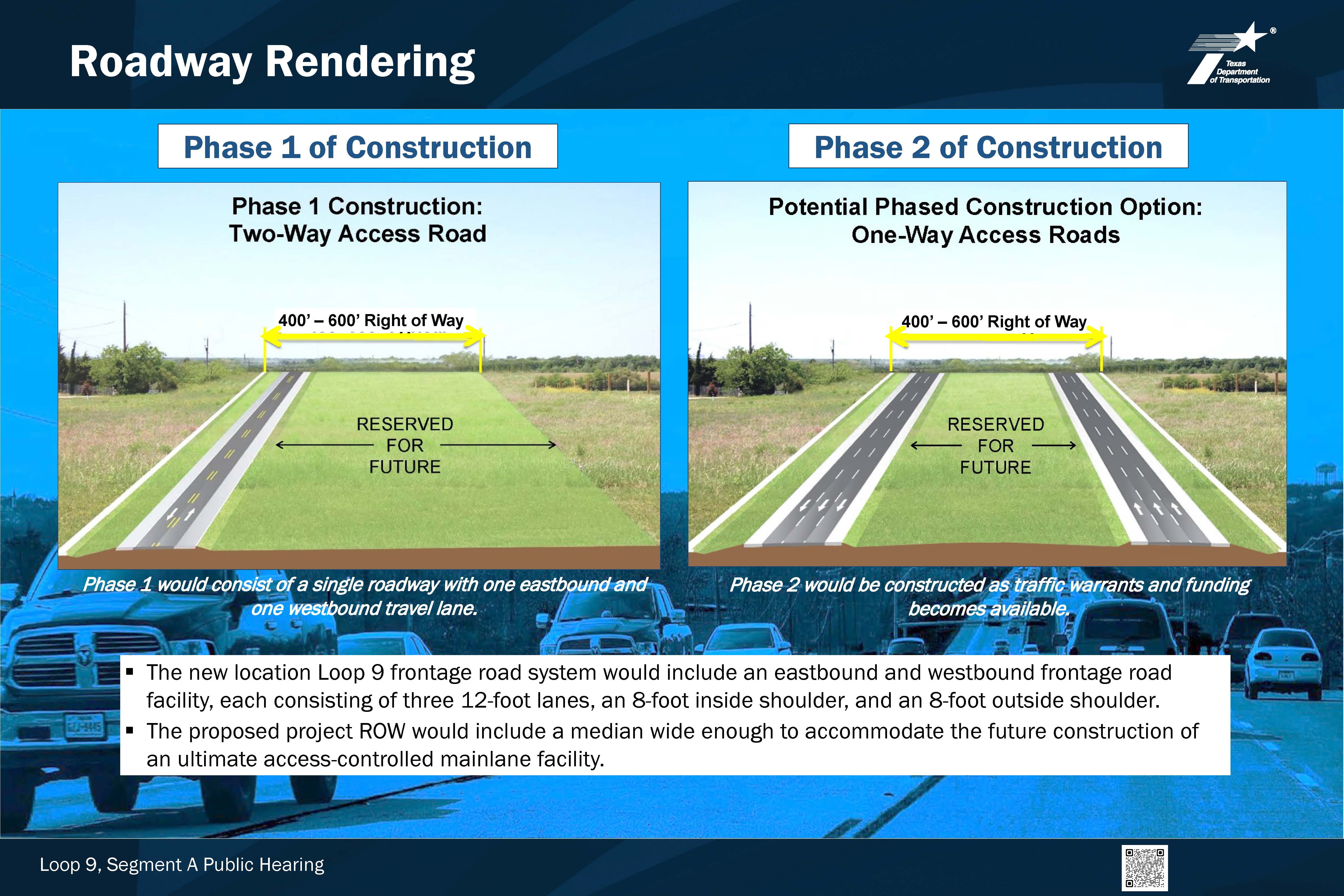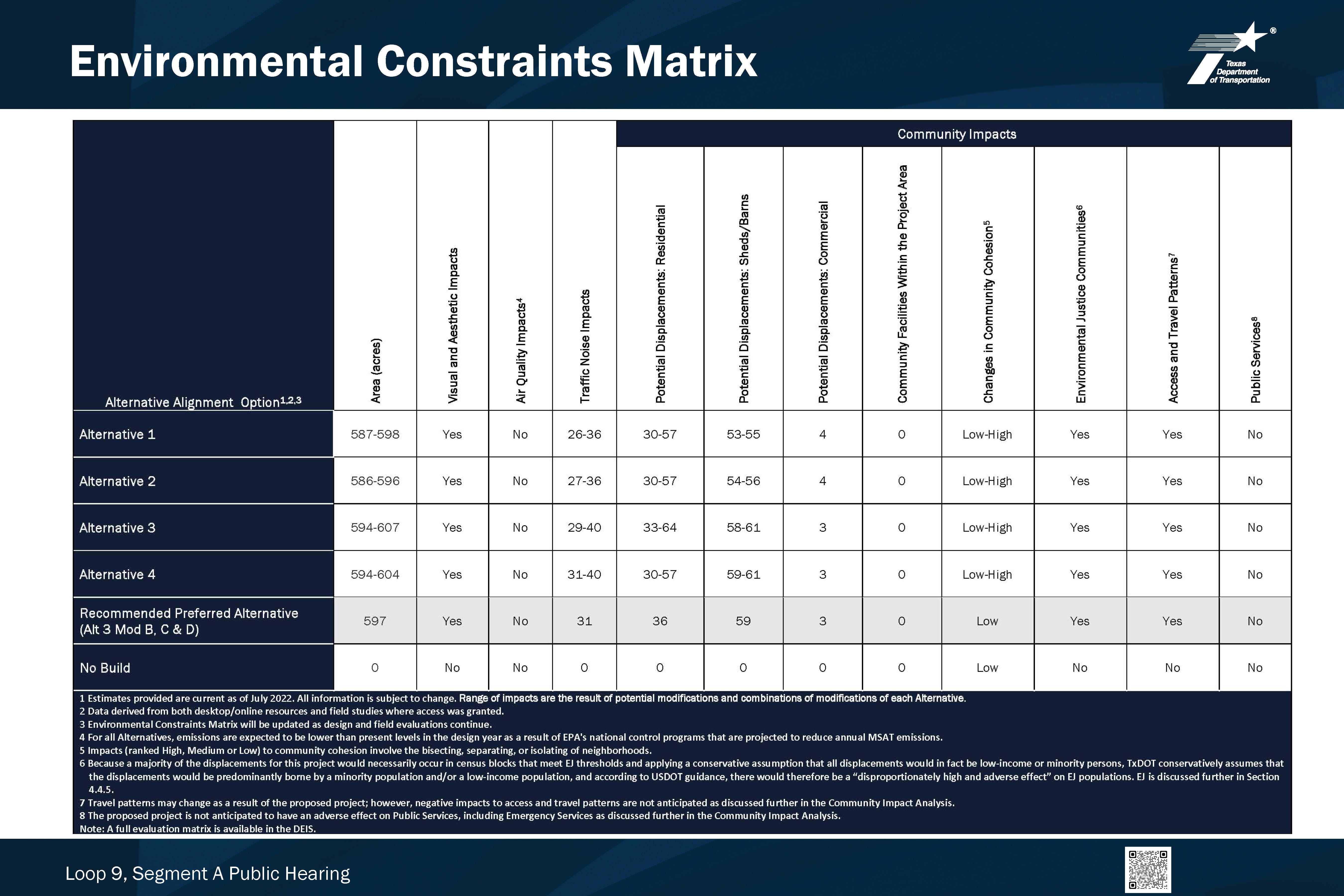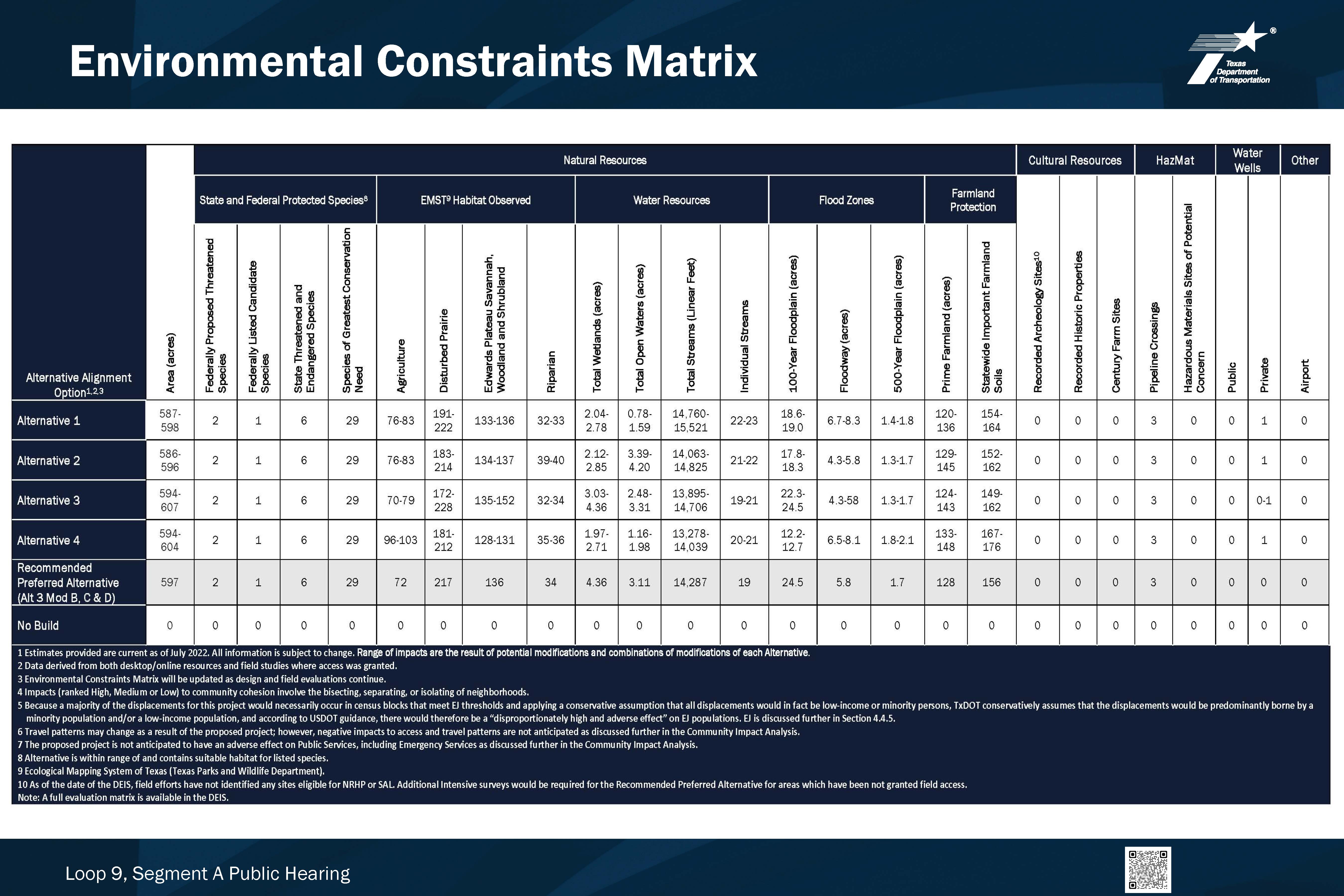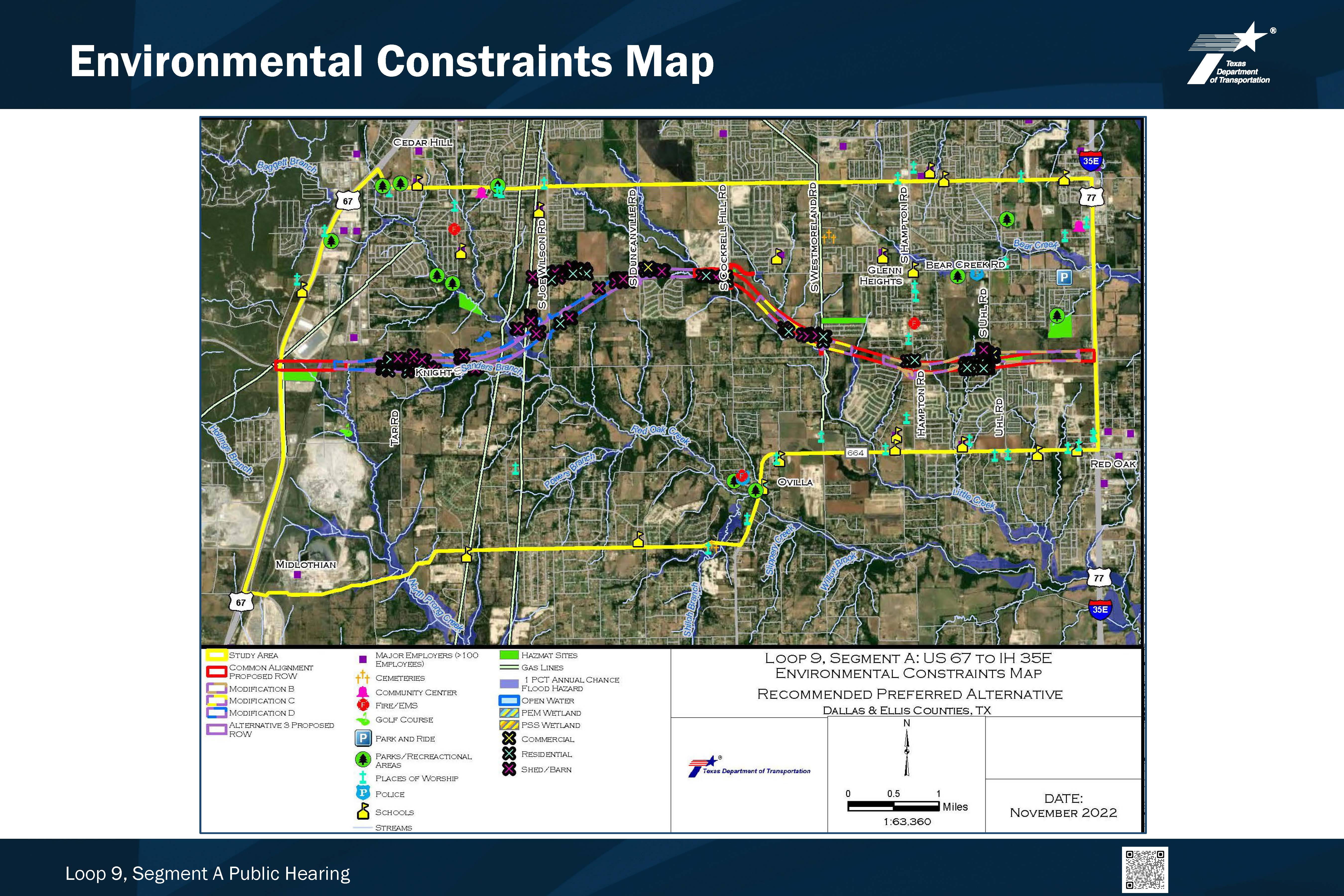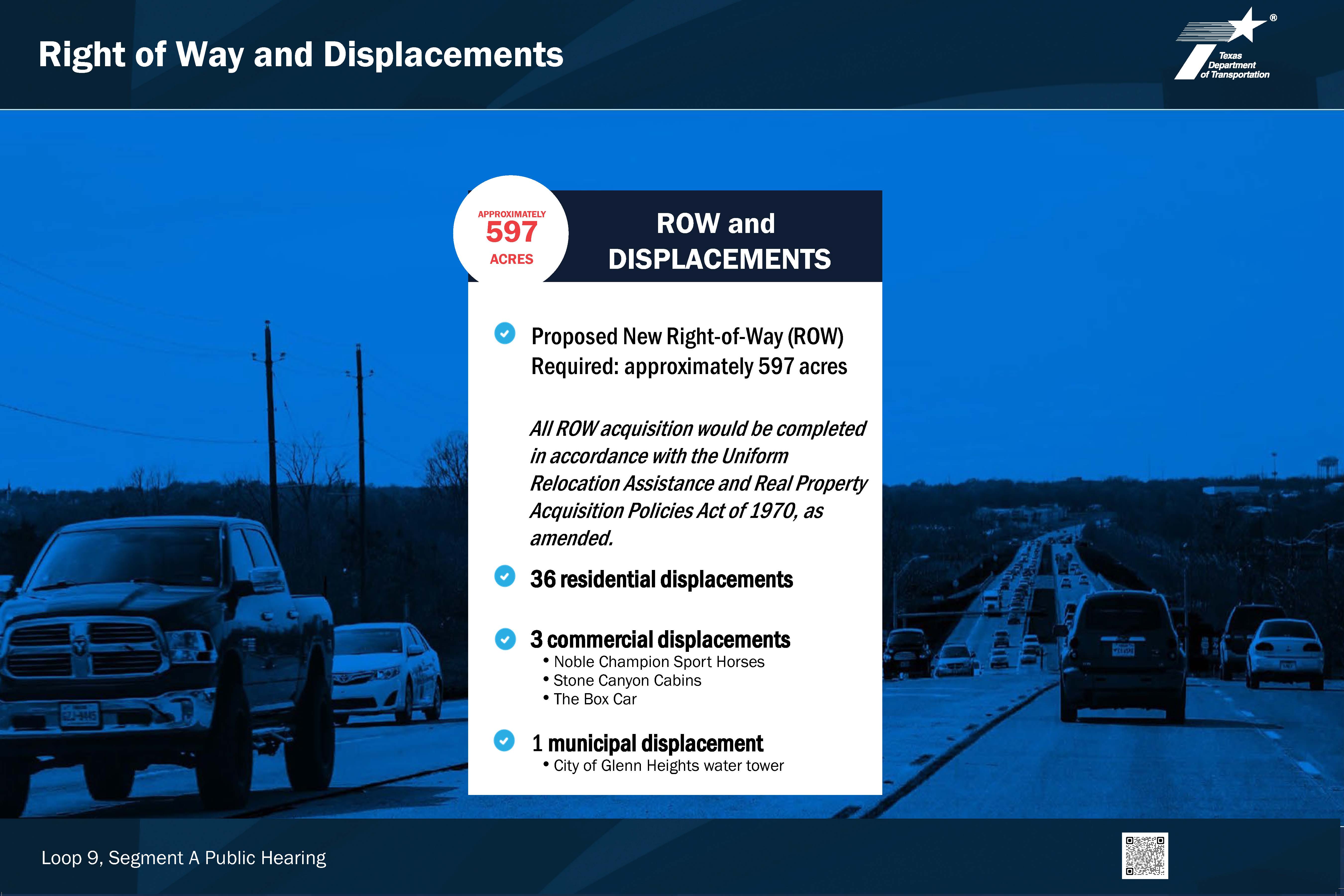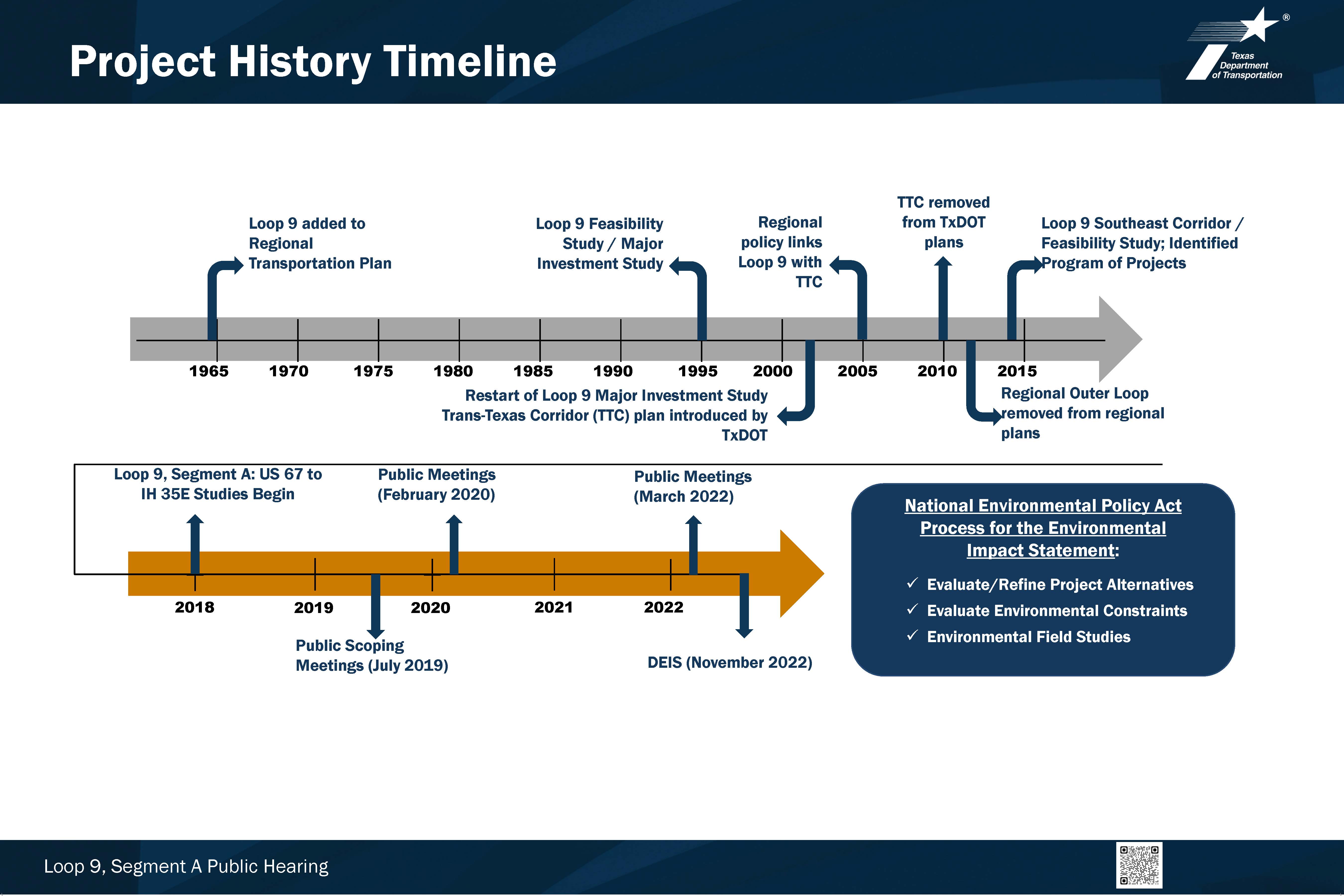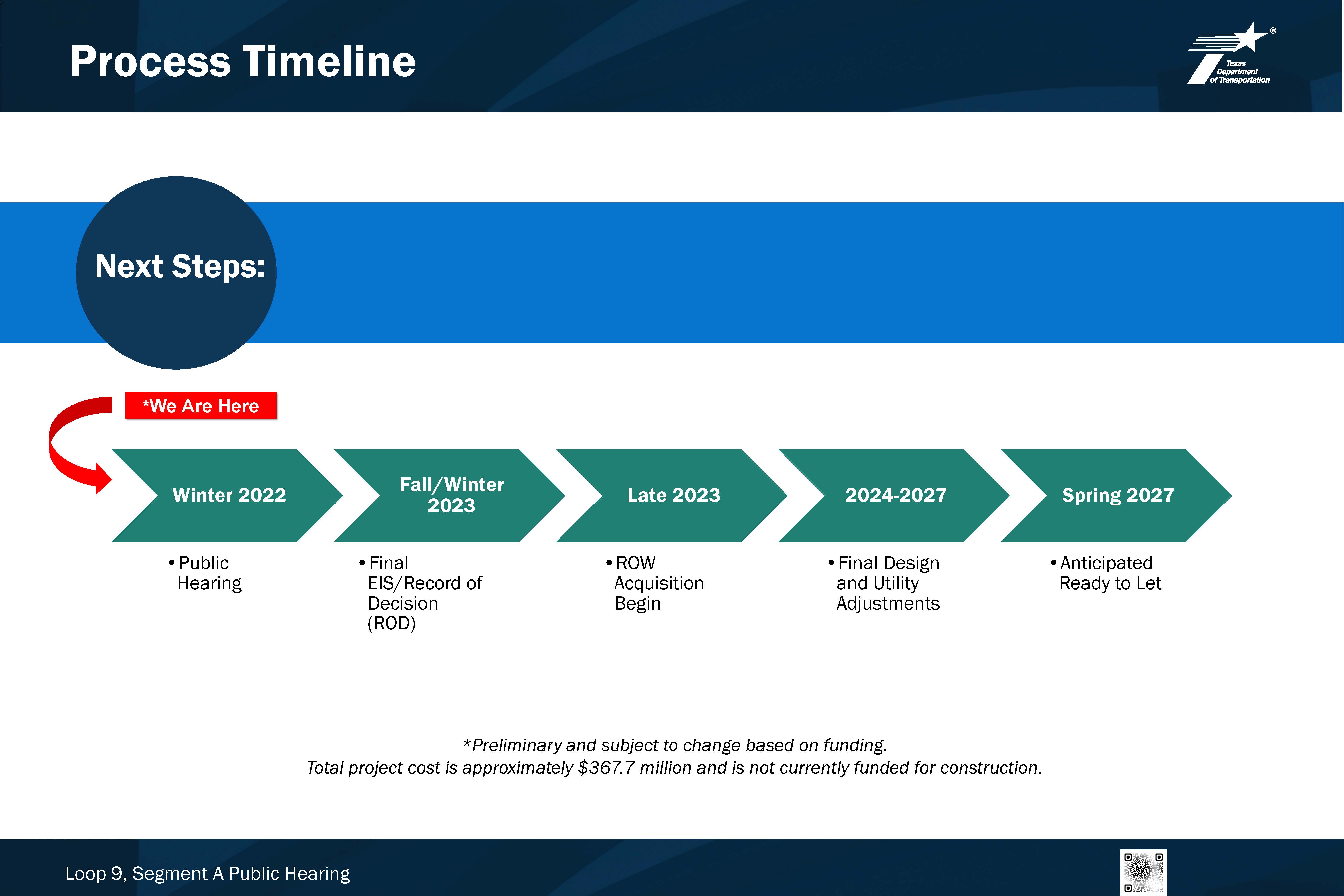 SCHEMATICS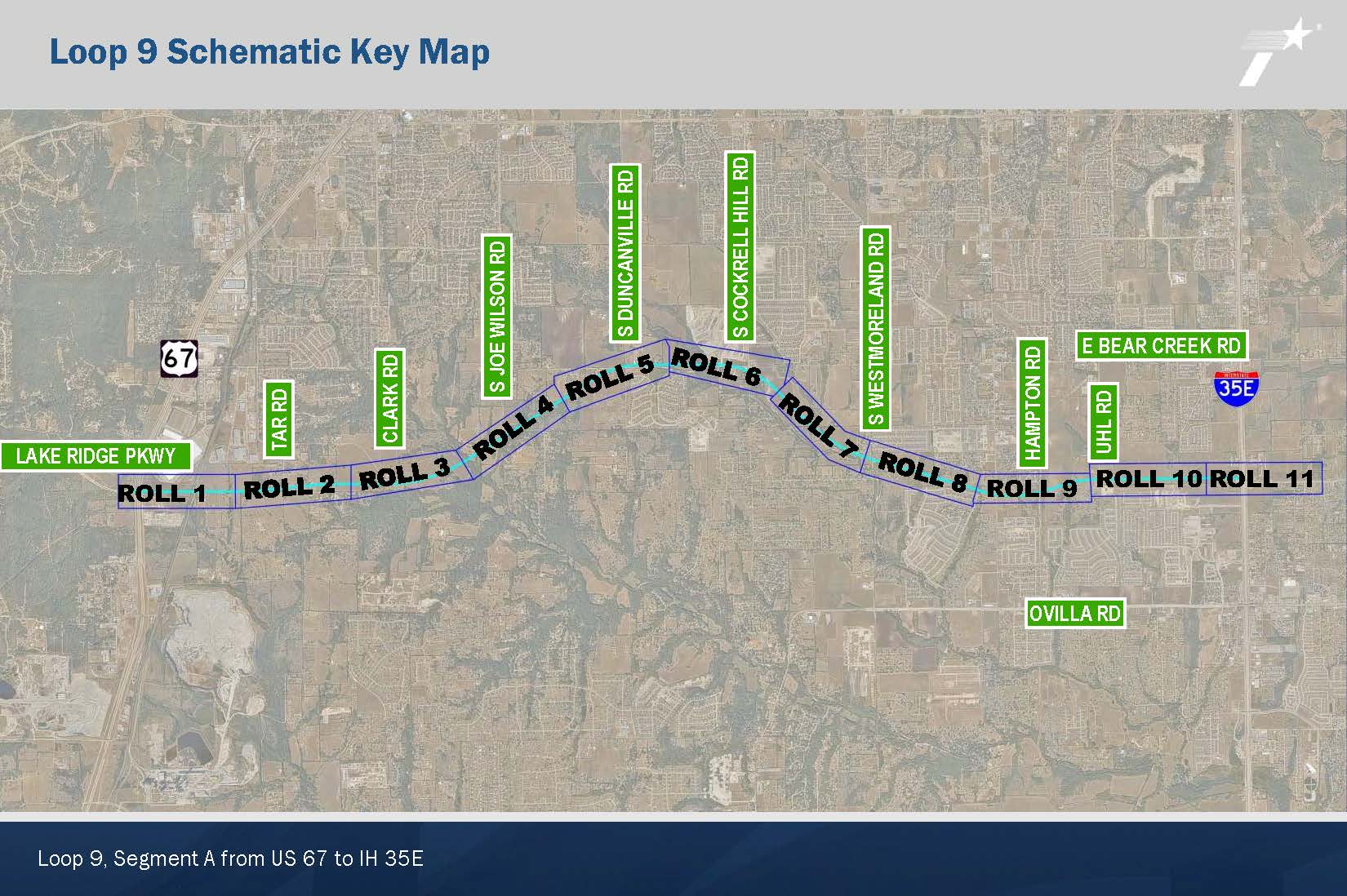 Roll 1 – Loop 9 at US 67
Roll 2 – Loop 9 at Tar Road
Roll 3 – Loop 9 at Clark Road
Roll 4 – Loop 9 at Joe Wilson Road
Roll 5 – Loop 9 at Duncanville Road
Roll 6 – Loop 9 at Cockrell Hill Road
Roll 7 – Loop 9 east of Cockrell Hill Road
Roll 8 – Loop 9 at Westmorland Road
Roll 9 – Loop 9 at Hampton Road
Roll 10 – Loop 9 at Uhl Road
Roll 11 – Loop 9 at I-35E
Loop 9 Cross Street Profiles
RIGHT OF WAY (ROW) INFORMATION
The total proposed ROW acreage is estimated at 597 acres and would potentially displace 36 residences, 3 businesses and 59 non-residential or commercial structures. Information about the process for state purchase of ROW and relocation assistance may be found in the following pamphlets:
Relocation Assistance: English
Relocation Assistance: Spanish
State Purchase of ROW: English
State Purchase of ROW: Spanish
HOW TO PROVIDE COMMENTS
The deadline for providing comments is January 3, 2023.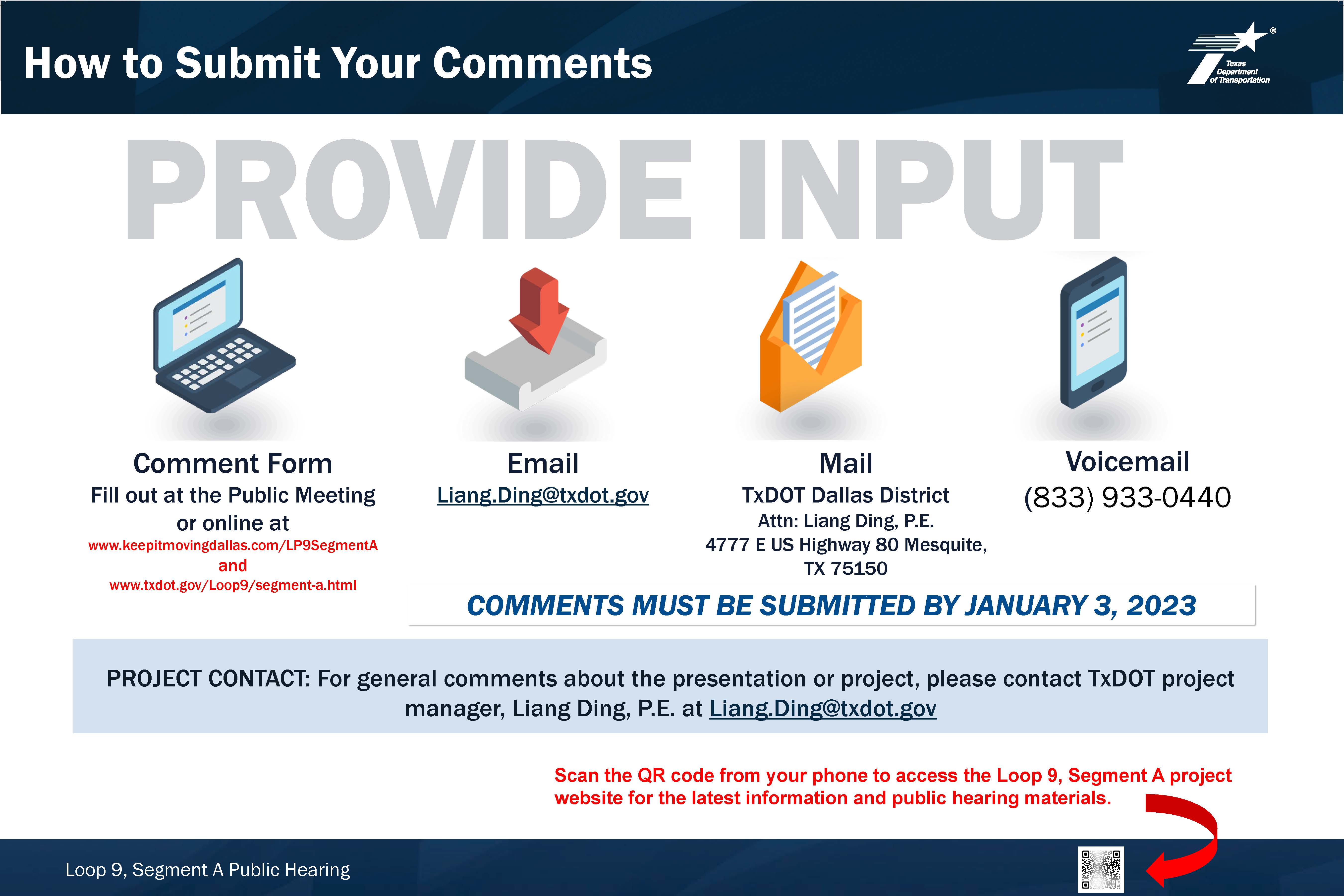 QUESTIONS?
Contact the TxDOT project manager Liang Ding, P.E. to ask questions about the project at [email protected] or (214) 320-6625.
To view the March 2022 public meeting materials, click HERE