Project Overview
The study corridor for the SH 190 Transportation Study is from Interstate Highway 30 south to Interstate Highway 20 and is approximately 11 miles long. The potential routes under study will directly involve the cities of Dallas, Garland and Mesquite, Town of Sunnyvale, Dallas County and Kaufman County. The map below shows the project study area.
Project Background
An outer loop around Dallas County was first envisioned in 1964. In 1968, the Texas Highway Commission authorized an outer loop around Dallas and designated it as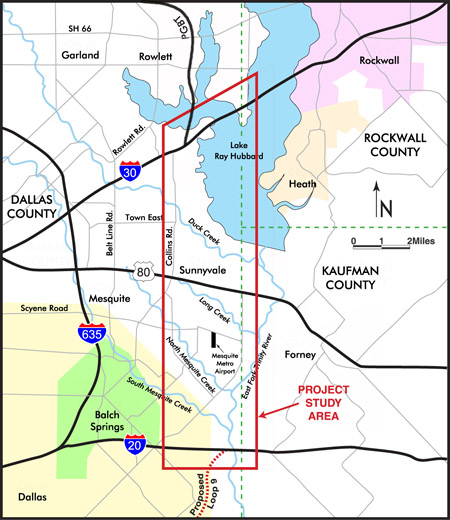 Loop 9. In 1976, a management audit of the State Department of Highway Public Transportation (SDHPT, now TxDOT) indicated a financial shortfall for highway improvements. In 1988, the cities of Garland, Rowlett, Mesquite, and Dallas County sponsored a study to extend SH 190 from SH 78 to IH 20. In 1991, SDHPT commissioned further study of SH 190 from SH 78 to IH 20 and recommended an alignment. In 2000, the North Texas Tollway Authority (NTTA) began an updated/more detailed study to develop the section from SH 78 to IH 30 as a tollway.
The previous studies cited are a starting point but by no means provide the answer. The East Branch project will review the previous studies along with new information on population, employment, traffic increases and current-day travel patterns. New development in the area which in turn spurs traffic volume increases, also comes into play. Based on community and agency input, TxDOT will develop and evaluate potential transportation solutions.
There are several reasons to study transportation improvements in this corridor. First, Southeast Dallas County as well as neighboring counties have been continuing to increase in both population and employment. These trends are expected to continue over the next several decades. According to the 2010 Census, the 12-county Dallas-Fort Worth Metroplex has over 6.3 million residents. By 2035, it has been projected that over 9.8 million people will live here. Below is a table showing the change in population within The East Branch study area:
City/Town
1970
1980
1990
2000
2010
Estimated 2030
% Change from 2010 to 2030
Garland
81,437
138,857
180,650
215,768
226,876
241,767
7%
Sunnyvale
995
1,404
2,228
2,693
5,130
11,554
125%
Mesquite
55,131
67,053
101,484
124,523
139,824
157,259
12%
Heath
520
1,459
2,108
4,149
6,921
17,669
155%
Balch Springs
10,464
13,746
17,406
19,375
23,728
34,247
44%
Forney
1,745
2,483
4,070
5,588
14,661
43,825
199%
Rockwall
3,121
5,939
10,486
17,976
37,490
53,265
42%
Source: 1970 through 2010 data from US Census Bureau. Projected 2030 data from the North Central Texas Council of Governments.
Additionally, the region's long-range transportation plan called Mobility 2035 - 2013 Update shows a transportation need between IH 30 and IH 20 within the next 25 years. This plan is a comprehensive, multi-modal blueprint for transportation systems and services aimed at meeting the mobility needs of the Dallas-Fort Worth Metropolitan Area. It recognizes the growing concerns for improved air quality, public acceptance of major transportation facilities, and the need for adequate financial resources for implementation. This plan is the product of the comprehensive, cooperative, and continuous transportation planning efforts among local governments, transit agencies, TxDOT, NTTA, Texas Commission on Environmental Quality, and the Dallas/Fort Worth International Airport.