Virtual Public Hearing for FM 741
From US 175 to FM 548
Kaufman County
CSJ 1092-01-021
Thursday, December 15, 2022
The virtual hearing begins on Thursday, December 15, 2022 at 5:30 PM and will remain available online through the comment period deadline of January 5, 2023. During this time, please view the project materials and other information provided on this site to learn about the project and provide your comments.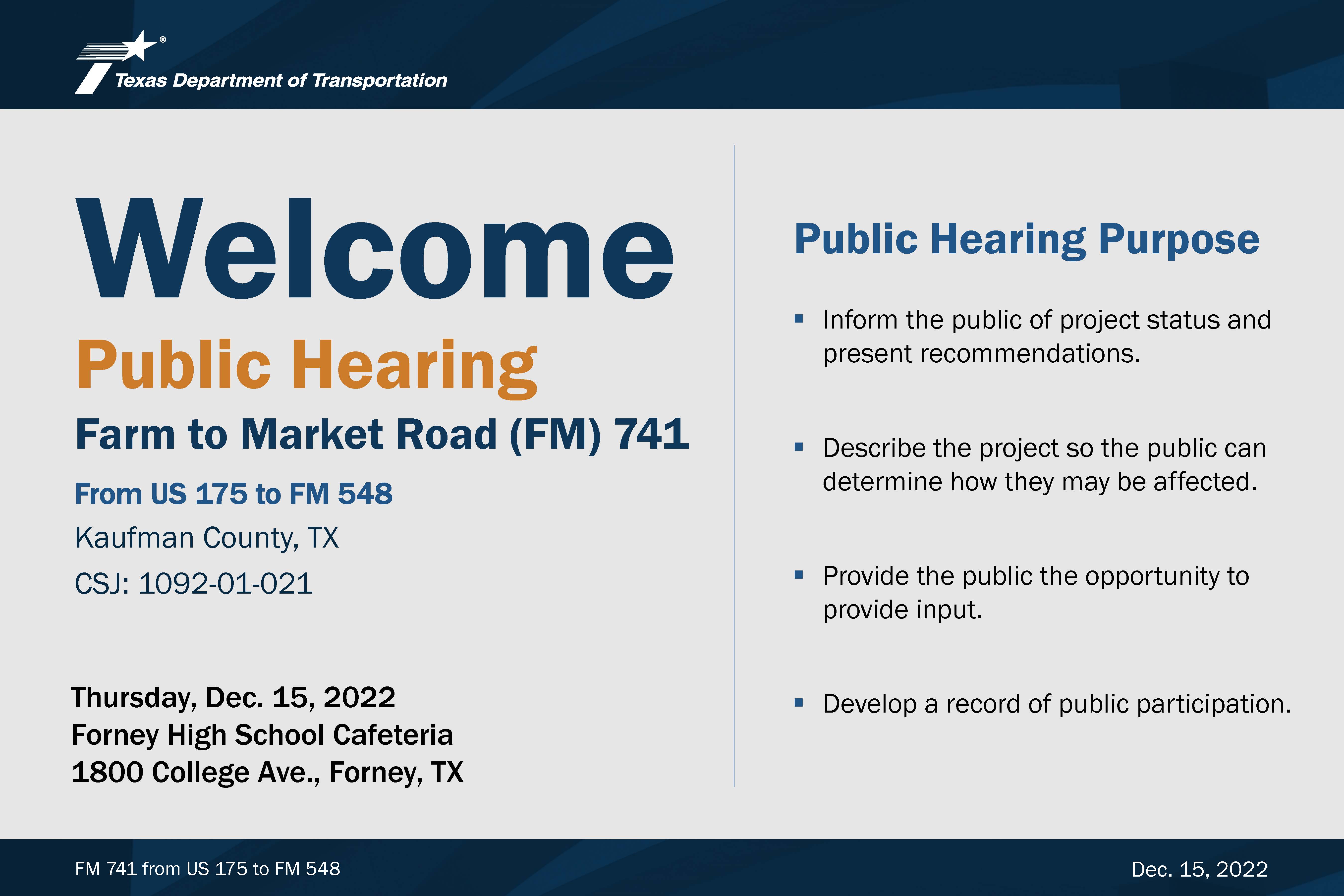 PROJECT DESCRIPTION
The proposed project would include widening FM 741 to a four-lane divided urban roadway (ultimate six-lane) from US 175 to FM 2757 and four-lane divided urban roadway from FM 2757 to FM 548. The project would also provide left and right turn bays in certain locations, replace the two existing bridges over Tributary to Buffalo Creek and add a pedestrian and bicyclist shared use path on the southbound side and a sidewalk on the northbound side.
PRESENTATION
TxDOT EXHIBITS
You may click on any of the project exhibits below to view them at full size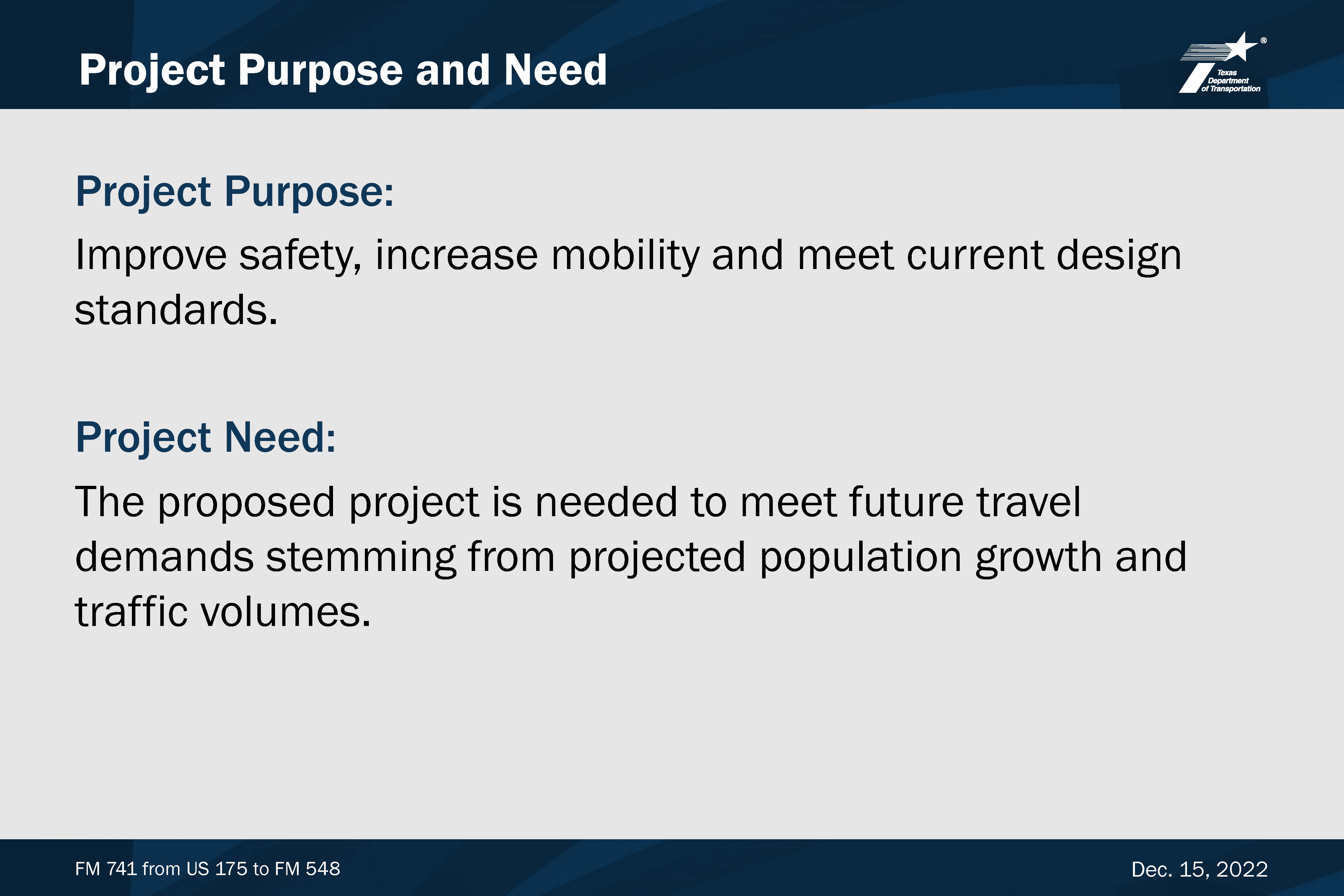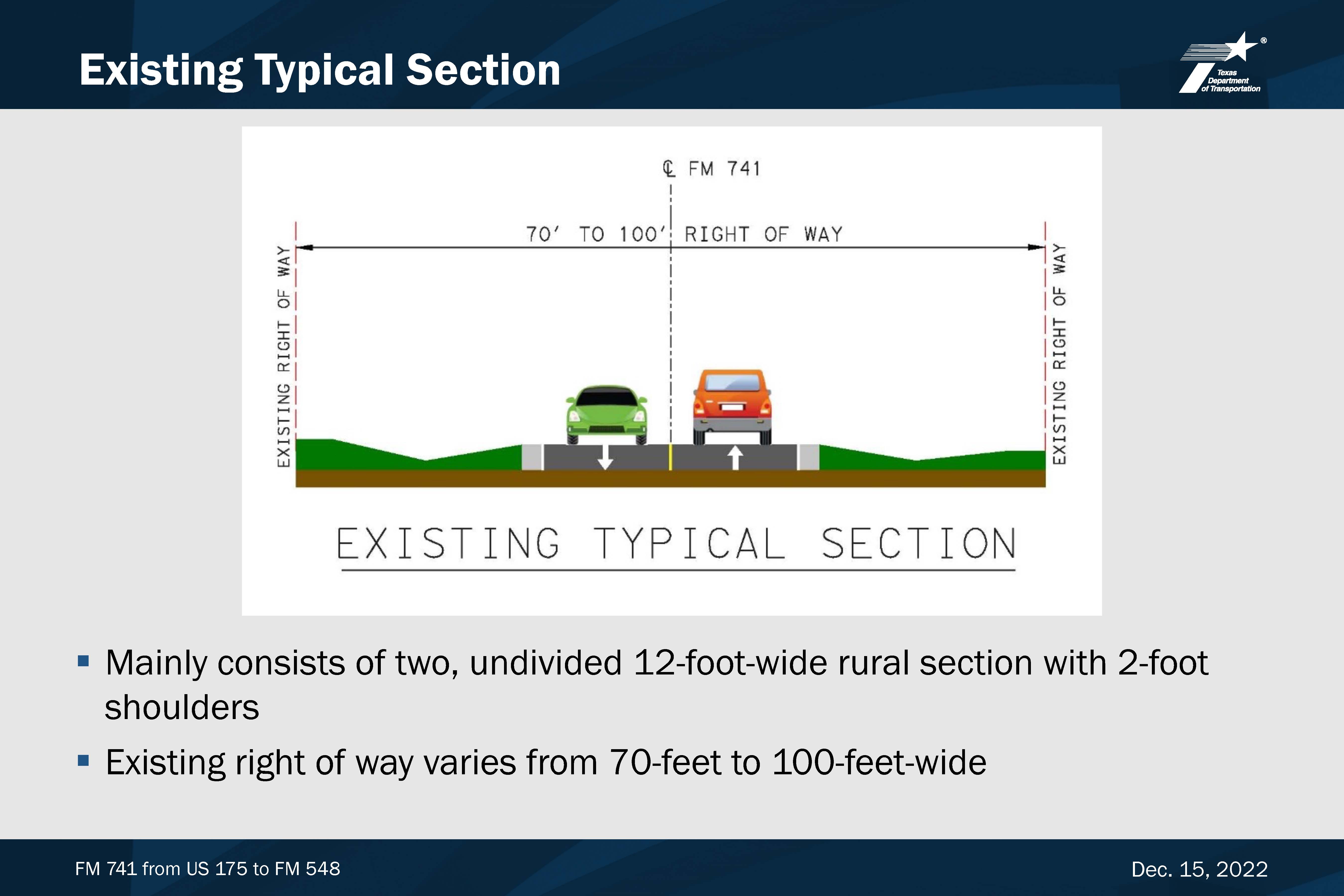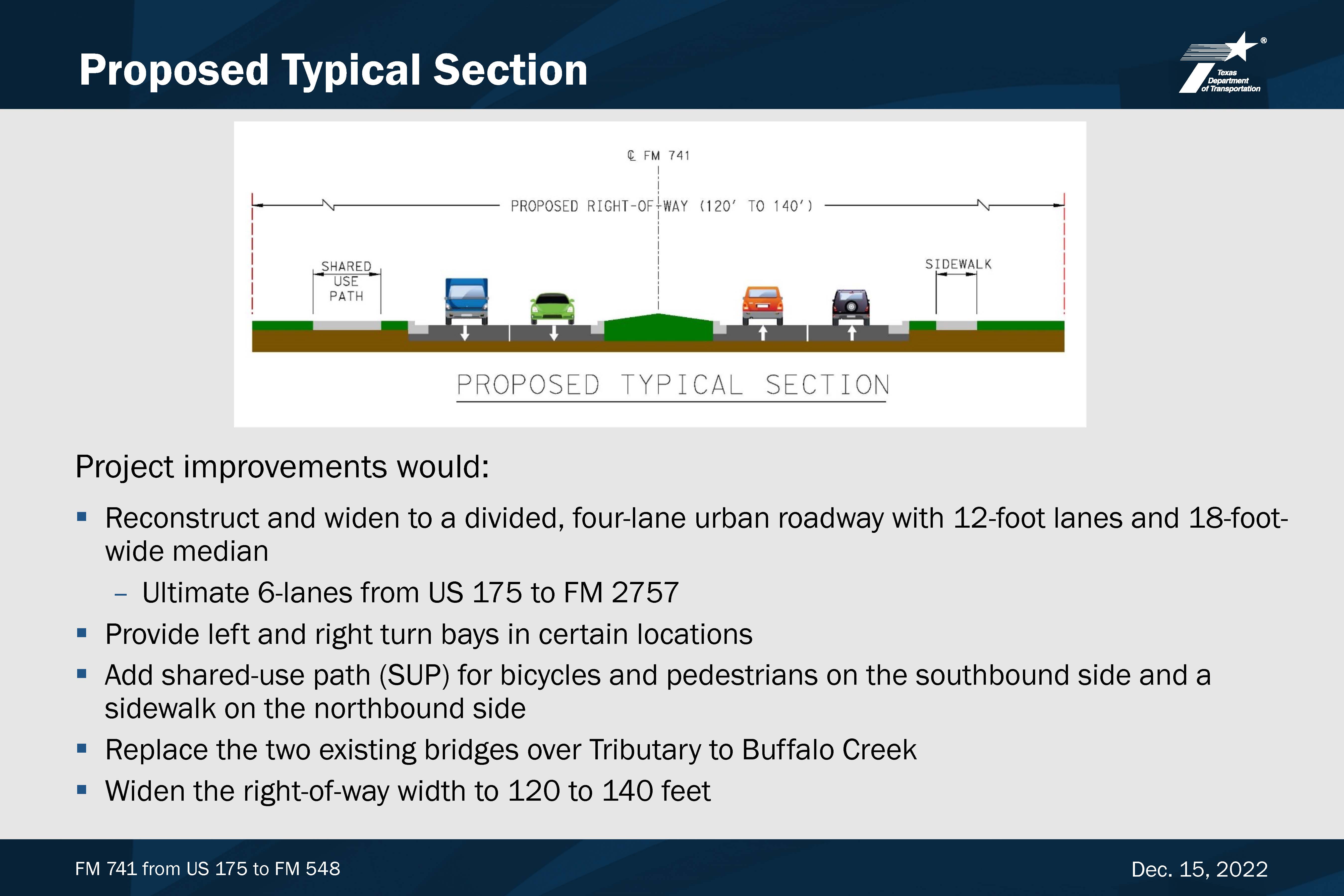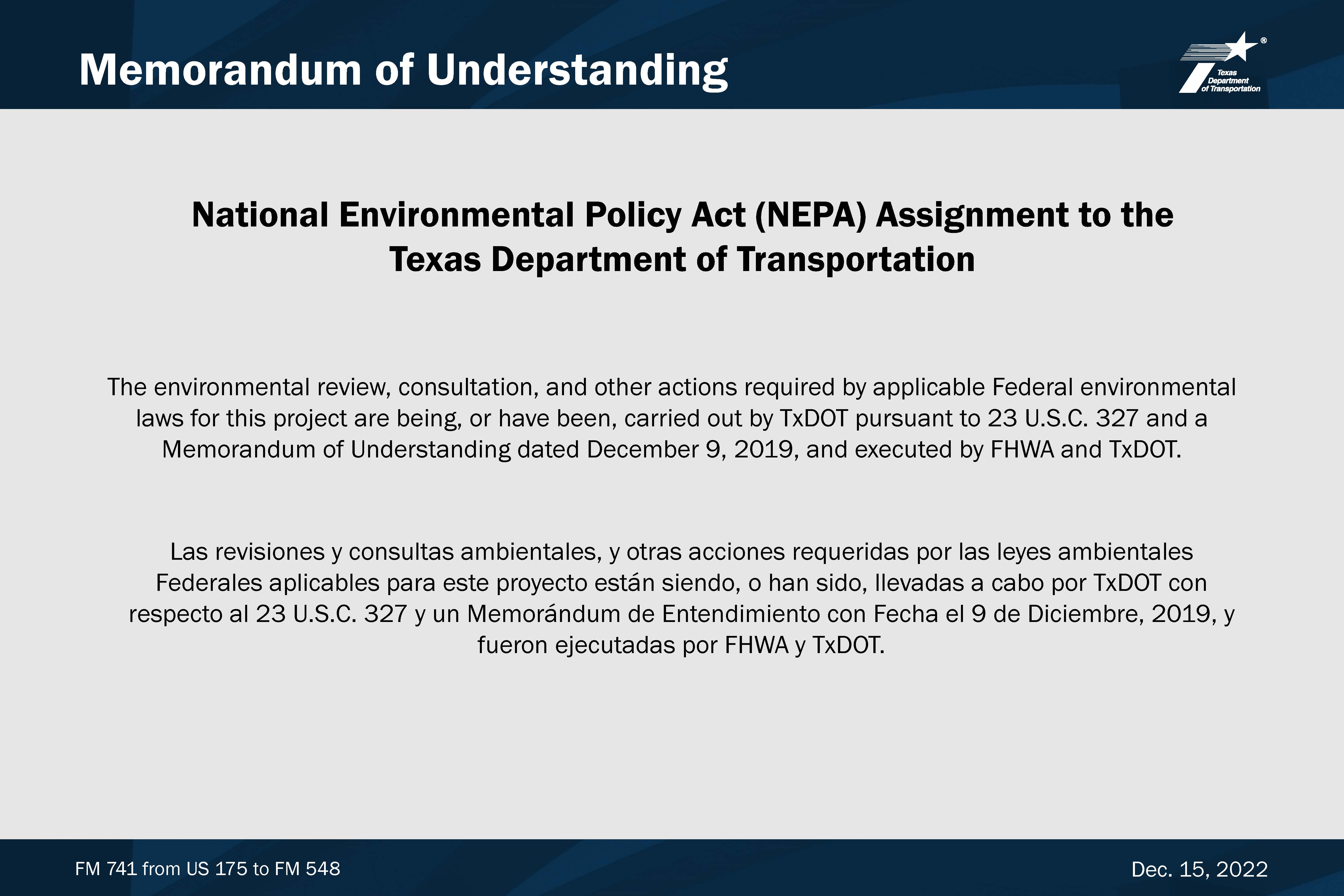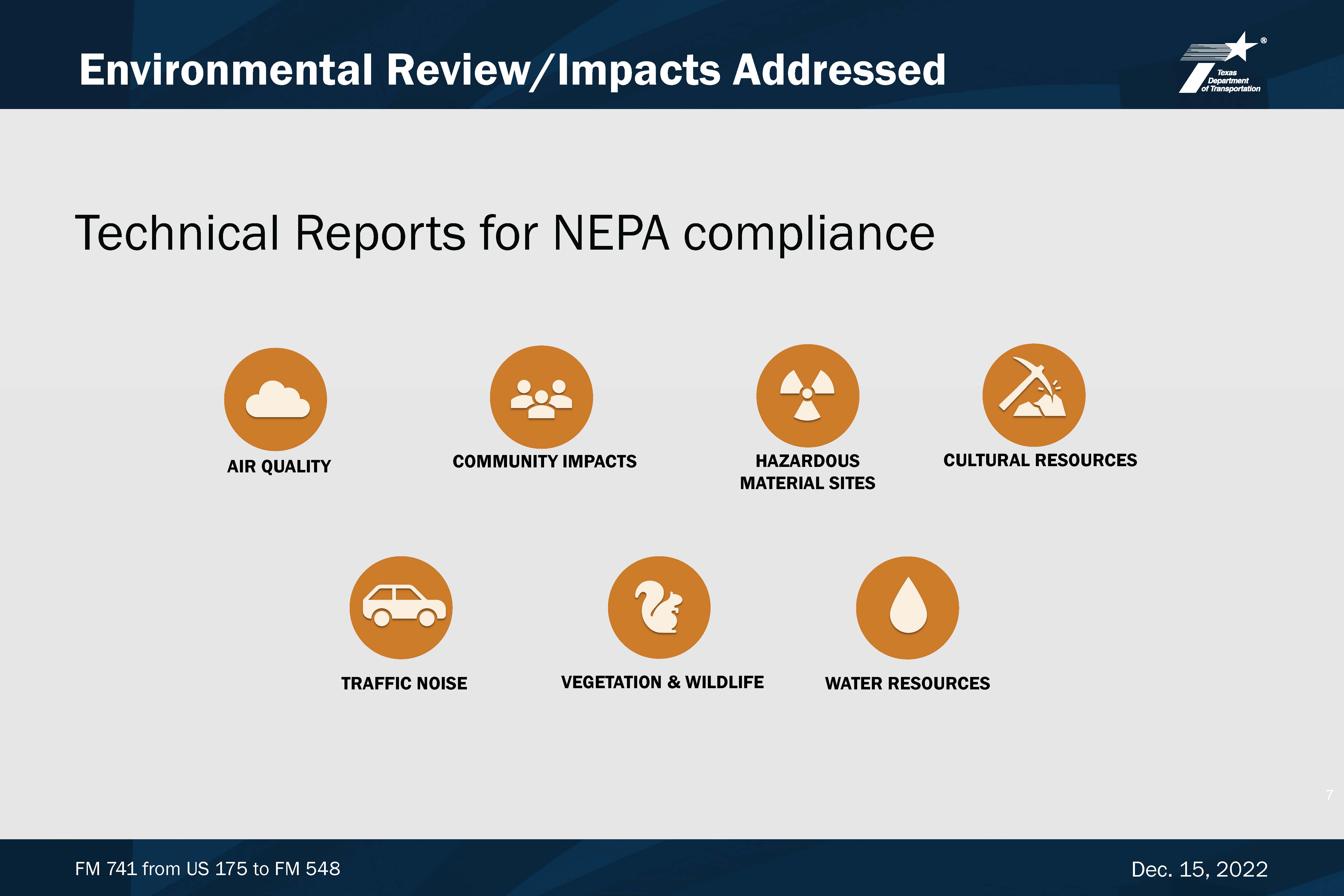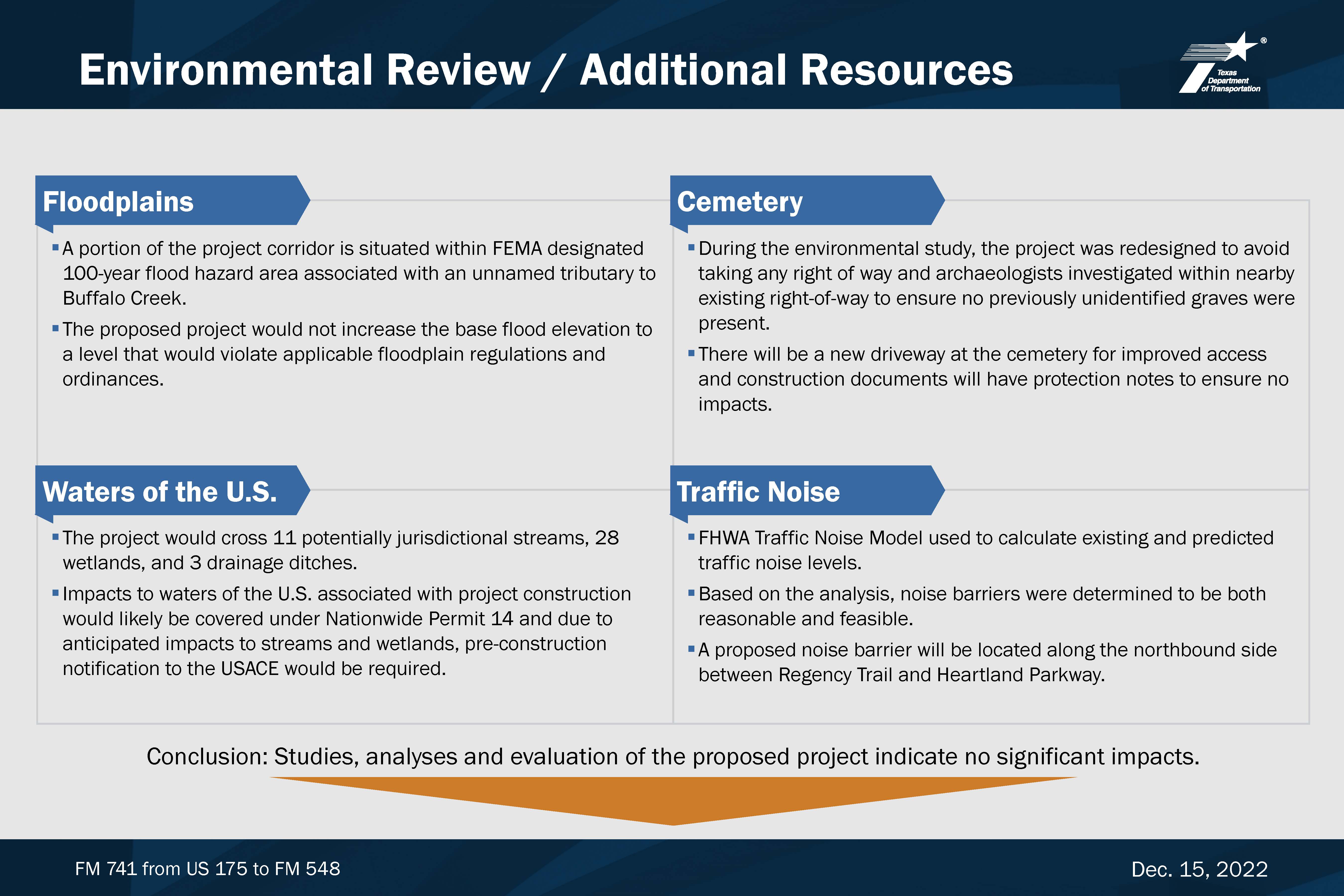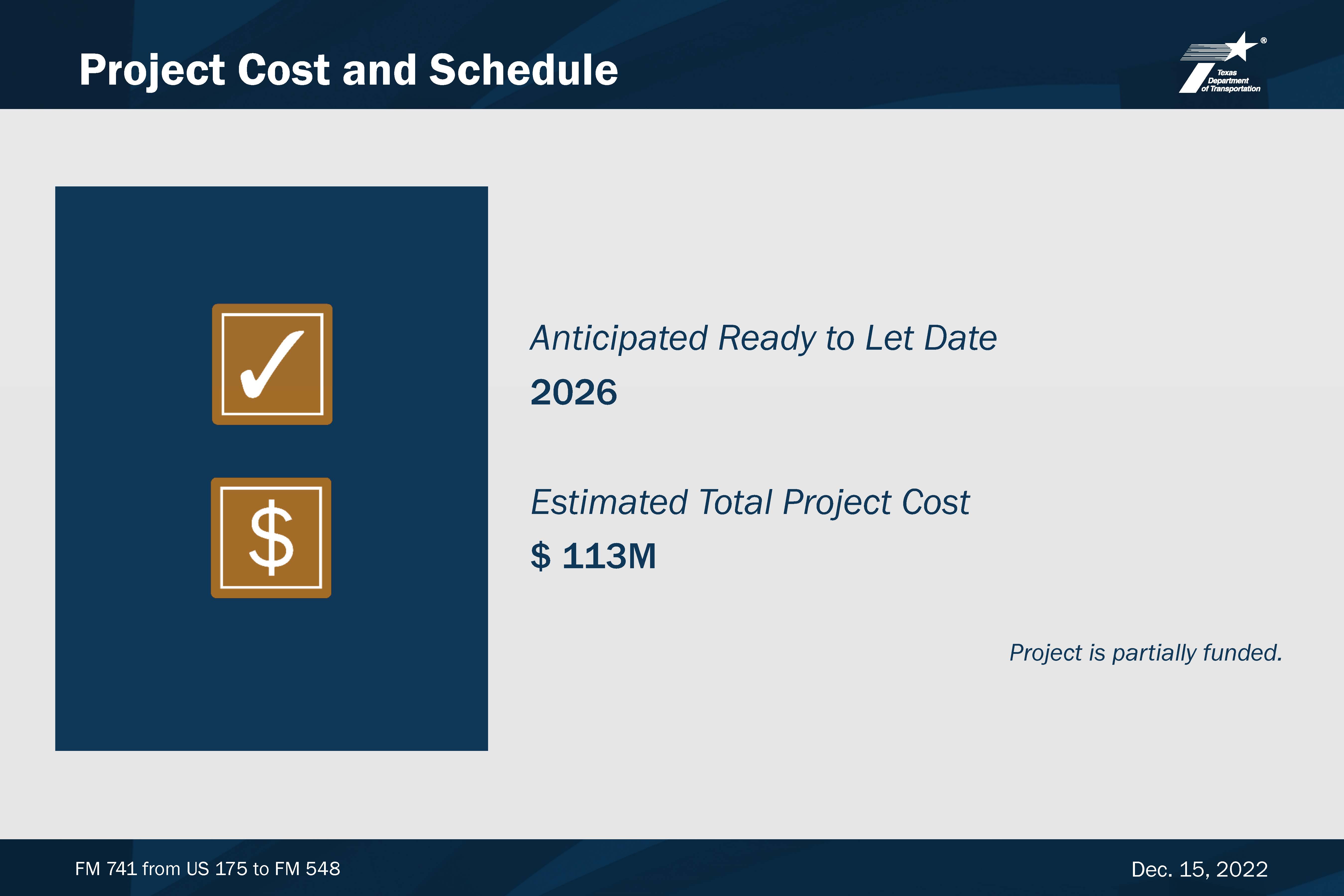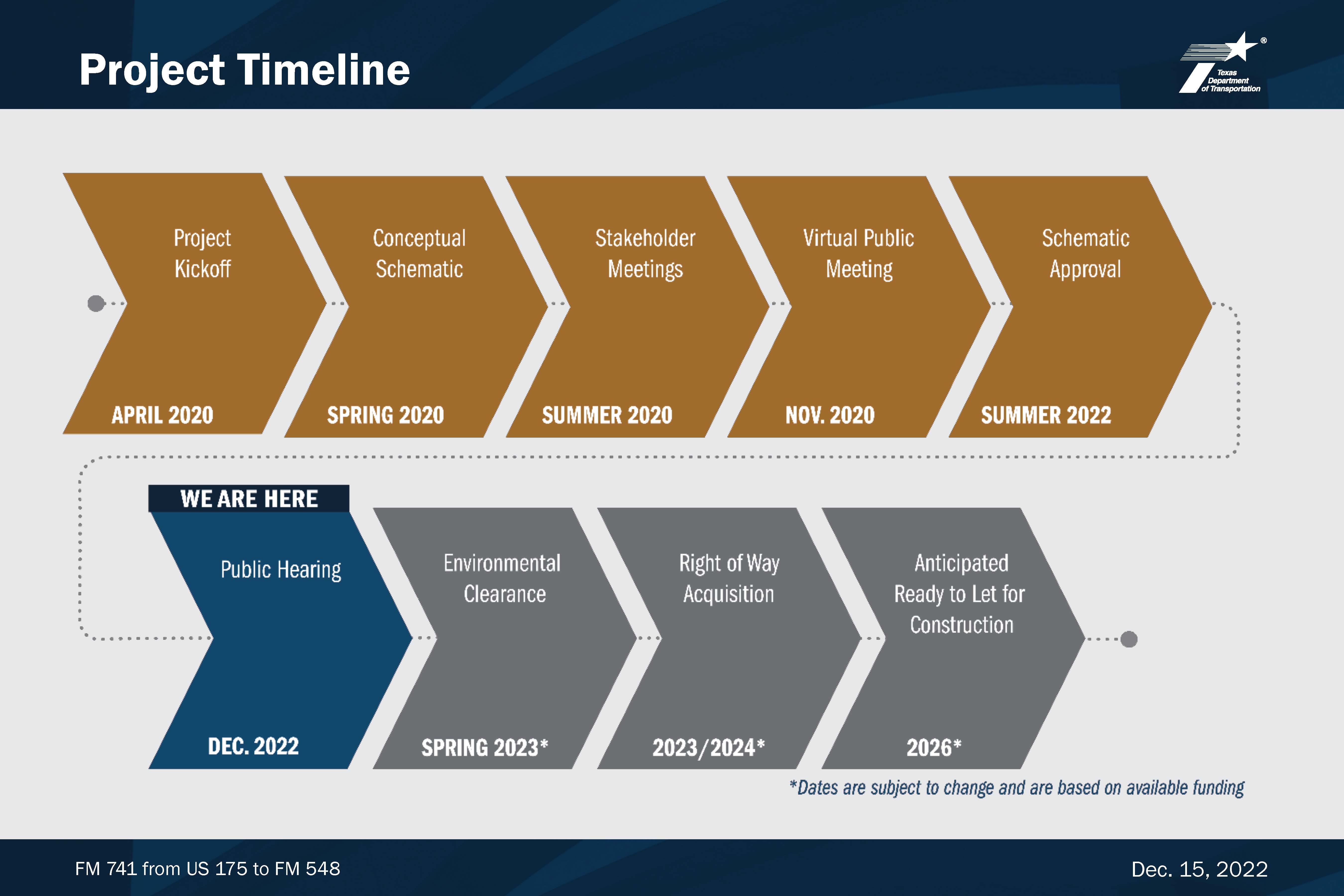 SCHEMATIC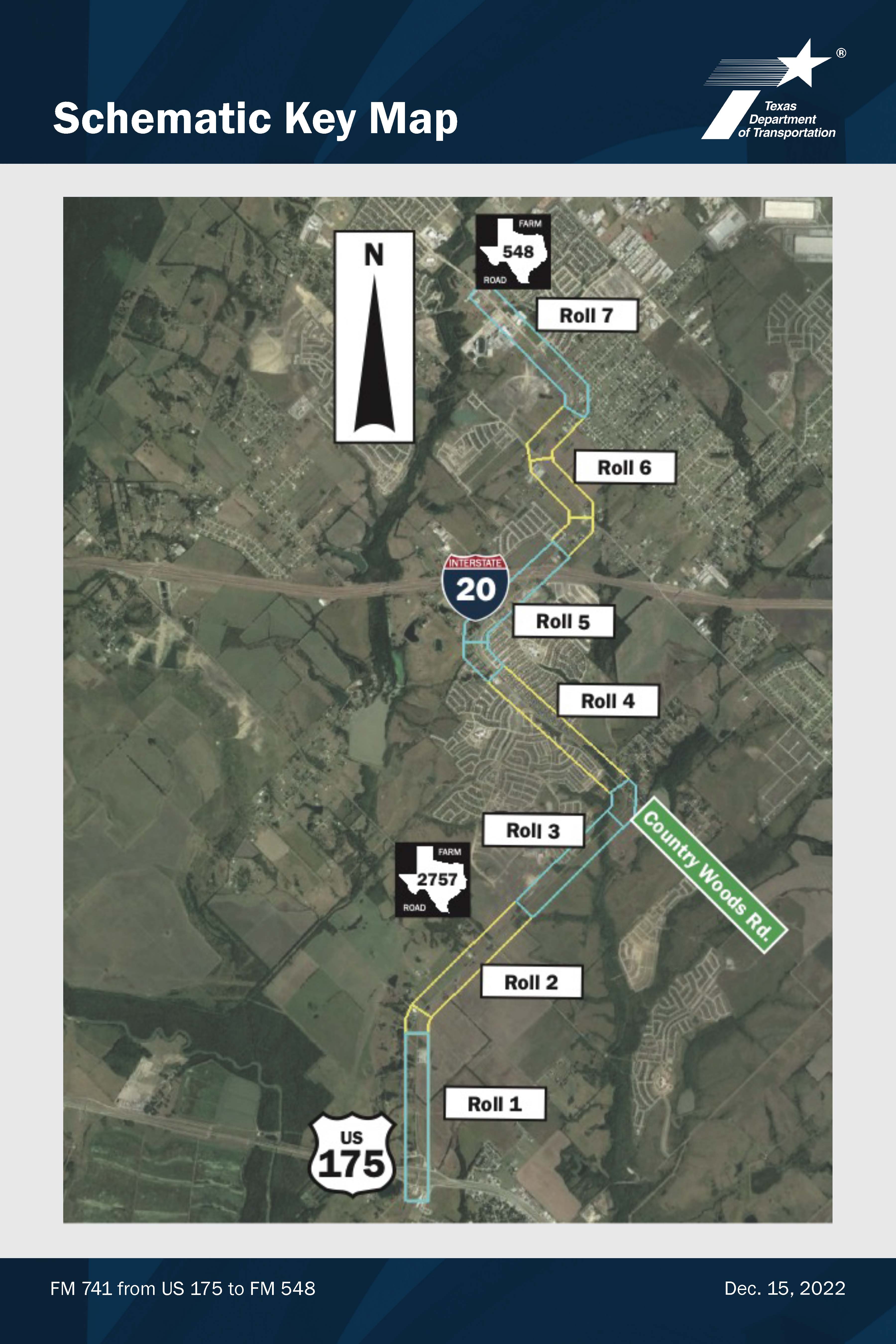 Roll 1
Roll 2
Roll 3
Roll 4
Roll 5
Roll 6
Roll 7
TECHNICAL REPORTS
Waters of the US Delineation Report
Traffic Noise Technical Report
Hazardous Materials Initial Site Assessment
Archeological Survey Report
Community Impacts Assessment Technical Report
Surface Water Analysis
Section 404 Impacts Table
Historical Studies
Congestion Management Process Disclosure Statement
Biology Reports
Mapped Vegetation Types
Project Location Map
Threatened and Endangered Species
Species Analysis Summary
Species Analysis Form
Annotated County Lists of Rare Species
Farmland Conversion Impact Rating
Texas Natural Diversity Database Results
Biology Photo Log 1
Biology Photo Log 2
RIGHT OF WAY (ROW) INFORMATION
The proposed improvements would potentially require additional ROW and potentially displace one non-residential structure.
Information about the process for state purchase of ROW and relocation assistance may be found in the following pamphlets:
Relocation Assistance: English
Relocation Assistance: Spanish
State Purchase of ROW: English
State Purchase of ROW: Spanish
HOW TO PROVIDE COMMENTS
The deadline for providing comments is January 5, 2023.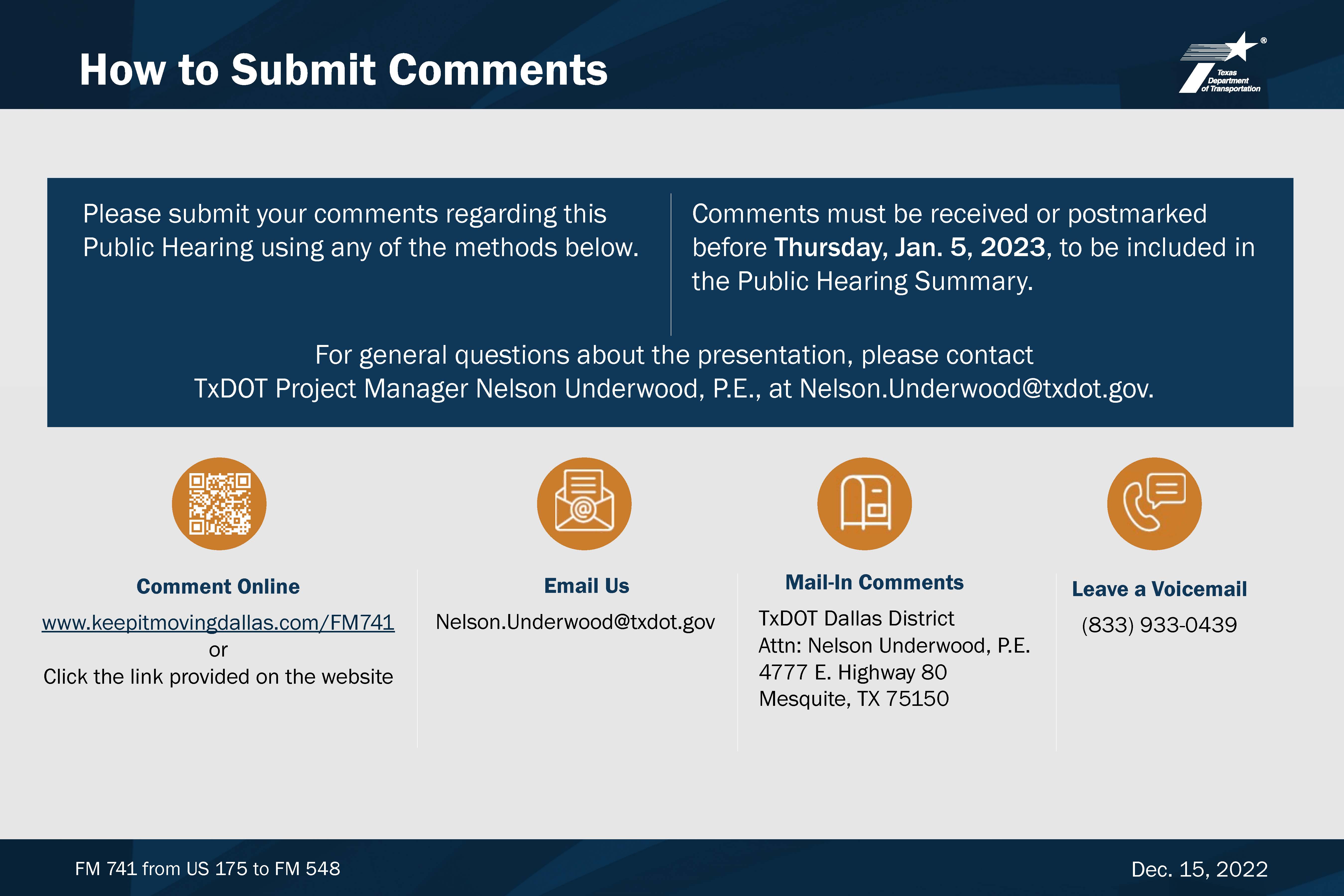 QUESTIONS?
Contact the TxDOT project manager Nelson Underwood, P.E. to ask questions about the project at [email protected] or (214) 320-6628.
To view the November 2020 public meeting materials, click HERE